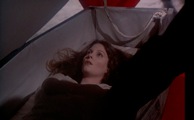 1973
Host: Rod Sterling
Hyacinth: Lesley Ann Warren
Father: Jim Boles
Jake: Lou Antonio
Ron: Robert Pratt
Phyllis: Brooke Bundy
Customer: Dorothy Conrad
Customer: De De Young
Dir.: Leonard Nimoy
Producer: Paul Freeman
Leonard Nimoy: "I met [Night Gallery producer] Jack Laird, who had shown a bent for starting new directors, and had several conversations with him. And I guess I just pestered him long enough, until finally one day he called me in and said, 'Read this script.' I thought it was a wonderful story, a sort of Romeo and Juliet love story with vampire turns, and he gave me the job."

From Archive of American Television:

Question: Was that your first time directing?
Leonard Nimoy: First time directing for television, yes. The producer again was a guy who had a track record for starting directors and I was given a very lovely script which was called Death on a Barge which was a Romeo and Juliet story in Vampire terms.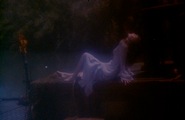 The girl is a Vampire, we discover. And dangerous. And her father knows that she is a Vampire and keeps her on a barge because the barge is surrounded by flowing water and a drainage canal. And a Vampire cannot cross flowing water.
So he feels he's got her safely locked up on this barge. A young guy comes down in the dark and sees her. He is on the dock, she is on the barge, and they fall in love with each other through conversation. And eventually one day the young guy comes to talk to her and discovers that the canal has been drained. The water is gone. And she is out somewhere. She is out and will kill somebody.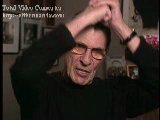 But he is still very much attracted to her and ends up going on board the barge to have a private moment which turns to disaster.

He almost bites the dust and the father comes in and grabs a stick and …( shows how the stick is pushed down heavily)
– that's the end of our Vampire-Juliet.

I had a lot of fun doing it.