1986
Writer: Leonard Nimoy, Harve Bennett

Admr. James T. Kirk: William Shatner
Capt. Spock: Leonard Nimoy
Lt. Cmdr. Leonard H. 'Bones' McCoy M.D.: DeForest Kelley
Cmdr./ Capt. Montgomery 'Scotty' Scott: James Doohan
Cmdr. Sulu: George Takei

Commander Pavel Andreivitch Chekov: Walter Koenig
Cmdr. Uhura: Nichelle Nichols
Ambassador Sarek: Mark Lenard
Amanda Grayson: Jane Wyatt
Cmdr. Christine Chapel, M.D.: Majel Barrett
Federation Council President: Robert Ellenstein
Klingon Ambassador: John Schuck
Admr. Cartwright: Brock Peters
Lt. Saavik: Robin Curtis
Dr. Gillian Taylor: Catherine Hicks
Go here for the summary of the movie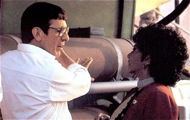 To save Earth from an alien probe, Kirk and his crew go back in time to retrieve the only beings who can communicate with it, humpback whales.
                                                
                                                       (Thanks to Gabriella for finding this picture)
Director's Series
While & About Directing ST IV



The show begins with shots from ST IV – Leonard Nimoy directs the scene in front of the Bounty.

Leonard shares memories of the time he first began working with Paramount in the movie "Rhubarb" when he was 20 years old.



He gives a short summary of the history of ST, three seasons, beginning to make the movies...

By the time ST III was shot, Leonard thought about making a bigger contribution after having been involved with Star Trek for nearly 20 years by then.
"Science fiction, being what it is, there are always possibilities."


Remembering the beginning of directing in Star Trek Leonard says he had applied to direct ST III: "If there ever is a chance to be serious about directing – now is the time."


      
"The more difficult it gets the more challenging it becomes. You get the right people and all comes out just fine."


"In the beginning it was about the first ST motion picture... After 11 years ...Now it is Big and serious and important... I think perhaps we took ourselves a bit too seriously ...It took us a little time to kind of figure out how to enjoy ourselves. And as each film progressed we learned a little bit more about what we could do in those movies and what the audience is looking forward to enjoy the most in those movies..."

"It had to be grand in passion, grand in size.."
"In ST IV we decided to really brighten up and have a good time."


The water tanks proofed to be inadequate for the purposes of ST IV. They needed a bigger tank as studios used to have a long time ago.

The special effects people walking on the parking lot with Leonard
discovered that the parking lot itself had been a huge 15 feet deep water tank before.

This confirmed by old maps, they could begin doing an excavation right on the Paramount parking lot.


"... what grew out of that was a show, Hollywood hasn't seen for a long time."



About the whales: Leonard shares about the delicate special effects work which has been done on the creation of the artificial whales. "It kind of became obvious that we had to create our own because you just cannot get the kind of footage we needed. The actual humpbacks were too shy to get them close to the camera. Let alone, human contact to the whales... we needed that at all. In Star Trek IV about 95 % of whales you will see is man made."
"I think the work is amazing. Most people – including myself now– forget that this footage is actual not real humpback whale footage, it is man made. It looks so well, these people deserve a lot of credit."
When discussing ecological problems with scientists and being aware that we are loosing thousands of species a year, Leonard makes a point that by destroying species mankind might one day take away an important keystone from earth like a vital card from a house of cards.
"This leads to the idea to come back in time and the whale provided a wonderful story for Star Trek IV."


The shooting of a movie made for a broad screen had partly to be altered to make it fit for TV/video screens as well.

"So, it has been a long trip. And I never thought I find myself directing a 26 million dollar feature here on the Paramount lot. But: There you are. It is called The Voyage Home. It is a homecoming for me. Here it is for you."
"The directing thing is finally the most extraordinary opportunity that I have been given in my lifetime."


Go here for the summary of the movie