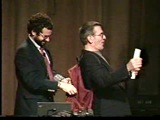 1997 October 15
http://web.mit.edu/newsoffice/1997/wearables-1022.html

Hosted by: Leonard Nimoy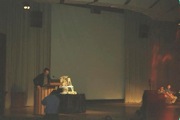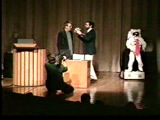 The Media Laboratory reached new frontiers of funky techno-chic with Wearables, a day-long inquiry into computers as clothing and clothing that computes.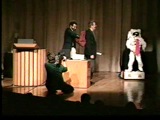 The October 15 event began with a symposium at Kresge Auditorium and culminated in "Beauty and the Bits," a fashion show and open house at the Media Lab.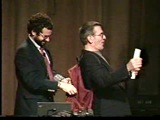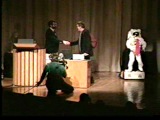 Leonard Nimoy, actor, director and Star Trek alumnus, served as host and master of ceremonies. President Charles M. Vest and Nicholas Negroponte, the Jerome B. Wiesner Professor of Media Arts and Sciences (MAS) and director of the Media Lab, greeted the capacity crowd at Kresge. They were followed by Kazuhiko Nishi, president of ASCII Corp., a major sponsor of the event in honor of the firm's 20th anniversary.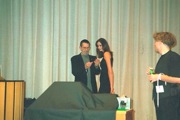 http://www.thomasbass.com/dress_code_1337.htm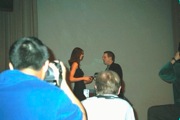 Nimoy provides comic relief throughout the course of the day, and at one point he even helps demonstrate what a wearable-enhanced sexual encounter might look like. A sexy dancer in black appears on stage wearing a $500,000 Harry Winston brooch attached to her dress.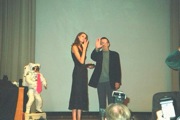 The diamond-and-ruby brooch, called the Heartthrob, glows with every beat of the dancer's heart. Thanks to the addition of some wireless broadcast capacity, her heart rate is projected onto a big screen.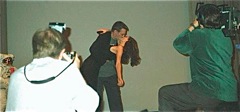 So, too, is the heart rate of Mr. Spock, who, when asked to kiss the dancer, suffers a little heartthrob of his own.
 
http://www.intelligentagent.com/archive/fall_wearables.html
Hosted by Leonard Nimoy (himself a pioneer in the field of the "fashion of the future"), the symposium featured panels focusing on the topics Body Electric, Ready to Ware, Wear Ware where?, and Be Wear; the symposium climaxed in the fashion show Beauty and the Bits, featuring living, fully interactive models on pedestals.
Visions of the fully computerized body as a boom box or living advertisement gave a slightly ambiguous note to Leonard Nimoy's closing words, "Live long and prosper."