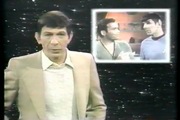 1983 
Scroll down for the videos
Leonard Nimoy: On September 8th 1966 the star-ship Enterprise launched its first adventure onto the screens of American television. Boldly we were going where no man had gone before.
 Unfortunately the network selected as the opening show not one of several excellent episodes we have completed, but rather ... our least favorite. They seemed to feel that was proper science fiction with a proper monster threatening folks. Well, the critics didn't like us and rightfully so.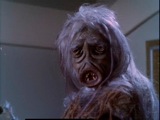 When the other episodes appeared and the true Star Trek format became apparent dislike grew into acceptance and then into affection among viewers and television critics across the surface of this planet. 
                                                Scene from Star Trek "The Man Trap"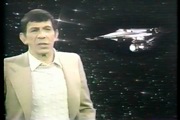 Hello, I am Leonard Nimoy. During the next hour I'll guide you on a very personalized tour of Star Trek. I'll tell you how it all began and where it might be going.

The first time I heard about Star Trek was in 1964. Gene Roddenberry was producing a television show called "The Lieutenant". .... I was playing a flamboyant Hollywood actor who wanted to do a movie on the Marine corps. When that was finished, Gene called my agent, my agent called me, and they asked for a meeting. I went to see Gene and he was then in the Desilu studios and he told me that he was preparing a pilot for a science fiction series to be called "Star Trek".
And he had in mind for me to play an alien character. As the talk continued Gene showed me around the studio, he showed me the sets that were being developed and the wardrobe that was being designed, the prop department and so forth. I began to realize that he was selling me on the idea of being in this series. Unusual for an actor. I figured what to do is to keep my mouth shut and I might end up with a good job here.
A scene of Star Trek is shown.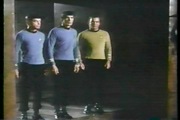 Gene told me that he was determined to have at least one extra-terrestrial character permanent on his star-ship. He'd liked to have more. But making human actors into other life-forms was too expensive for television in those days. Pointed ears, skin color plus some changes in eyebrows and hairstyle was about all he felt he can afford. But he was certain that his "Mr. Spock"-idea properly handled and properly acted would establish that we were in the 23rd century, that inter-planetary travel was an established fact.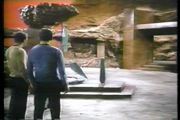 And with this our ship would not be the United-States-Ship Enterprise, it would be the United-Space-Ship Enterprise put out there in space by a Federation of planets.   and in Spock we would have a character who reminded us of that- constantly.
The first pilot of Star Trek was filmed in Desilu Studios in Hollywood in 1965. It was the most expensive television pilot ever produced until that time. It starred Jeffrey Hunter as Captain Christopher Pike.  (A scene is shown. ) 
Well, as you can see: The cool rational Spock is yet to evolve. That first pilot had some great production values and it had some wonderful ideas. But NBC decided that it was too cerebral and it would not sell. But this show that "Would not sell" went on to win some of Science Fiction's highest awards. Even the network has liked it enough to order up a second pilot. (A scene is shown) 
                        Now, what happened was that Jeffrey Hunter was not available for the second pilot. As a matter of fact Spock was the only character to remain intact from the first pilot cast. All of the other roles were either re-cast or changed entirely. (Another scene is shown)
The network eliminated one role entirely: The role of Number One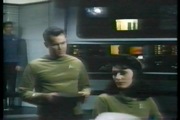 In the belief that the audience of those days could not identify with a female as second in command of a star-ship. They told Gene also to get rid of the "guy with the ears", insisting that neither could the audience identify with an extra-terrestrial character. Gene battled this, but was finally forced into a compromise: He felt the format badly needed the alien Spock, even if the price was the acceptance of 1960s' style of sexual inequality.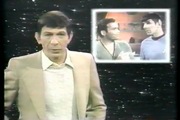 A new pilot was written. Mr. Spock was in Number One's place as second in command as well of having some of the woman's computer-mind qualities. Vulcan, unemotional and logic came into being. And that's when William Shatner came onboard of the ship. And we've been friends ever since then.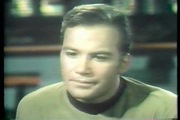 Bill Shatner's broader acting style created a new chemistry between the captain and Spock. And now it was quite different from that in the first pilot. (A scene is shown)
Once the series was launched on NBC both, the network and Desilu Studios wanted to make some use of the very expensive original pilot. Gene Roddenberry solved this problem in a very imaginative way:  He created a story in which Jeffrey Hunter's character, Captain Pike, was crippled and scarred by radiation burns.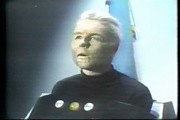 Now he could be played by another actor. In a two-part story, called "The Menagerie",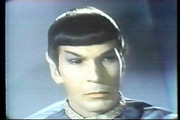 Spock hijacks the Enterprise as an act of mercy and transports his former captain to Thalos IV, a planet where mind-projections have replaced physical activity.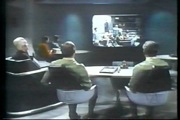 Spock is court-marshaled for mutiny and now uses scenes fro the original pilot for his defense. For me, in his new form, The Menagerie is Star Trek at its best.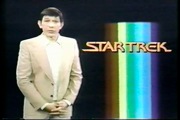 Star Trek was in production as a television series for only three seasons. 1966, 67 and 68, a total of 78 1-hour episodes were filmed. And yet, because of the immense popularity of the series' in re-runs many people thought there are a lot more. In fact some people think we are still making them.
"What's you favorite episode?", that's a question that comes up all the time. Well, I do have some favorites, a number of them. Some because they brought new dimensions to Spock. Others because they are wonderfully written stories. ...

(Some episodes are named, summarized in detail and Leonard shares what touched him in the various episodes: "City on the Edge of Forever" - the touching scene in which Kirk may not intervene in the death of the woman he loves because it would alter history. And "Devil in the Dark" in which a strange creature which is first seen as a 'killing monster' turns out to be a loving mother. This message against prejudice does not only have a teaching effect, it is the first time Leonard Nimoy "ever played a scene with a rock".)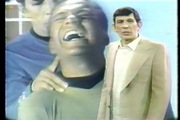 "Necessity is the mother of invention", and she certainly was when it came to developing the powers of Mr. Spock. People often ask me: "How was the Vulcan death-grip developed?" Well, the fact is: There isn't any Vulcan death-grip. You see, it was a plot we developed ...
But we did develop was the Vulcan neck pinch. The first time it was used was called "The Enemy Within". That was our version of the Dr. Jackyll and Mr. Hyde story. What happened was that there was a malfunction in the transporter, and when captain
Kirk was being beamed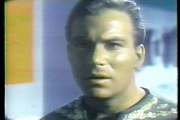 on board the ship the transporter split him into two personalities. So, we had two Kirks on board now, one evil and one good.
(A scene is shown)
That's how it began. In the script the writers were referring to it as the FSNP, the famous Spock neck pinch. And it served two valuable purposes: It added to the values and mystery of Mr. Spock and it also made it possible for Leonard Nimoy to avoid a lot of running and jumping and fighting. (see also: Natonwide BBC )

Now, how about the famous Vulcan mind meld. As we already have seen in the episode with the rock-creature, Gene Roddenberry had already written into the Star-Trek writers-guide - you might call it the show's bible- that Mr. Spock had the unique ability to meld his mind with that of a creature or another person in order to implant or extract important information. And, as in the case of the Vulcan neck pinch,he'd always encourage to expand his own ideas to think creatively.
I saw a chance to do that again in an episode in which we had on board the ship a man who is mentally disturbed. But he had information that we vitally needed. It was decided that Mr. Spock would be able to meld his mind, penetrate the disturbance and get the information directly. A dangerous thing to do in this case because of course Mr. Spock's mind might become disturbed as well in the process. .... Pay particularly attention to Mr. Spock's hands.
....  (dialogue in the scene:) Mr. Spock as acting captain dictates into the ship's log: "I must now use an ancient technique to probe into van Gelder's tortured mind." Dr. McCoy: "Spock, if there is the slightest possibility, it might help!" Mr. Spock: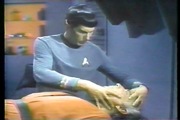 "I have never used it on a human, doctor." Dr. McCoy: "If there is any way we can look into this man's mind we can see what he is saying is real or illusion." Mr. Spock: "It is a very personal thing to the Vulcan people, into our private lives." Dr. McCoy: "Now, look, Spock, Jim could be in real trouble. Will it work or not?" Spock turns around and goes over to van Gelder: "It could be dangerous, do you understand? It require I make pressure changes, in your nerves, your blood vessels." Van Gelder: "You must open my mind. Let me warn you, explain to you ..."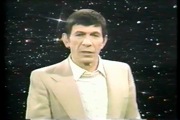 Spock's hand became increasingly important as the character developed. In fact in an episode called "The Enterprise Incident" there was a love scene between Spock and a female Romulan. The entire physical contact was simply a stroking of each other's fingertips.
....
The famous Vulcan hand salute - How did that start? We were doing an episode called "Amok Time". Spock had to get back to his home-planet of Vulcan because as a child he had been betrothed in marrying. Now it was time to fulfill that commitment. We arrived on the planet ... we were greeted by a procession coming up from the city. When the procession arrived we discovered that Vulcan is a matriarchy. The head of the planet is being brought out, carried in a sedan-chair by some bearers. The character was named T'Pau .......
And I thought this is a special opportunity to create something special in the way of Vulcan greeting some kind of a signal that they have between each other. ......
I was raised in an orthodox Jewish family. And during the High Holidays I go to the temple with my parents and sit with my father and my brother and at a particular point during the service the Khohanim, who are the priests of the Hebrew tribes, bless the congregation with a blessing which is familiar to all of us from the old and new testament: "May the Lord bless you and keep you  ..."  When that time comes during that ritual the congregations turns their back and does not look at these men.
[see: Articles & Quotes - Leonard Nimoy's Personal Quest]
My father would say: "Don't look, turn away!" And of course, being a curious 8 or 9 years old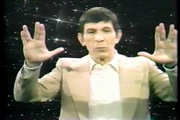 child I peeked. What I saw was this:
These gentlemen were holding their hands in this position while they were giving this benediction to the congregation .....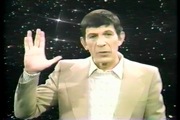 This is the shape of the letter "Shin" in the Hebrew alphabet. The shin is the first letter in the word "Shaddai" which means the Almighty. And these gentlemen were ... using a symbol of the Almighty's name in blessing the congregation. I was fascinated. I thought I got to learn how to do that. And I worked long and hard to accomplish it. So, I suggested to the director that perhaps Vulcans do that when they greet. He was intrigued, liked the idea ..... 
(A scene is hown)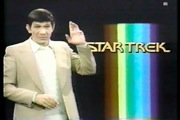 [Leonard Nimoy shares the Cleveland-story. Read here - The Andrea's Reel section - a lady greeted Leonard Nimoy with the Vulcan salute. When he asked her whether she can do it with her left hand, she tried and got about that far (photo) and said: "I speak it with an accent"]

I am often asked: "Is it difficult to play a character without emotions?"  Well, it is a misconception. Spock is not a character without emotions. Spock is a character who has learned to control his emotions. And in his particular case it is more difficult because of the fact that he is half-human and he has that side to control as well. Believe me: Six days a week, 12 hours a day of controlling your emotions can have some strange effects on you. One time, in a meeting room, having a conference with a couple of writers, I suddenly found myself crying for no reason at all.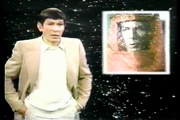 The emotions just had to come out somewhere, some time.
So, I welcomed the scenes or episode where Spock has some kind of emotional release. We had one in an episode called "The Naked Time". (Leonard Nimoy gives a summary of the story and the scene is shown where Spock desperately tries to remind himself of his duties.)
I like to think that that scene made the audience understand that inside Mr. Spock's cool exterior there was something sensitive and vulnerable. It might be a coincidence, but after that episode went on the air my fan mail jumped from dozens of pieces per week to thousands.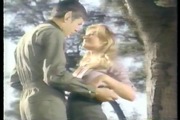 Dorothee Fontana was one of our regular recurring writers on Star Trek. She wrote some wonderful stories for us. And she approached me one day and she suggested that we do a love-story for mister Spock. And I thought: "That's a big mistake." And I put it out to her that, when we went too far with Mr. Spock express his emotions, we could never again deny that fact that he had them, we couldn't play that he was cool and in control. She said that she had an idea that she hoped would work.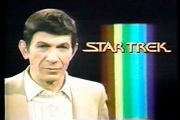 (A scene from "This Side of Paradise" is shown)  .....

Star Trek was my first full-time series as an actor. And it was hard work. It was 5 days a week, 60 hours a week, 12 hours a day. But it was very rewarding. It was a tremendous sense of family, the connection with the cast and the crew, we all enjoyed each other, enjoyed working together. And when it was over, there was a sense of loss. We were canceled soon after three seasons and the show went into syndication. We never had a tremendous success at network. But now, in syndication, the show started to build an enormous new audience. In about three or four years after we've been cancel by the network, pressure start to build for more, new Star Trek television shows, movies, whatever.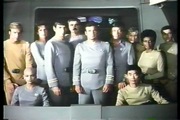 1978, about ten years after we finished making the original series, paramount re-assembled the cast and we made Star Trek - The Motion Picture. It was a very finally crafted film and it did well.
But from the actor's point of view, frankly, it was frustrating. We didn't feel that we were playing the characters we enjoyed playing in the way that we knew how to play them. And it was frustrating for Gene Roddenberry, too. It wasn't the script he had wanted. The gaps seemed filled with too much emphasis on special effects.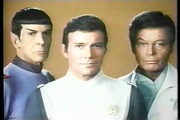 But the film did very well and paramount decided they'd like to try again. They and Roddenberry agreed to bring in a new producer, a man named Harve Bennett to see if he could bring back together the original elements that gave us the fun, the excitement and the chemistry between the cast while keeping the special effects in their proper perspective.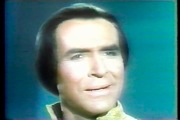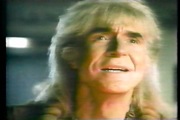 Harve Bennett did some very bright things. The first thing to do was to screen for himself all 79 episodes of Star Trek. And when he found "Space Seed", the episode with Riccardo Montalbán, he decided that this was a wonderful platform for a sequel.
A terrific idea and it involved a terrific actor. (two scenes are shown: Riccardo Montalbán in 1967 and in 1982)
The second wise move
Bennett made was to tantalize me with an intriguing question: He said to me: "How would you like to have a beautiful death scene?" (The death scene in ST II is shown)

My most difficult decision concerned "The Wrath of Khan" concerned the death of Spock. Where are times that an actor tires of playing even the greatest of characters. And the death scene was partly written - a difficult thing for an actor to turn down. Their is of course a catch most Star Trek fans have realized: In science fiction - is death the final chapter of life? Or just the beginning of another story?
.....  Will there be more Star Trek movies? Oh yes. The special effects for Star Trek III are being designed right now. .....  (directors and producers are mentioned) ... and rest assured: The presence of Mr. Spock will be felt on the set. Star Trek III will be directed by his friend Leonard Nimoy. Will Spock be found? Will he live again? We'll learn the answers to these questions during the summer of 1984.
I thank you to listening to my stories and some of my favorite moments of Star Trek. Live long and prosper!
In the end scenes from "Amok Time" are shown and Leonard Nimoy's song "Alien" is played.
http://www.youtube.com/watch?v=m-vnWtudj0k
http://www.youtube.com/watch?v=fqVZUe0iAsY&feature=related
http://www.youtube.com/watch?v=FhptLB2i6TI&feature=related
http://www.youtube.com/watch?v=FDYVRH5DHHM&feature=related
http://www.youtube.com/watch?v=mOgnikw9vD0&feature=related