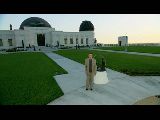 2006
The inaugural program of the Griffith Observatory
is shown in the Leonard Nimoy Event Horizon:
THE ONCE AND FUTURE GRIFFITH OBSERVATORY
- a guide through the Observatory
Guiding the tour:
Leonard Nimoy

Dir.: Bob Niemack
Producer: Ann Hassett
Executive Producer: Eric Schotz
Co-Producer: Brent Pierson
Director of photography: James O'Keeffe
National helicopter pilot: David Gibbs
Cameras: Brian Pratt, Garry Bacon, Andy Shufort, Keith Schwalenberg and John Trapman
Sound: Rick Bush
Art director: Jen Collins
Editors: Kevin Hudnell
Claudia Hoover
For further credits or to buy the DVD (highly recommended!) you find the link at: http://www.friendsoftheobservatory.com/items.php?itemid=1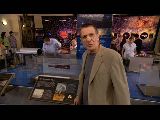 Produced by: The National Aeronautics and Space Administration
and Friends of the Observatory (FOTO). 2006
Link to the Griffith Obserbatory:
http://www.griffithobservatory.org/bnimoy.html (s. bottom of page)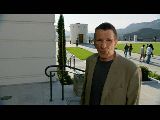 Leonard Nimoy welcomes visitors to the Griffith Observartory on the south-facing slope of Mount Hollywood in L.A.'s Griffith Park. 

Welcome to the most photographed, most beloved, most visited star gazing place in the world: The Griffith Observatory. It has changed quite a bit recently. It has undergone a 4 year and 93 million dollar expansion and renovation. And yet, from the outside, it looks very much the same. I am Leonard Nimoy and I love this place.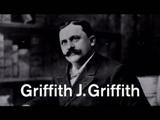 I'm gonna take you through it to show you what's new, but first I want to tell you the story of this amazing building.
It all began when a remarkable man looked through a remarkable telescope. Griffith J, Griffith immigrated from Wales and made a fortune investing in silver mines. He donated a huge part of land for the town to have a pork which was named Griffith park. Above the LA basin he had the opportunity to look through the huge telescope on mount Wilson. He was amazed and transformed by what he saw. He was moved to reply after looking through that telescope: If everyone could look through eyepiece, it would change the world. Before he died he gave 100.000 dollars to the city of Los Angeles to built a science hall and the observatory. He wanted it built so that it lasts for centuries. Officially it was opened on May, 14th 1935.
Not only are films shown at the observatory, over 200 films, movies and videos have been shot at Griffith Observatory.
Astronauts were trained at the planetarium.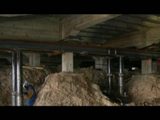 Because it became too small for all the people visiting, in January 2002 the doors were closed for improvement - after 70 Million visitors have gone through. In case of rain 200 buckets were needed to catch the water dripping in.
The only option for the required expansion was to build underground. To build underneath the whole building had to be lifted up.
Another challenge was to build an underground hall free of support columns that might hinder the visitor's view to the exhibits.
Way to enable fire trucks to come into the building needed to be planned.
LN: O.k., it is time for that tour I promised you. You know, what's exciting about this place: Everything here was made to stimulate the imagination. To give us new ways to understand our universe, starting here at the Foucault pendulum. It shows something which is very difficult to prove in any other physical way: That we are standing on a rotating planet.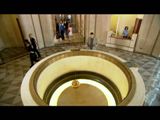 Leonard shows a "secret spot" at the renovated ceiling to demonstrate how the paintings done by Hugo Ballin in 1934 used to look.
This place is filled with visual surprises like that. It is a treasure hunt for the observer... ( amongst other exhibits a perfect replica of Galileo's telescope is showed with which he viewed the moons of Jupiter. Mount Wilson and the Californian mountains are seen as the Alexandria of modern astronomy because of clear air and steady flowing air which is essential for astronomers.)
The West wing of the building contains the Hall of the sky. This is the place to find out about our mechanics of our solar system.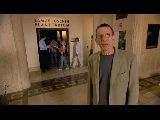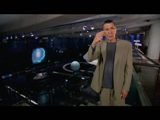 In the West Rotunda you'll see one of the hottest shows around... (Griffith Observatory was the first public observatory to be fully equipped for observation of the sun... Mr. and Mrs. Oschin supported the observatory, believing that any free individual could and should make a difference. A hall is named after Samuel Oschin.)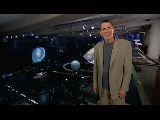 The Planetarium has undergone a total transformation. The innovative Griffith star shows are beamed from the newest Zeiss fiber optic Universarium Mark IX star projector. And the first of it's kind, digitally animated, All Dome, laser projected event, centered in the universe. It's a cinematic experience not to be missed.

We are now underground, in the Gunther Depths of Space. (The "big picture" is the largest astronomical image ever produced.)
The photograph was divided into 114pictures and preserved in ceramic porcelain fired into individual steel panels. These were then re-assembled and mounted at Griffith observatory.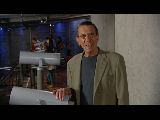 Here's the amazing thing about that wall of stars and galaxies: It's a picture of a section of the night sky that will be covered by your finger if you put it like this - a foot from your face. And now, through these telescopes or down here in the Gunther Depths of Space you can see and count nearly 2 million celestral objects...  That's about 1.999999 million more than you would see with the naked eye.
Space exploration has increased our knowledge about the universe and our place in it in ways the early astronomers could only dream of. The planets of our solar system were once only distant objects. Today, thanks especially to data collected to NASA missions, the planets are landscapes we can imagine visiting. That's the idea about our solar system. Here you can find out more about the other planets orbiting our sun. Would you like to know how it would be like to visit Jupiter? For starters: On Jupiter I would weigh 450 pounds. I think I would rather weigh myself on Pluto. Oh, no .. it's not a planet any more. Let's try it on Mercury.  ...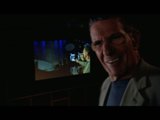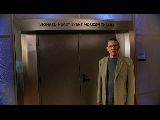 Welcome to the Leonard Nimoy Event Horizon Theater - a place for discovery of all kinds. Let's go and see what's going on there right now. (The viewer is taken along inside where the inaugural program can be watched.)
                                     °°°°°°°°°°°°°°°°°°°°°°°°°°°°°°°°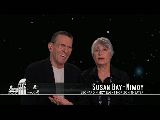 (Interview with Susan Bay Nimoy and Leonard Nimoy, October 2006) LN: The Leonard Nimoy Event Horizon Theater is a complicated and interesting title. Leonard Nimoy, obviously, that's me. "Event Horizon" is a place where the thing happens. The thing, whatever it is, is where it happens. It is an extremely useful place for lectures, for demonstrations,

SBN: for necking, I mean, you only have the Planetarium Theatre for holding hands, and kissing in the dark, now you have the Leonard Nimoy Event Horizon...
LN: Don't tell everything. Something should be a secret.

(Here is only a part of another interview. For a longer version of this interview go to Leonard Nimoy and Susan Bay Nimoy at the Griffith Observatory under "Other appearance"  at our page.) 
                                        °°°°°°°°°°°°°°°°°°°°°°°°°°°°°°°°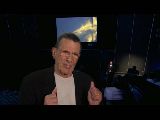 The city has a curator for that place. There will be a demonstration, there will be a life feat from NASA or JPL, there will be scientific discussions or explorations, there will be films. I am very excited about sitting there myself and watching and listening when some of these events take place.

I began by telling you how Griffith J. Griffith was forever changed by one look through the telescope. It was his dream to share this transforming experience with the public. And since 1935 more than 7 million people have come to the observatory's rooftop dome to look through the 12 inch telescope. More people have looked through this telescope than any other in the world. And each time it happens one man's dream is passed to another.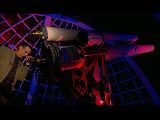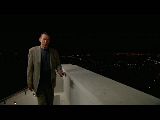 Griffith J. Griffith's life was transformed when he looked out into the night's sky. I invite you to take a look.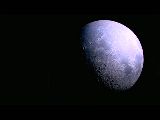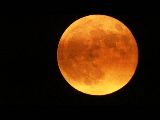 Griffith Observatory: Inspiring the future one imagination at a time.
The naming of the Leonard Nimoy Event Horizon theatre recognizes the generous contribution by actors Leonard and Susan Bay-Nimoy to Griffith Observatory's renovation and expansion.

Leonard Nimoy is a highly regarded actor, director, photographer, and poet. He is perhaps best known for his Emmy-nominated role as Mr. Spock in the television and film versions of Star Trek. His wife, Susan Bay-Nimoy, has had a career as an actress, director, producer, and community activist. She currently serves as a Board member for the Los Angeles Museum of Contemporary Art. Together, they have made significant contributions to institutions in Los Angeles, New York, and other cities, each with a focus on giving people a chance to broaden perspective.
Both Nimoys share a commitment to public astronomy and education. "By observing the sky and pondering our place in the universe, people gain a new perspective on their daily lives," said Leonard Nimoy. "Griffith Observatory gives its visitors that opportunity. It is a Los Angeles icon, one which we need to ensure will be here for generations to come."
"Like so many people in this area, we recognize what a powerful resource the Observatory is for the community," added Susan Bay-Nimoy. "When we learned of the plans for renovation and expansion, Leonard and I agreed that we wanted to make a substantial commitment, both personally and financially, to the project. I hope that our participation will encourage others to become involved."