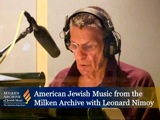 2004
Inaugural episode of the critically-acclaimed radio series American Jewish Music from the Milken Archive. (Life stream links)
(Grace, Thank you for pointing this out!)
Leonard Nimoy reads for the Milken Archive of Jewish Music:
Just one generation after the arrival of the Mayflower in the year 1654 the first jewish Imigrents arrived in North America. Like many later newcomers to these 
shores they came as innocent refugees from perscution....   (Scroll down for more) 

http://milkenarchive.org/articles/view/radio-series-with-leonard-nimoy
Link to the life stream Part 1:
http://milkenarchive.org/#/voices/view/16

Link to the life stream Part 2:
http://milkenarchive.org/#/voices/view/17

(thanks to Grace for this link): http://www.milkenarchive.org/articles/view/radio-series-with-leonard-nimoy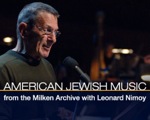 Inaugural episode of the critically-acclaimed radio series American Jewish Music from the Milken Archive with Leonard Nimoy. Part one introduces the Milken Archive, and features music by Leonard Bernstein, Aaron Avshalomov, and Simon Sargon, as well as interviews and commentary with Lowell Milken, Neil W. Levin, and Gerard Schwarz.
The series of 13 two-part episodes, initially produced with WFMT and broadcast on radio stations around the nation, will delve into the rich body of Jewish music, both sacred and secular, that has developed over the course of American history. Every episode of this award-winning program will illuminate a major theme reflected in American Jewish music, including thrilling biblical epics set to music by Kurt Weill and other 20th Century masters; Jewish legends in tone poems, film scores and operas; sacred masterpieces and the great cantorial tradition; the joy of klezmer; symphonies and concertos based on Jewish themes; the mysteries of Sephardi music; Holocaust reflections; beloved songs from the Golden Age of Yiddish Theater; and world premieres of recently discovered Jewish compositions by Leonard Bernstein.
Episode 1; Introduction Part 1 (Length: 56:40) and Part 2 (Length: 1:01:17)


Leonard Nimoy reads for the Milken Archive of Jewish Music:
Just one generation after the arrival of the Mayflower in the year 1654 the first jewish Imigrents arrived in North America. Like many later newcomers to these shores they came as innocent refugees from perscution. And like so many nationalities that later built this new nation they eventually established a community and contributed richly to Amrerican culture: In literature, in jouranlism, in theater and in film, and especially in music. 
Hello, I am Leonard Nimoy. This is the first program of a 13 part series that celebrates three and a half centuries of uninterrupted Jewish life in the United States. By exploring the extraordinary range of its music. For more than a decade  now the music of the American experience has been documented in a unique untertaking. A note in archive of the American Jewish music. It was created by the Milken family foundation in 1990 for the vision of its chairman Lowell Milken. We'll hear from him a bit later in this program. And we'll listen to examples of the more than 600 works by over 200 composers represented in the Milken archive. To place this music in its cultural, historical and musical context we'll draw on conversations between the international acclaimed conductor Gearld Schwarz and the artistic director of the Milken Archive Neil W. Levin. At the outset Gerald Schwarz aks Neil Levin about whether there is indeed a distinctively Jewish kind of music.  
....
[This was ]Milken Archive artistiv director Neil speaking with maestro Gerald Schwarz. For our first selsction of music perhaps it's most appropriate to begin with the foundational document with the Jewish people: The bibe. The stories of the scripture have inspired countless works by Jewish and Christian composers alike. The Siberian born composer Aaron Avshalomov composed his Four Biblical Tableaux when he lived in Portland / Oregon in the 1920ies. It recalls three scenes from the bible: Queen Esther's prayer, Rebecca by the well and Ruth and Leoni - followed by a processional. This music by Aaron Avshalomov was performed by the Berlin Radio Symphonie orchestra, conducted by Gerald Schwarz.
....
[The first movement on You Tube:]
http://www.youtube.com/watch?v=h7buPw68Njo]
The Four Biblical Tableaux by Aaron Avshalomov performed by the Berlin Radio Symphonie Orchestra under the direction of Gerald Schwarz from Naxos release.
Various pieces of music are introduced.

Part 2  .....   The Milken Archive encompasses symphonies, operas, concertos, cantorial masterpieces and synagoge services as well as Folk music, popular music and songs from the Yiddish theater. The founder of the Milken Archive, Lowell Milken, recalled one of the most touching events that took place that took place in the course of making these recordings: ......   ... Neil Lewll talking with Gerald Schwarz.
We'll lsiten next to music inspired by 20th century literature. Yehudi Wyner's incidental music to a play adapted from Isaac Bashevis Singer's Story "The Mirror".   It explores the interior life of a Jewish woman living in a small Eastern European town. Composer Yehudi Wyner, a native of Calgary, Alberta, grew up in New York City. .... 

Various pieces of music are introduced.
Episode Guide
Episode 1: Introduction
Part 1: Now Streaming
Part 2: Now Streaming
Episode 2: Concertos
Part 1: Available June 4, 2013
Part 2: Available June 18, 2013
Episode 3: Bible Stories
Part 1: Available July 9, 2013
Part 2: Available July 23, 2013