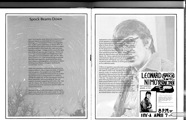 1977 April 07
Conference with Leonard Nimoy with drama students. 
.. Many of the questions asked were concerned with science fiction and predictions of the future. Mr. Nimoy's replies to these all took the points of view that various alternatives answers for mankind had been predicted by good science fiction writers, but that it was up to mankind to determine which of these alternatives would be turned into reality.  ..
When questioned about his identification with the character of Mr. Spock, Mr. nimoy replied that he had identity crises between Spock and himself all of the time, but identification with Spock was a part of his life and it would not matter wether or not he grew tired of it as it is a definite reality. 
A flurry of questions were directed towards Nimoy concerninig his qualifications to speak on the scientific aspects of Star Trek. Handling these pointed queries coolly, he replied with logic that Sppck would have been proud of that the responsibility for the scientific theory behind the shows was not his. "All I do," he stated, with a slight smile on on his lips and a hint of professional pride in his voice, "is to make people believe what I'm saying."   .....