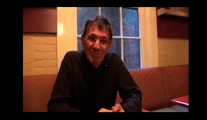 2010 August 05
Filmed by: David D. Gregorio
http://www.librarymedia.net/flash/videoplayer.html?source=rtmp://63.116.232.6/vod/mp4:Nimoy.mov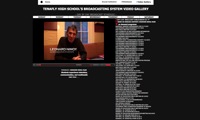 David D. Gregorio: I traveled up from New Jersey to take part in this project taking a day off from my work at Tenafly High School where I head the school's library media center. I had a video camera with me. Mr. Nimoy asked that I turn this camera upon myself and lift it up in the air, he then took the shot and said it was a good one. His instruction seemed quick and spontaneous. I said to Mr. Nimoy that I learned through the philosophy of Aesthetic Realism that art can answer questions - he responded by saying that art can ask questions. Later I asked if he would be so kind to record a message to our students and he generously agreed. During his message his experience and candor comes through. 
I think his message had good effect on many of our students. I hope for his next project Mr. Nimoy will involve himself in education by perhaps taking a small group of students on a journey through a philosophical concept and photographic project similar to this one - accompanied with rich discussion, questions, answers, and wonder!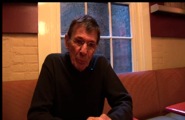 Leonard Nimoy: Hello, Students at Tenafly High School. I am Leonard Nimoy and probably best known as Mr. Spock from the television series called Star Trek. I have acted in all original Star Trek series, I have directed a couple of them, I have produced a couple of them, I wrote a couple of them, so I have worked as actor, director, producer and writer. I have also written some books of poetry, I tried my hand at music, I have acted in musical theater around the United States, I have acted in comedy, I have acted in drama and I do a lot of photography work.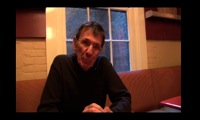 Photography was a hobby of mine since I was a teenager. And the arts have been my "path" into a very exciting and very enriching life. If I get into a project, whether I play King Arthur in Camelot or I play Spock in Star Trek, when I start to explore the character and explore the project I am in, I do a lot of reading, I do a lot of research to find out about what that person might be like, the person I am going to portray.

My photography work leads me into terribly interesting areas, about religion, about culture, about psychology, about body image, about people's perception of themselves.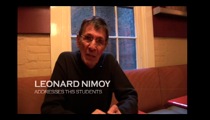 And the arts have been a doorway for me to a very interesting life. I read a lot because I need to know a lot about what I am doing, not because I have been told to read something, but because I am particularly excited of being a reader.
I read because I want to know something, I want to know something in particular. If you find something you are interested in, it is a lot easier to go to the library and do some research and do some reading on that subject because you got interested in. It's hard if you are told you should be reading this or should be reading that. Sometimes it's useful if you come across something that tickles your imagination and put you onto a path of something exciting that you might ant to learn more about. Expose yourself to ideas, let ideas come in about the arts, about literature, about people, about geography, about politics, whatever it might be. Expose yourself, keep yourself open to the possibilities.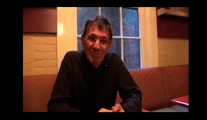 If you see the arts, try to make it a process of learning for yourself. Get your curiosity to wake up and find out things about the world you live in and the people around you.
And I wish you all good luck and Spock would say: "May you all live long and prosper!"