Scroll down for the videos
(You find Leonard Nimoy in the end of Part 8)
30 years of Star Trek is celebrated at Paramount in Los Angeles.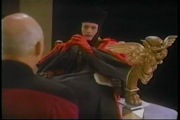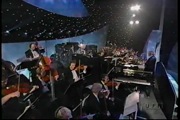 Clips from films are shown, music, sketches on the stage are performed, there is music and speaches.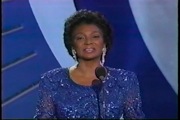 Most actors, producers, writers come together, some function as speakers.
Leonard Nimoy is portraying the prophet Samuel at the time in Marocco and takes part by sending his greetings via a video: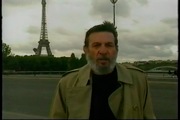 Leonard Nimoy from Paris: Hello, I am Leonard Nimoy, I'm in Paris today and on the way back to Marocco where I am portraying the prophet Samuel in the story of "David". And that by the way answers one of the most asked questions: "How did Star Trek affect your acting career?" And the answer is very positive. I had the great fortune of having steady work ever since Star Trek went on the air.

The question about being identified with an alien is a little more complex and a little more interesting. I wonder why it is that ... Spock and other aliens in Star Trek have attracted so many fans and so many followers over the years.
In a way it tells us something about ourselves. I think all of us have experienced in our lives of feeling outside. Everybody else knows what's going on, I'm not quite getting it. Everybody else knows exactly what clothes to wear, exactly what music to listen to, exactly whom to hang out with, I'm just not quite getting it.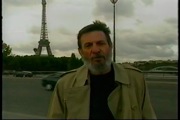 And I think in this respect Spock and people like him speak for all of us and give us a sense that our true dignity comes from our own real sense of self-worth. So, here is to Spock and all of his fellow aliens. May you all live long and prosper! 
http://www.youtube.com/watch?v=Rfn4aLYugQk

http://www.youtube.com/watch?v=9OrjF55wJG0
http://www.youtube.com/watch?v=M00vxwuD7Ig&feature=related
http://www.youtube.com/watch?v=iFGow3LXWI0&feature=related
http://www.youtube.com/watch?v=NZTw_8lVjIk&feature=related
http://www.youtube.com/watch?v=8qxD2eoh-W4&feature=related
http://www.youtube.com/watch?v=utvB3cZcbDc&feature=related
http://www.youtube.com/watch?v=vPmzySw1cmM&feature=related
http://www.youtube.com/watch?v=UUihH9iyyt0&feature=related
http://www.youtube.com/watch?v=6maytYsUeGY&feature=related
http://www.youtube.com/watch?v=X1SU10CmcqI&feature=related
http://www.youtube.com/watch?v=9dGCkTnRNd4&feature=related
http://www.youtube.com/watch?v=2WwqQHBpf6U&feature=related