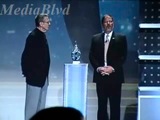 2010 January 12
See also: "Biography and Awards"   



The Douglas S. Morrow Award is presented in memory of Douglas S. Morrow, Academy-Award-winning Writer and Producer Advocate, and former Space Foundation Director. Douglas S. Morrow helped the Space Foundation get started in it's earliest days.

The Award's aim is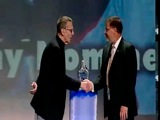 Leonard Nimoy accepts the award.
On his way to the speaker's pulpit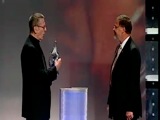 Leonard says: I spoke to my wife about an hour ago and she asked: How is it shaping up for tonight?
and I said: Everything is gonna be all right, we are among friends. (laughing form the audience)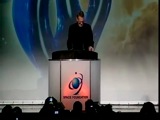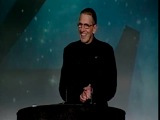 Leonard Nimoy: I am sincerely honored and grateful for this opportunity and for this award, it means a lot to me. And to be able to talk to you folks, I really appreciate it.
In Sept. 1976 I was with the rest of the cast from Star Trek, we were on the Tomac in the Mojave desert when the hangar- doors opened and the shuttle of the Enterprise rode out and the Air-Force men played ( imitating a trumpet player playing the title song of Star Trek) - it was thrilling to be there. President Obama was five years old at that time.
He became a Star Trek fan. I don't know whether it happened on that day, but soon or later he became a Star Trek fan and I have that on personal authority because the first time I met him, which was about three years ago,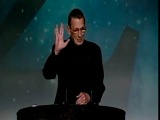 he said - as he came through a crowd to greet me- he said: "They told me you were here,"
and he did this, you know?
I thought: This is going to be okay.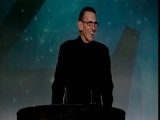 I am an actor, I'm not a scientist. People do often confuse the actor with the role and they assume that I know things, you know? (laughing)
I was invited a while back to go to Caltech to speak to students there and with great trepidation I went and I met some of the very brilliant young people, 19, 20, 21, 22, years old, working on his extremely sophisticated projects and they were explaining these things to me in a terminology - it was not my language. I didn't have a clue what they were talking about, but I nodded very sagely (laughing form the audience) and stroke my chin a little bit and was very thoughtful and I said (when they asked me: What do you think of it?) : You're on the right track.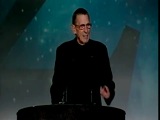 We are not scientists on Star Trek, but we are role-models and we recognize that. We are very proud of the fact that all of the crew of the Enterprise are extremely well qualified, professional, trained people, they are scientists in all the fields and I think that's a very important thing for young people to see and throughout my last 40 years it has been a great source of pride for me to hear people who walk up to me and say: I'm in the sciences because of you guys.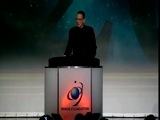 It means a lot to me to hear that. It's very important, we need scientists. Maybe some of you in this room are having the same thoughts, I hope so. 

Star Trek went on the air in 1966. 1966! (laughing) It's hard to believe. It was so long ago. For me life very quickly got very crazy. I had never been in a television series before. I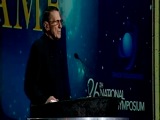 have done some occasional work in television and film. Maybe you saw me before. You might think you knew me from somewhere. People asked me if they met me at my cousin's wedding, you know? But this was the first time I had rather extensive exposure. I hadn't even changed my phone number. I was still in the Los Angeles telephone directory. You could call me if you wanted.
And people did. The phone kept ringing and ringing and ringing, people were knocking at my door, they found out where I live and my kids had to learn to lie: No, I don't know anybody by that name. He doesn't live here. No, no, no, no.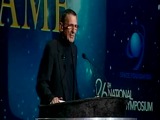 And people were waiting for me at the studio gate when I drove home at night they followed me home and they'd tear pieces off the shrubbery, it was really kind of crazy.

So, I got an invitation to go out to Billings, Montana, to speak at a collage there and I thought: That sounds pretty good to me how great it is going to be in Billings, Montana. So I went, I was picked up at the airport, I was going to a local motel and I walked into my room and people were waiting for me outside. I closed the door, I started to unpack and the phone rang.  ...  [ The Mary and Sally story to read it out in full search for "Mary phone" on our page. ] 


I started acting when I was eight years old in a neighborhood theater. I grew up in Boston. I was very lucky. there was a lot of art activity in Boston. Someone from Boston here? .... It's a great city. Great arts community, great academia and so forth.  ... Anyway, I started acting when I was eight years old in a local children's theater and I continued until I was about 17 years old. I was cast in in my first ... I was semi-professional. I wasn't paid. I was a working amateur and I was cast in a very serious wonderful play called "Awake and Sing" by a play-write named Cliff Odet who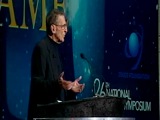 was very hard in the 1930s and 40s. This was a play about a family very much like mine. And I was playing a young, juvenile character very much like me, struggling to fid out: How do you find your way in the world?
And I was caught with the bug and I thought: Look, if I could do this kind of work - enlightening audiences and moving people in an audience, I would be blessed if I could do this for the rest of my life. So I decided to be an actor. And I said to my dad: This is what I want to do.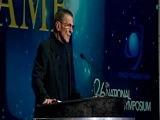 My dad, my folks, were Russian-Jewish immigrants they came to the United States in the turn of the century. My dad was a barber, very unsophisticated, sweet, hard working, dedicated people, dedicated to family and responsibility, but very unsophisticated. When I sad to my dad "I want to be an actor," he gave me the only advice my father every seriously gave me, and this was all he knew to say to me: You's better take up the accordion. (laughing form the audience) He said: You can always make a living with the accordion. (laughing form the audience)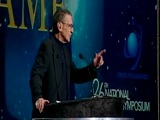 Well, I'll tell you something. Considering the kind of work that I did for the next 10 or 15 years the accordion would have been a step-up, you know?
He said: You'll be hanging around with Gypsies and vagabonds.
Okay, that sounded quite interesting to me, frankly.

I went off to California. And before I did ...,  I tell you a couple of things that effected my deeply. The theater where I did my theater work as a child had a very beautiful embroidered curtain. And at the bottom of the curtain, embroidered in Gothic letters it sad: "Act well your part - there all honor lies."
The words I found out much, much later were from Alexander Pope who meant it as a way of living your life. To act well your role in life. And that would be an honorable way to live your life. That was used in the theater as kind of a comment on the acting and I thought: Wow, if you want to be honorable, if you want honor, do the job right, do the job well.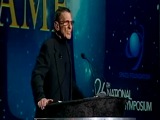 And then the last film before I was leaving Boston, I was 18 years old, was a Lawrence Olivier production of "Henry V", Shakespeare's Henry 5th, in which he played King Henry. And it comes to the great scene where he's addressing the English troops the night before they battle the English troops. They are vastly outnumbered by the French - a lot of more troops that he has and he hears somebody amongst his men and say "I wish we had more men", and he says: Ne, Nekos, wish not a single man more. If we are marked to die, we are now to do our country loss.
And he goes on to say:
"By Jove, I am not covetous for gold,
Nor care I who doth feed upon my cost;
It yearns me not if men my garments wear;
Such outward things no matter my desires:
But if it be a sin to covet honor,
I am the most offending soul alive."
There was that word again - that word "honor". I took it to heart, I took it very seriously. And I thought: This is something I have to keep in mind. And I have to try to focus on as I stood up for this career.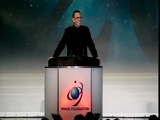 So, I'm on that train and I headed to that great repository of honor knows as "Hollywood".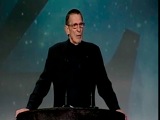 I was on a coach set for three days and three nights - that built a character. When I got out the train I moved in a moving house where I shared a room with a guy, we each paid $ 6 a week for rent and I went to work in an ice-cream parlor. And I got myself some 8x10 glossies and went up and down Sunset Boulevard knocking on doors, looking for an agent. And after a terribly long breach of time considering what I was trying to do, maybe a couple of months,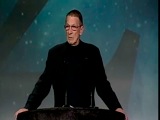 I found myself on a sound-stage acting in a film production. And I thought: Well... this is going pretty good, I'm doing fine, the project is going to rocket me to stardom if you pardon me the expression. An amazing project called "Zombies of the Stratosphere".
(laughing from the audience)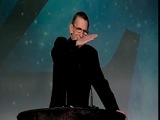 Three of us in a cigar-shaped space ship that staggered across the screen like that and lot's of trail of smoke that landed on earth. We stole a pick-up truck and 45 colt-revolvers and we were going to take over earth. (laughing from the audience)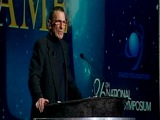 I don't know, it didn't quite do what I had hoped for my career. And to this day I don't understand why Zombies ... anyway,
My next mayor, mayor, great hit was my role in "Attack of the Brain Eaters" (laughing from the audience).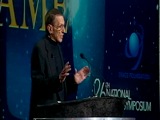 I wasn't doing too well, my career was swirling around the drain. So I had to take up other work to support myself and I sold life-insurances and I sold vacuum-cleaners and I sold freezers, I worked in a pet-shop, I serviced fish tanks in doctor's offices and people's homes. "Here comes the fish-doctor" - that was me, I was the fish doctor.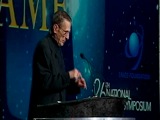 And now I found a ... job, I was drafted into the United States Army. And I found myself standing in front of a corporal, I had a typewriter, it was not a computer, it was a typewriter (imitating the typing) "Ping, ping, ping, pong, ping, ... " And he said: What do you do?
And I said: I'm an actor,
and he said: Oh, where did I see you in?
(re-playing his answer): "Zmmbmmm hmmm stmmmphmmr"
"What was that?"
LN: "Zombies of the Stratosphere" (laughing from the audience)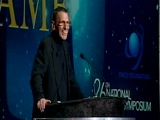 Officer: Ping, ping, ping, ping, ping, .. infantry. (LN: laughing)

I spent two years in the service by the time I came out I was married, I had a child and another one on the way, I've been very busy.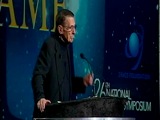 And I had to support a family. So again I went back to do trying what I wanted to do. The first interview I had was in a studio called "Republic" where they used to do a lot of Westerns. They said: You have do do a lot of riding on horseback.
I've never been on a horse.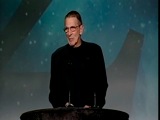 So I learned how to ride a horse. Fortunately it came naturally to me and before long I was working in Westerns. I worked in Gunsmoke, I worked in Rawhide, with Clint Eastwood, I worked in Bonanza and so forth.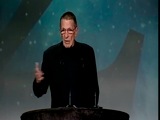 And then, gradually, I worked in some other shows like Twilight Zone and Outer Limits and Dr. Kildare and Perry Mason and what have you, I was all over the place. And then, finally, I was cast in a role in a show called "The Lieutenant".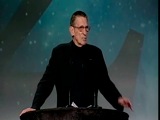 It starred Gary Lockwood. He was a lieutenant in the Marine Corps in that moment and I was a guest star in a pretty good role and it was produced by Gene Roddenberry. And when he saw the film, he contacted my agent and said: I have a role for Leonard Nimoy. I'm going to produce a pilot for a television series and it is called "Star Trek". This was around 1964 I think. And I thought: This is very flattering, it's wonderful he likes my work and he is considering me for something, but you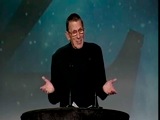 got to understand he says he's developing a pilot which may shoot, if he shoots it it may sell, if it sells I may be in the show or not, you know the network has a decision about this thing.

Anyway, he called me for an appointment. I went to see him and he showed me the props that would be designed he showed me the sets that would be designed, he showed me the clothes that would be designed, the costumes and so forth.
He explained this character, Mr. Spock, to me: Half human, half Vulcan which sounds very interesting to me. It meant the character had an internal life, very much like the human life, a struggle between emotion and logic and the right and the left brain. And I said: Okay, this could be something.
And then he said: You know, you'll wear pointed ears. (laughing from the audience)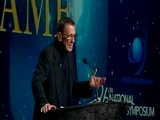 I was a serious actor, you know? ... But I had enough belief in what he was presenting me as the potential for this character that I thought I want to go for it. ... of course I am very happy that I did. We made the first pilot which was with Jeffrey Hunter as the captain. But it didn't sell for various reasons I don't want to go into, but a year later they decided to do a second pilot ..... they cast Bill Shatner (some applause)
It's okay, you can applaud Bill Shatner (laughing from the audience)
He's a friend of mine. (laughing from the audience)
He's a friend of mine. I know him pretty well, yeah. There's a rumor out there that he tried to drown me when we made Star Trek IV. I don't know how these rumors get started, I don't know.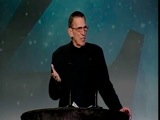 Anyway, the pilot sold. .. the work was intense. My day was 12 hours every day a week in this character. Stone-face most of the time .... learning lines, .... make-up, ...
On weekends we were doing promotional work, but it was exciting work. We did stories that I really thought had relevance. ... about us, about humanity, about humankind, ... I am proud to be part of it.
There was a time the press couldn't say anything about me without a reference to the ears.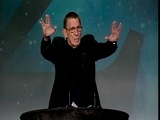 .... Amok Time ...   Spock is in heat (laughing from the audience)
It happens every seven years. Well worth waiting for.  .... we went to see other Vulcans for the first time. .....  the Vulcan greeting ..... Khohanim ..... I was mesmerized .... Link to an interview in which he tells the same story.

I got working on it to get my hands into that position and I didn't know it would come handy some day. (laughing from the audience)
Such a bad pun! I am shameless. I am shameless.  ....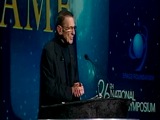 This is a true story. I was on air on a Thursday night, on a Saturday I as in Cleveland. (Telling the story of the lady in the car greeting him with the Vulcan greeting in Cleveland. Link to the story - scroll to the middle of the page)

It's been coming back to me in public ever since then and  it's thrilling to me.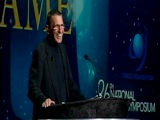 We have a camaraderie through this gesture and it means a lot to me. People do it to me in restaurants, bus drivers do it, policemen do it, kids on the street do it, it's amazing. Some struggle with it, some get it, you know? It's amazing.

(Other episodes are summarized. The Vulcan neck pinch is explained. )
These are the kind of things that I was looking for in the creative process to try to bring something to the work other than simply show up and do my dialog. I was trying to make a contribution and it was very exciting to do that.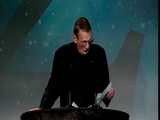 Fan-mail became a problem. I was getting sacks and sacks of fan-mail. I was not being paid a lot of money, frankly. It was getting expensive and difficult to deal with. So I asked the studio for some help. And I got this following letter from the business affairs people. It says: Dear Leonard, for the past several weeks I have been consulted over the respective operation in regard to your personally handling of your fan-mail. ... we will pay you in addition to your conversation $ 100.- for your secretary and equipment needs for your personal handling of fan-mail.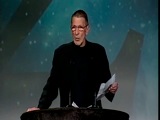 LN: That was $ 100.- per episode which was about 6 days of work.
(reading on from the letter:) Not intended now was specifically agreed we will furnish you with pens, pencils etc. which we assume you would furnish yourself.
I wrote back: Thank you very much for taking the time to sending me the memo clarifying our agreement as regard to the fan-mail supplies etc. I hasten to assure you that we will need no longer make request in that area for some time since my secretary and I have gone to various offices around the studio and managed to steal all the pencils and pens we need. (laughing and applause from the audience)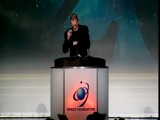 Well, as I said, the rest is history. We did three seasons, people are shocked that we did three seasons, but that's all there was: 1966, 7 and 8.
And then we shut down and were out of business for a while, for 11 years actually. 11 years later, as a result of the success of re-runs and the success of George Lukas' Star
Wars, Thank you, George, paramount woke up and said: Let's make a Star Trek movie.
So we did in 1979, we did "Star Trek: The Motion Picture." It was not Star Trek I, it was The Motion Picture. And that was the intention: Let's make a movie.

And frankly it was not our best effort.




(laughing from the audience) ...


... And then somebody came up with the idea doing a much faster, low-budget film. That one, the first one, cost a lot of money, it was very grand and glorious and big space and ... and so forth. Now we went to work to make a second and somebody talked to me, a producer, and said: How would you like a great death scene?
I really thought: This was the end of it. Now we're gonna scrape the battle and turn out a cheap Star Trek movie, how big shall that be? And I said: Okay, if I go out as a hero and I save the crew and the ship- why not? Piece of glory.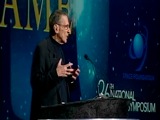 So we began working on the second film and obviously it was gonna be a good one. The script was good, direction was good, we were all having a good time, we were all back to that kind of chemistry that we had had when we were doing our best television work. I got out and thought: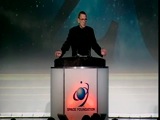 Maybe I made a terrible mistake.

It came to the day when we we shooting my death scene and I as not a happy guy. I rally was very depressed about it. And we filmed the scene and we finished the movie and I think: Well, that's the end of that.
I think I've done myself a disservice, but anyway, when we previewed the film, audiences were so upset about the death of Spock that they wouldn't go for it. And I sat there watching the film and there comes a moment where Scotty is in the engine room saying "Captain, we are in terrible trouble here", whatever he said, and Kirk says "I need Warp speed in 4 minutes or we are all dead," - no response form Scotty.
Spock looks around, gets up, leaves the bridge and I know where he is going: Going downstairs to save the ship and die, you know?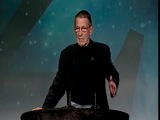 And I thought: I don't know if I can .... this. But if I get up and leave people will think I hate this movie, you know?
So I sat there and this amazing thing happened. I went down to play the scene and there comes the memorial service and the black tube with Spock in it goes down and is shut into space and Kirk says "of all the souls I met in my travels his was the most (pause, wagging his head) ... human,"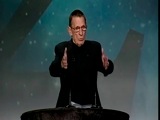 (laughing from the audience, more laughing and Leonard has to laugh himself) and then we cut to the surface of the Genesis' planet, the camera panned through some leafy folly and there is some fog and there, lying on the ground, is Spock's tube - intact.

And I thought: Oho! I think I'll be getting a call from paramount's studio pretty soon.
(Leonard laughs and laughing from the audience)
And sure enough they called me and said: We'd like you to be involved in another Star Trek movie and I sad: Thank you very much, I would like the opportunity to direct. Let me do two of them.
And I had a wonderful time doing Star Trek III and Star Trek IV. (Applause from the audience)
Thank you. It was in IV that people ... well, I think Bill tried to drown me but I'm not sure. It has been a rumor that has been around but I don't know.
Anyway, we had a great time, we made six of them. And then The Next Generation took over and I went off to direct Three Men and a Baby and a couple of other films, ...
I have had a great, great career as a result of Star Trek, now I'm doing some occasional work on the Fringe television series, I just finished some episodes (Applause from the audience).
It's a dawn good show, very well produced and I just finished some work in Vancouver just three days ago, which will be on the air in May, watch for it, I think you will enjoy it. It's very interesting work. My character, William Bell, meets up with Walter and we'll have a very interesting process that we'll have to work out together. And now of course this last year, a gigantic success, the latest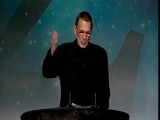 Star Trek film, and it deserved to be successful.
JJ Abrams, Thank you very much!


He convinced me to go back to a classic kind of mold and he did. And he re-invigorated the franchise, gave me a wonderful role and I was grateful and happy to come out of retirement because I hadn't acted on film for some years. I'm so glad I did it. He asked me to do the Fringe show which I did and then that. 
All I wanted was to make a living as an actor. To be able to support myself and a family as an actor.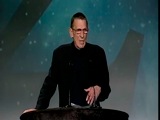 I have been blessed with all kinds of wonderful opportunities. I have acted all over the United States, I've worked in countries all over the world, as far as Australia and Japan and France and Germany, Italy, all over Canada, all over the United States, on Broadway a couple of times, toured in a couple of different productions as Sherlock Holmes, in the Royal Shakespeare production as D'Artagnion.... I've had a great, great time. I published some poetry, sang some songs - which I probably shouldn't have done, (laughing from the audience) I've had a great, great, great time.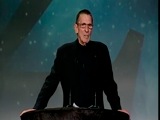 And as far as the honor-issue is concerned: Here I am tonight honored by the Space Technology of Home affair. Hoe much ... does it get, you know? I'm a very happy guy.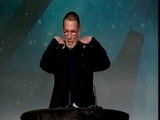 I have the recognition of my peers. I was at an industry function a while back and a lot of people in a crowded room and I felt a pair of hands on my shoulder from behind and a voice in my in my ears (speaking in a muttering tone): "I don't recognize you - you had your eras fixed." And it was John Wayne.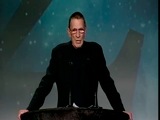 I believe in living a creative life. I believe in bringing more to the party than it is required or asked for. I believe in showing up and using both sides of the brain.
 

In recent years I've gone back to a very early passion of mine when I was a teenager: I've gone back to photography. I'm doing photography work and you'll see some on my website "leonardnimoyphotography.com". In July there is a solo exhibition of my work opening in a mayor museum in Massachusetts. In Massachusetts Museum of Contemporary Art, the exhibition is called "Secret Selves". I am very pleased and very happy about that.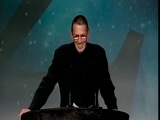 My wife and I were on a event in Los Angeles a few months ago and when it was over, we were walking the parking lot, we were walking with Tom Hanks, and a young man recognized him and came running over with a camera, and said: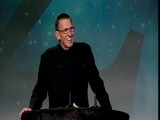 Mr. Hanks, may I take a picture of you?
And he said: Sure, we can take a picture.
And then he recognized me and said: Mr. Nimoy, you are a photographer, you take the picture?

I have - on the wall by my desk- a piece of calligraphy printed by my wife's sister from another source which I hope wears my credo. It says - I think it summons up the creative process and the creative life in a very powerful way- it says:
I heard the solemn whisper of a god of all arts: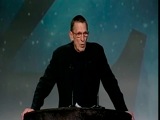 "I shall give you hunger and pain and sleepless nights, also beauty and satisfaction known to few and glimpses of the heavenly light. None of these shall you have continually, they are coming and going. You shall not be foretold."

(By: By Howard Lindsay)

Powerful stuff! Powerful stuff, and I have had it all. I have had the hunger, the pain, the sleepless nights, I have also had the beauty and the satisfaction and I have had the glimpses of the heavenly light.


I am one very, very grateful guy, I have had a long and exciting ride into my own frontier, I am grateful for all of it, I am grateful for you being here and inviting me here tonight, Thank you all!
May you all live long and prosper! Thank you!

Leonard Nimoy gets a standing ovation after his speech. 

 
http://www.youtube.com/watch?v=f00a7JWCTmE&feature=related
http://www.youtube.com/watch?v=YRitCDm4qOc&feature=related
http://www.youtube.com/watch?v=KF2DoyrOGVg&feature=related
http://www.myspace.com/video/vid/104425058#pm_cmp=vid_OEV_P_P