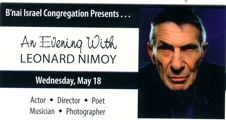 2011 May 18
A talk and get-together with Leonard Nimoy
Program: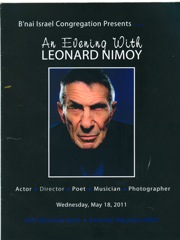 Welcome: Jonathan A. Schnitzer, Senior Rabbi
Introduction: Rita and Dr. Chet Stein, Event Chairs
Presentation: Leonard Nimoy
Closing Remarks: Irvin Barney, President
Auction: S. Rothenberg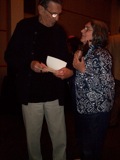 Summary by Grace (picture right), Thank you, Grace!
Photos: Thanks to Ebby02
At one point, Mr Nimoy described his early acting and how he struggled financially even before he was married. He said that he was very "enterprising" and sold vacuum cleaners, drove a taxi and worked in a pet store. There were some laughs when he said "enterprising." He stopped and said "I didn't mean to say that." "There are some words in the English language I have problems with and that's one of them."
It is  fairly well known among Mr. Nimoy's fans that his father did not want him to become an actor.  He described his leaving Boston to head to LA on a train, with his mother coming to say goodbye. He recited a poem that this parting reminded him of in the original Yiddish and the English translation. In it the overprotective mother bird puts so many clothes on her offspring for fear he will be cold, that the little bird can not flap its wings to fly.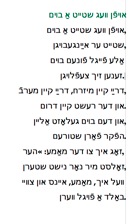 [Margitta: I transferred  the song / poem very literally by purpose. A real good translation takes months to do. Correct English gramar would take away even more of the magic of this poem by Itzik Manger.]
on the way stands a tree, it stands bowed,
all the birds from the tree have flown away.
three to the West, three to the East, and the rest to the South.
and the tree left alone, exposed to the storm.
I say to the mother: "listen, you should not hinder,
because I, mother, 1 and 2, soon will become a bird.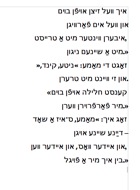 I will sit on the tree and will cradle him
over winter with comforting, with a nice song."
says the mother: "no, child," and she cries tears.
"maybe on the tree you will freeze [to death]."
say I: "mother, it is a shame for your nice eyes" -either this or either that, I am a bird."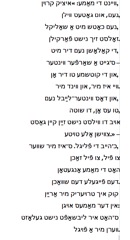 cries the mother: "itsik [the poem's writer's first name], my crown, for God's sake,
take a scarf along, you should not get a cold,
put on the boots, it will be a hard winter -
and the cap take along, too, I feel aches and sore.
and the winter-vest take, and put it on, you stubborn, (bullhead)
if you don't want to be a guest between the dead." -
I raise the wings, it is too heavy for me, too many clothes,
has the mother put on, the little bird, the weak one,
look I sadly, my eyes into the mother's eyes:
her love hasn't let me become a bird.
on the way stands a tree, it stands bowed
all birds of the tree have flown away.
At one point Mr. Nimoy recounted his meeting with President Kennedy, at that time still a little known Senator from Massachusetts. In his evening job as taxi driver in Los Angeles, Mr.Nimoy was sent to pick up Mr. Kennedy. Asking him "How are things in Boston?", the then Senator Kennedy was surprised to find a fellow Bostonian so far from home and inquired as to what had brought him to LA. When Mr. Nimoy replied he had come to become an actor, Kennedy replied "There's always room for one more good one."
Mr. Nimoy went on to describe the meaning of his name (in translation it means "mute"), how the Vulcan salute came to be and his memories of working with Celia Lovsky on the Star Trek episode "Amok Time." Some quick hand and camera manuevers were required, as Ms. Lovsky had great difficulty forming the salute when required! Mr. Nimoy donned his tallit while demonstrating the hand symbols used by the Kohanim / the High Priests to bless the Jewish congregation during the High Jewish Holidays. Those hands symbols were the basis of the Vulcan Salute. I must say as Mr. Nimoy kissed his tallit and spread his hands towards the audience that even as a Catholic I felt truly blessed.
Througout his talk, Mr. Nimoy was funny but serious, informative but very moving and always eloquent. Towards the end of his talk he became very emotional and put his hand to his chest as he affirmed the need for the existence of the Jewish state of Israel. He stated that we all need a a safe place that is home and that all of us to some extent were part of the Diaspora. (I greatly identified with this statement as all my grandparents were immigrants from Ireland.)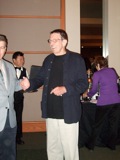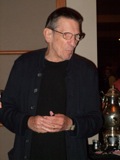 Mr. Nimoy said he's been asked often about the role of religion in Star Trek. It is his opinion that Star Trek did reflect and espouse many Jewish values such as the importance of education, social justice, compassion and dignity of the individual. He quoted a saying in Hebrew when translated means "Heal the world ...Heal the universe." In Mr. Nimoy's opinion the characters of Star Trek set out to do just that.