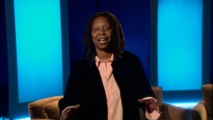 2009 May 12
Scroll down for the videos


Star Trek Captain's Summit
Host: Whoopy Goldberg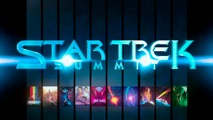 http://dokujunkies.org/dokus/menschen/star-trek-the-captains-summit-blurayrip-h264.html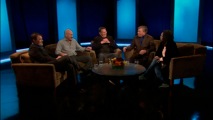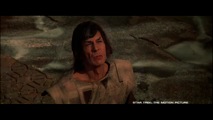 Talk show guests: 
Leonard Nimoy,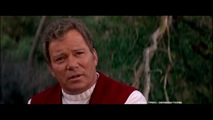 William Shatner,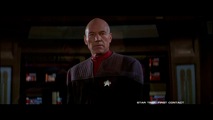 Patrick Steward
and Jonathan Frakes
Hi, I am Whoopy Goldberg and we are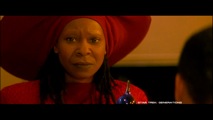 in New York City today for a very special occasion.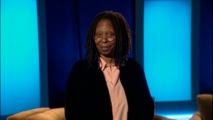 WG: Now how special is it? Well, it's not every day that you can get William Shatner, Leonard Nimoy, Patrick Steward and Jonathan Frakes together at the same time in the same room. And we have managed to gather them together for what we are calling a Star Trek summit. It's an opportunity to talk about Star Trek and the films and other points of interest and I am going to be your host.We all think that you're going to find it – as Spock would say – fascinating.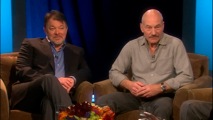 Whoopy Goldberg: I want to welcome everybody to the first Star Trek summit. Before we do anything else: Have you ever before sat down and hung out like this before? Is this the first everybody has been together?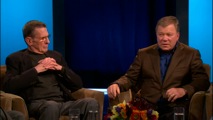 Patrick Steward, Jonathan Frakes, Leonard Nimoy and William Shatner: No
WS towards Ps and JF: You guys must have hung out.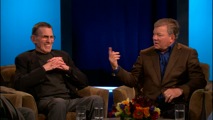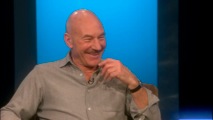 PS towards WS: You look like you are hanging out. We were loose.
WS: And Lenny and I have hung out.
LN: We have hung out, yeah.
WS: And I have hung out with Patrick.
PS: We have hung out longer than you have hung out.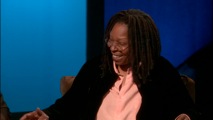 WS: If I hung out with you and you hung out with him and I hung out with him and we hung out that means you have hung out with him.
JF: I have hung out with him and with him, and now I am hanging out with you.
LN: I have spent some hanging time, really.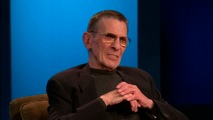 WG: Now this is the first time that I have hung out with you two (LN and WS), now you (WS) played a huge part in my life to which I will come later on.
JF: I read the story, tell it now.
WG: How I ended up for Star Trek? Because when I was a kid growing up there were never any black people in the future. There were never – when you look at all the sci-fi movies there were never any black people until Star Trek. And Nichelle Nichols, not only was she stunningly gorgeous, but she was working, she was the communications officer, she'd do stuff, … When LeVar Burton came to my house and told me they are doing a new Star Trek, I told him I wanted to be on. A year later I didn't hear anything from them, I called him and asked him: did you tell them? He said yes, but they didn't believe me. And this was when I was still a big story, you know? They told me he said, that, if you really want to do this, you call. So I called and they said: Let's have lunch. So we sat down, actually it was just ….
PS: Berman, Gene Roddenberry?
WG: Gene and Rick I think it was. And Gene looked and said: Why?
I said: Because you are the only one who knew I was here. So I like to be there for somebody else.
He said: You're serious?
And I said: Yeah!
And he said: It's a TV show.
And I said: It's the future, man. He named me …. (?) because of Texas …… all because of your show.
WS: I feel responsible in a very remote way though.
WG: When people say these kinds of things … I know you go to conventions and people stop and say: Oh, my god, you changed my life, do you say to yourself: Oh, come on, it is enough with this or does it always take you by surprise?
JF: What is too much when it comes to touching you?
PS: Inappropriate behavior, in appropriate physical contact is too much I feel, but that wasn't your point.
LN: What do you feel inappropriate?
PS: People wanting to have signed body parts ... I never signed them. I never signed money either. I think it's because I'm not an American citizen. I feel that if I sign a dollar bill they will take away my green card or they will arrest me.
LN: Fear.
JF: You signed body parts?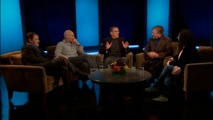 LN: Seriously, I am affected when people say "You affected my life". I am flattered by it. There are pre-limitations. I remember an experience I had early on. Because Spock is the science officer and supposed to have all this amazing scientific knowledge I was invited to go to Cal-Tech,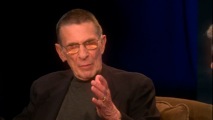 a mayor technical institute of learning and I was introduced to these genius young people and they were talking their way through their project and showed me what they were doing. And I didn't understand a word and was nodding safely. And when they were finished explaining what they were doing, they said: What do you think? And I would wisely say something like: You are on the right track.
It could be embarrassing.
PS: I'm hoping, they wouldn't say: What track was that?
(Leonard is laughing): Because it was so identifying with the character.
WS: But if you treat the question seriously, … what we like to be true like NASA… our rating went up when the rocket went up. And as our ratings went up, more money was appropriated to NASA.
Time to time one of us is invited … (William Shatner shares his experiences visiting NASA events) it fitted in with the culture and the society.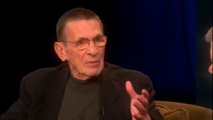 LN: We were there when the rode out the first space shuttle in Mojave, California. This was the one which was piggy-backed on the 747 to practice landings - and it was called the "Enterprise". And the Air-Force band played the Star Trek theme as this thing came rolling out of the hanger. It was an amazing event.
WS: Science in this country to a large extent has been inextricably been linked with Star Trek and many, many engineers would say time and time again that they had gone into their fields because of viewing Star Trek …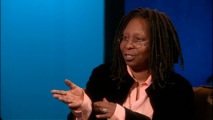 WG towards PS and JF: The other thing I want to ask is: You didn't grow up with Star Trek, right?
(Both shake their heads) This wasn't a show you were aware of?
JF: My wife had a picture of him (William Shatner) and after I got the show and I got home to visit my mother in Bethlehem, Pennsylvania, the refrigerator had his (Leonard Nimoy's) picture on it.
WS: Leonard's picture?
JF: Yes.
William Shatner: I love you, Leonard.
Leonard Nimoy, I'm grateful, forever grateful.
(Everybody is laughing)
Whoopy Goldberg: So now you get this audition …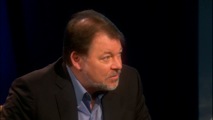 Jonathan Frakes: You see sci-fi wasn't our first love. Can I say that? Is it fair?
Patrick Steward: I think that's very fair.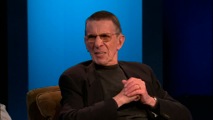 Leonard Nimoy: Wow, wow, - what does that mean?
JF: What I would have chosen to read would be Updike, Achiever intellectual stuff.
LN: Do you say that's a lower form of entertainment?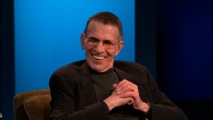 JF: No, no, I wasn't one of these guys who liked, … I watched Bonanza.
LN: Okay.
JF: It had nothing to do with intellect. …
 
WS: There is a marvelous story about Robert Wise who was going to direct Star Trek The Motion Picture –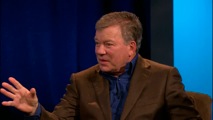 not knowing anything about Star Trek.
When he's got offered to direct it, his wife said he must take the job.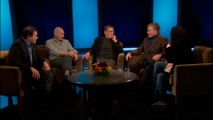 LN: Well, he had directed  "The Day The Earth Stood Still" which was a classic science fiction. But you are right, he did not know about Star Trek.
WS: But his wife knew all about Star Trek and she encouraged him to do it.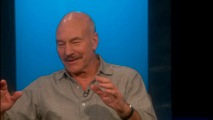 ……. (Patrick Steward shares about his daughter's comments on science fiction. She used the term "To boldly go" before it came up in Star Trek) …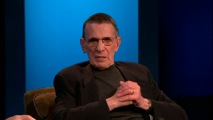 LN: The history of science fiction changed with Star Trek. Prior to Star Trek science fiction was a much cruder form of entertainment. I worked in 1951 in a gigantic production called – and I thought it was going to rock me into space – if you pardon the pun. It was called "Zombies of the Stratosphere".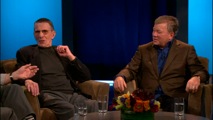 PS: I worked in a movie which originally was planned to be called "Zombies from Outer Space". Could it have been the same?
LN (laughing): You look familiar.
"Zombies of the Stratosphere" was three of us in a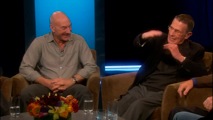 space ship that shuffled across the screen like that leaving a trail of smoke, we landed and we appropriated a couple of 45 revolvers and a pick-up truck and we were going to take over earth.
WG: So you were a Zombie?
LN: I was one of these people. So I was doing aliens all the way back.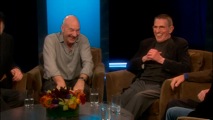 PS: Is this on video?
LN: I'll sell you a copy.

PS: You'll sell me a copy? (laughing)
WS: As science fiction evolved from these crude child-driven stories to something more sophisticated. Star Trek and then beyond Star Trek.
And Paramount scrambling to overcome the lead which was put by Star Wars, attempting to quickly put something into production.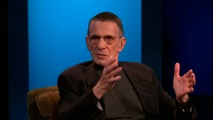 LN: We all owe a big "Thanks" to Geoge Lucas because we were canceled in 1968 or '9 and we weren't in except for re-runs which were very active. When Star Wars opened and did the incredible business and had this incredible success that the people in Paramount said: Oh, we had something like that, let's make a movie.
PS: I didn't know that.
WS: That leads to the Robert Wise story. They had made this wonderful science fiction film and they have asked to direct it (ST I) that kind of links together.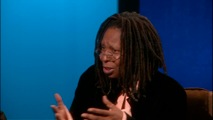 Whoopy Goldberg: Now, when you heard that you were going to revive Star Trek, did you want to have some input, did you want to help them out? Did you wanted to do what you were supposed to do? Is this a question you have answered a million times?
WS: For the purpose of this DVD I will answer it again.
PS: Why are they looking at us?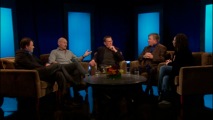 JF: I am dying to hear what they thought of us? Is it there where she is going?
PS: This is a little edgy, this is provocative.
WS: We have stories which were made in the making of. Many mistakes have been made.
LN: Why don't you start with yours?
(everybody is laughing)
WG: Let me re-frame it then. Maybe it came out the wrong way. When I heard they were going to do the play of Color Purple. my first response was agitated and then I thought: Wow, you are not going to do it, you have done it for years, so, you don't think about doing it, what's the problem? And it went away. So, I wondered if the same thing came to you. You wondered: Why are they doing this again? Better than we did it? And what's the point?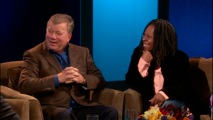 WS: Well, they were going to do, after we were canceled Paramount was going to do a whole network and lead it off with the series Star Trek. And then they dropped that idea and (towards Leonard) am I right so far?
LN: Yes, that's right.
WS: And then they decided to do a movie of a week. And then they dropped that idea to make a motion film.
LN: Feature.
WS: Feature. And then they went back and forth for several years. "Get ready", "Stop", "Get ready" "Stop".
LN: Starting and stop, starting and stop.
WS: And then Robert Wise was hired and we began to realize we are going to make a big motion picture to ride on the popularity of Star Wars and equal Star Wars in its production.
LN: It was a complicated decision for me. It is no secret that I was easily identified with the Spock – character and I was trying to find my way into other kinds of work. I was actually here, I was in New York on Broadway acting in a wonderful play called "Equus" when I got a call from Jeff Katzenberg from Paramount and he said: I would like to talk to you about this movie.
And he came and we had a very intense couple of days of conversation and I hang out some issues that had not been resolved. And we got the resolved. And I met with Robert Wise and Gene Roddenberry.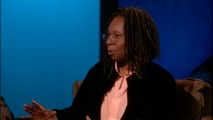 And Jeff and me decided to go ahead and work on the movie, but it was not an easy decision. The question has been: Is this a one-time thing and why get back into this territory when you have been gradually going out of it into other kinds of work. What would it mean to go back into that character? It was complicated.
JF: Were you approached as if it was a new .. franchise?
WS: We were approached in every which way. I didn't know any more than you. Less probably.
LN: You have to know it was called "Star Trek: The Motion Picture" which has a singularity about it.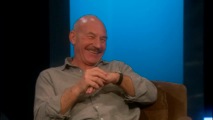 We were going to make a movie – no sense that we were going beyond that. And when the movie was done I already thought: That's it!
WS: And they already destroyed the set.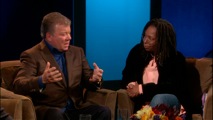 WG: Really?
WS: Every movie they made, even the subsequent movies, - I don't know about your ones, to which we will get to I am sure in a moment – all the movies I was in: "Thank you, guys, it was great, wonderful" and they would either sell the set, destroy it, burn it, send it to a fair. It was over. It was the last movie we were going to make. A year later: oh. Let's do it again, let's spend the money and do a new bridge – which was exactly the same as the previous bridge.
PS: The best thing that ever happened to me was a letter I got from a police sergeant from the Las Vegas police force. He was saying he enjoyed the show but the most particular what he was saying was: There are bad days in the job that I do, really bad days when my view of humanity in the world is low, when I see some awful things and I go home. My response to that is to go home and put in a tape of Star Trek. I then feel things will get better.
Is this Gene's legacy that he actually left us with some great possibility what mankind can do?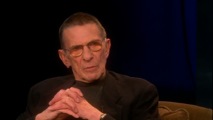 LN: He had a great belief in mankind's capabilities.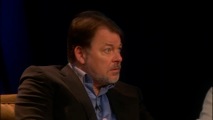 JF: He had a great belief that the future could be what Star Trek was. His vision of hope was exactly what drove him.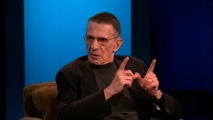 LN: We were doing a show. The chariots of the gods, the concept that we have been visited previously by incarnation of some kind and had built the Pyramids and then gone away or whatever it is. It's rubbish he said. These wonderful things were all done by mankind, not by any ancient astronauts that came here from some planet. They were all done by mankind and mankind should get the credit for it and move forward and continue to do some wonderful things.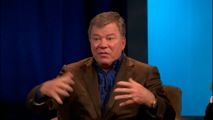 WS: I am sure that's true what has been said about gene, but there is also a real commercial aspect to that view. When I was doing a show involving EMTs, it was called "Rescue 911" We found that the shows were most successful when the people were saved. It had a positive note. Here come the EMTs and you're gonna be okay. In fact about 80 of the calls that come in result in death, but we didn't dramatize that. …. If the view of the future was bad, people didn't want to see that. … we all want to have faith.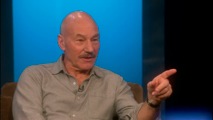 PS: It's fundamentally, the reason for the success, don't you think? That argument?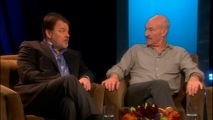 JF: People were inspired by the anti-sexism and anti-racism that was practiced in all the shows for the last 40 years.
Whoopy Goldberg: Now how many Star Trek movies are there?
Leonard Nimoy: We were involved in six and Bill was even in one more. You were involved in number VII?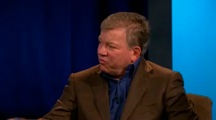 William Shatner (pointing at Patrick Steward): I played with …
WG: So when you came back to play – I wanted to say with us – I don't think I was in that one. I can't remember.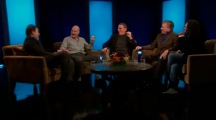 Patrick Steward: Do you remember "The Nexus", wasn't there a thing called in that one?
….
Leonard Nimoy: That was VII.
William Shatner: He is still in the Nexus?
Patrick Steward is nodding.
LN: He is still there? Poor guy.
PS towards WS: You were not the only senior cast member of the original series, of the classic series, which one do you prefer? Original series, classic series?
WS: I don't bother at all.
PS: who did appear in our show.

WS: In your show?
PS: In our series. Leonard did, Jimmy did.
Nichelle did.
Jonathan Frakes: No.
PS: No?
JF: No
WS: He's got all these lines to memorize. And you know like a … gets loaded up? Its memory banks ..
LN: You and I did a mind-meld.
PS: It's a famous moment in Star Trek.
LN: We did a mind-meld, that's right.
JF: Who can forget about a mind-meld?
LN: Right, who can forget about a mind-meld?
JF: I am asking because they killed him in a movie. Well, this is Star Trek.
PS: You never "die" in Star Trek.
WS: They take a dinosaur bone and they get a DNA of some sixty million years later- what is that?
You always come back.
JF: You always come back, he's come back (pointing at Leonard).
LN: I came back and I was still in good shape.
WS: You came back with a director's assignment. How good was that!
JF: That's a good deal.
PS towards WS: They never approach you?
WS towards PS: Let me admit something to you. You are my buddy, we worked together many times over the years, we are really friends, I have never told you this: I have never watched your show. I never saw a full episode of The Next Generation.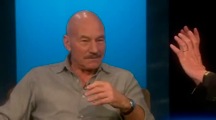 Patrick Steward looks thoughtful. Leonard puts his hands like a frame and says: "Close up, Patrick." Patrick Steward is laughing. The whole group enjoys a good laugh.
PS: Huge balls, Captain's balls, well done.
Whoopy Goldberg: That's what it is all about, isn't "balls"?
PS towards WS: You know what we call for this?
WS: She is this wonderful warm lady, every time she touches me I have electricity shakes me.

(Now Whoopy Goldberg touches William Shatner)
Patrick Steward towards William Shatner: I'm going to ask you over one night.
WS: Where to?
PS towards Jonathan Frakes: Which show?
JF: 178
WS: You did 178 shows?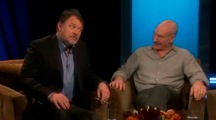 JF: He hasn't seen one of the bloody shows, he could have watched 178 hours.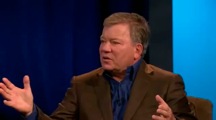 WS: I know, but I don't watch TV. And then there was ..
JF: Boston Legal?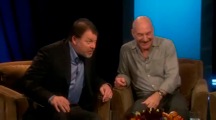 WS: I never watched Boston Legal.

JF: T. J. Hooker?
WS (hesitating): I directed T. J. Hooker.
JF: You saw the director's cut?
WS: The truth is: There was some reluctance way buried deep. I must have had it buried deep.
PS: Its coming out now.
WS: It is coming out now.
JF: Very healthy I think.
PS: It's good for you, come on, Bill.
WS: I never watched it because …… I can't.
PS: You say it …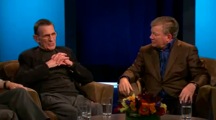 WS: I'm a newsaholic, I watch sports, I love the news, …

LN: I don't buy it. Bill, I love you, you are my buddy, we are very close to each other, and you are lying. I don't buy it.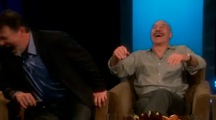 (PS and JF laughing)
JF: What are friends for?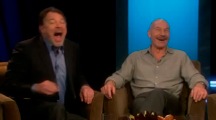 LN: I'll tell you. The truth is this:
JF: He hasn't seen the show either!

LN: I don't want to carry favor, but the fact is that there was an announcement that there was going to be a next generation and a whole new cast and I: How's that gonna work – without us? Are you kidding?
PS: I can understand that, too, and I am glad you got it out in the open.
LN: And I said many times in public: They have carved out their own territory and they have done it, and I congratulate them, I think they have done a wonderful job – that's the truth.
WS: It goes further than that. In VII where the transmission.
… PS: Generation, … the passing of the torch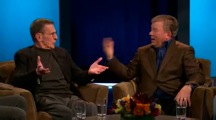 WS: They wanted Leonard to be in it as well as myself. Leonard said: "No".
LN: They didn't want me in it.
WS: They said…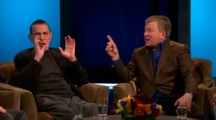 LN: No, no, no!
WS: I remember we were at the parking lot ….
PS: We can tell you the truth about that: We didn't want Leonard in. (Leonard is laughing)
Whoopy Goldberg: I understand why that would be a little bit tough. Because it was your bridge.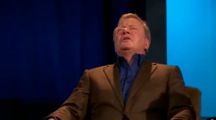 WS: In fact there was a line: "Captain on the bridge, Captain on the bridge". That was the line. On our last scene, when this bridge collapsed on top of me, I said: "Bridge on the Captain". (Patrick Steward and Jonathan Frakes are laughing) WS: They didn't buy it.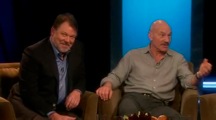 Jonathan Frakes: That works on a convention.
WS: I was dying; "Bridge on the Captain". ))WS: dying
PS: They needed to see that we have a sense of humor. (both laughing)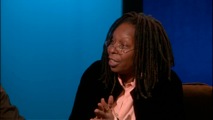 Whoopy Goldberg (towards Leonard): I have to ask you because there is no character like you on the Next Generation. There is no one like you.
PS and JF: We have got Data
WG: But Leonard has got skin and stuff and Data is just an android. And he had a mama.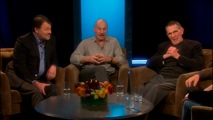 LN: In a sense you are right. But it was presented to me that Data was the next Next Generation's version of Spock. He is the sort of "Spock-idea" in the show.
WG: I see.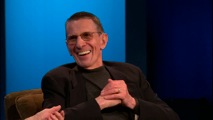 LN: and having certain kind of brain power – like I do. (Everybody is laughing)
PS: Data got laid several times. He was fully functional, he had three speeds. (towards JF) Do them!

JF: ZZZZZzzzz, (quicker) ZZZZZZZZZZZZZZZZZ, (Quicker and higher)ZZZZZZZZZZZZZZZZZZZ
(everybody is laughing)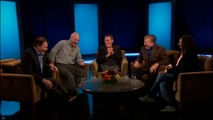 JF: I wish it was my joke.
PS: That's your joke now.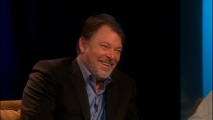 JF: "Bridge on the Captain" I am stealing BTW. That will be working on the next convention: Do you know what Bill said at the Captain's Summit?


WG: Can we talk about something we have not, we have shied away from? I'm not sure why but it probably time to bring it up. The wardrobe. Please.
JF: Oh no! Did you hate the space suit as much as I did?
WS: I hated it after lunch.
JF (towards Leonard and Patrick Steward): You were thin, you were thin.
I hated the space-suit.
PS: Jonathan would literally rip it, tear it off his body.
LN: What did you hate about it?
JF: It was so tight.
…….
They removed the spandex. Whom do we have to thank for? Bill probably?
WS: You can thank me for anything.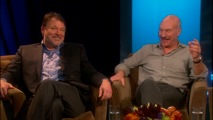 PS: My chiropractor who said: If they don't get you out of that suit you get permanently damaged. … every of these spandex-suits was designed at least one size too small. Gene insisted that we were absolutely wrinkle-free and the only way to achieve that was to have the thing absolutely tight, too tight. …
LN: That's hard work. It takes the energy.
JF: Did you have stirrups.
LN: No
WS: The only stirrups were on horses where they belong.
LN: The first film they wanted that immaculate look and we had to be steamed before we were shot. Guys with steamers were coming and steam out the wrinkles before we walked on the set.
PS: Is this right?
LN: Absolutely.
WS: It engorged. A lot of water in there.
WG: And usually – did you have nicknames for all of you?
LN: Billy
WS: Lenny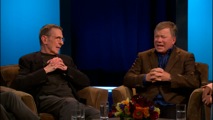 LN: Billy!
WS: Lenny!
LN: Get on the set, Billy get off the phone.
WS: No, I can't! I'll be right there, Leonard.
LN: Get off the phone!
JF: Old boldy. Captain Pickart! ….
PS: Number One. …..
LN towards WG: What was your experience on the series?
WG: I had a great time. I had a real good time.
JF towards WG: You had a nickname.
WG: Yes, I was Shuttlehead because of my hats. It looked like the ship.
I told everyone I was his great-great- great grandmother.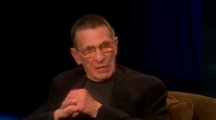 LN: How many shows did you do?
WG: I did everything but one year, I didn't do one year. … …..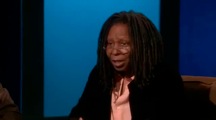 WG: The question I really want to ask you because this has been on my mind, maybe that's crazy or maybe it's not: Does it ever make you uncomfortable, this following that Star Trek has.
Bill Shatner: I love this phrase: "I don't want to bother you". I am sitting there and [hear] I don't want to bother you". I don't want to bother you". You are already bothered.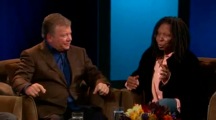 WG: Here's a perfect opportunity for Star Trek getting attention. What would you say to all the folks that want to approach you – what is the best way to do it? What is the best way to approach you?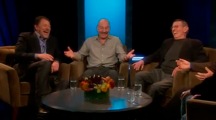 WS: Well … money.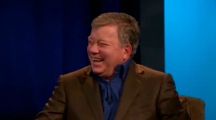 (the while group laughing hard)
WG: You were trying to be funny.
WS: Being young and beautiful, young and beautiful and the money would get all our attention.
WG: Male or female? That doesn't matter?
WS: I don't know about these guys…
WG: Not us.
WS: Not us
Patrick Steward: Come on, Johnny, what would appeal to you?
Jonathan Frakes: I am pretty easy, I am honored. I feel the way Leonard does. It is a great deal, it's a great privilege that these people respond to our show.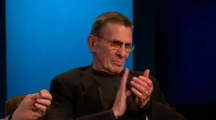 PS: In my case I want to make absolutely sure that I am not Ben Kingsley. (Everybody is laughing, Leonard applauds)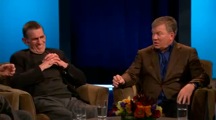 WS: If you haven't slept well last night, you are a little irritable, even your wife is going to get it.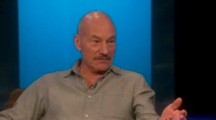 PS: I have had this more than once: Hey, hey, aren't you the guy, you are doctor Kirk from Star Wars?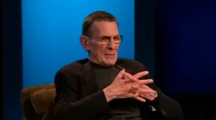 Leonard Nimoy: I have had an experience recently from somebody who knew I do a lot of photography work. … we were walking to the parking lot after the event.
 
The fellow I was walking with was Tom Hanks chatting on the way to the car. And a young fellow came on running towards us with a camera shouting: Mr. Hanks, Mr. Hanks, can I have a picture taken with you?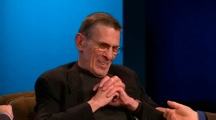 And Mr. Hanks said: Sure, who can take the picture? And then this young guy recognized me and said: Oh, Mr. Nimoy, you are a wonderful photographer, can you take the picture? (Everybody is laughing) Now this kid has a picture of himself with Tom Hanks taken by Leonard Nimoy.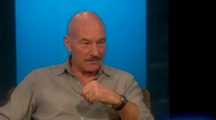 PS: This may not be generally known about Mr. Hanks, but Mr. Hanks is a biiiig fan of the show. Mr. Hanks actually knows the names of the episodes.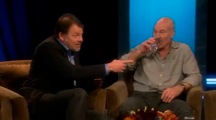 JF: I know he has seen an episode of Next Gen.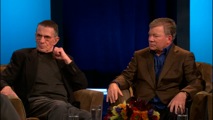 PS: Thank God, there is one person who has seen an episode.

JF: Because there are a lot of people who haven't seen any. (Looking at William Shatner)
JF: I have seen the Brothers of Karabatso.
WS: Is that an episode of Star Trek? You were languishing as well.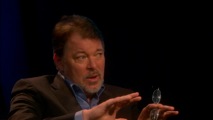 JF: You have done a lot of Star Trek, you knew what to do. See, we were going into this thing because what you have created laid an entire weight on us that we had to overcome because you had created a fan-base that was very loyal to you. That was very hard to overcome. You are part of popular culture as I said earlier, and I don't think we particularly understood what we have gotten ourselves into. ….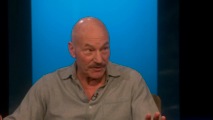 And we had no idea how big this was.
PS: I have been asked to go to conventions during the first years, I turned them all down. I didn't know what they were. Besides I needed to learn my lines, I couldn't go traveling along the country.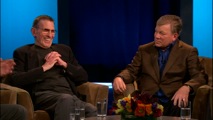 I would be frightened if Monday morning would come around and I wouldn't be ready. Anyway, finally, when the season was over I had accepted an invitation to go to Denver. …. I got backstage and I asked: Is anybody out there? It was a serious question, I didn't know. And I walked on the stage and I knew what it was like to be a Beatle in a stadium.
And I had no idea through the entire first season that that was happening.
WS: Talking about what it is like to go on stage…
LN: Let me say this first: Patrick was somewhere recorded to have been saying: "If I had known what I was getting into I would have said "no" and it would have been a mistake". Does this sound familiar?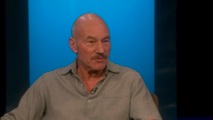 PS: It is absolutely accurate.
WS: What is it like to go out on stage in front of 4, 5, 10 … we used to go out in front of 15.000 people.
PS: Remember the Albert Hall?
WS: The Albert Hall – we have been there. And not know exactly what you gonna say. I mean …
JF: Didn't it become easy?
WS: It became like flying.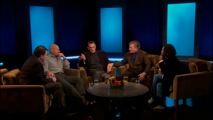 JF: When you describe it to your friends, other actors included, what particular skill and what it is you do at a convention is inconceivable because it is really a combination of stand-up, public speaking, anecdotes, I do of course interpret dance and singing as part as my convention appearance. (laughing from the group) Some choose not to. I do impersonations and I have a captive audience. They are 15 people, they pay because they like the show, you don't have to win them off.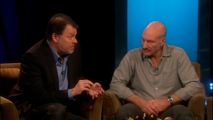 WG: I have never been to a convention.
JF: That's not true.
WG: Absolutely. ….. I have never been invited.
JF: That's impossible.
WS: Have you asked?
WG: I don't know whom do you ask, is there a convention person…?
……
WG: I don't fly.
WS: So how do you go?
WG: I have a bus, maybe that's why. …
LN: I wonder whether it is the same situation when you wanted to do Star Trek ... they are waiting for a call from you.
WG: It maybe and also people are never sure that I would be willing to do something like that. …
….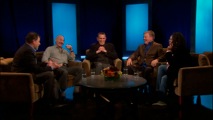 LN: Jonathan, you are directing.
JF: I think it is the best job on the set. Probably the best job in the world- to direct movies.
WG: And Leonard, your photography, we were just talking about it a moment ago. You just did a book on these gigantic woman.
LN: Large women, yes.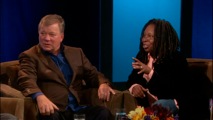 WG: Large, gorgeous, big, huge,
WS: He has also a wonderful philosophy behind the book.
LN: The book deals with the body issue in our culture. What is beautiful? We are being told by the fashion industry that a certain kind of body image is considered beautiful.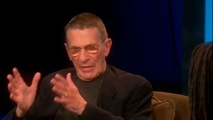 And the fact is that most people, particular women don't have that kind of a body and probably never will. But they are being told: If you buy these bills or buy this diet or by this exercise program you'll get closer to the ideal. It is for the sake of commerce. And this book addresses that issue.
WG towards William Shatner: From Twilight Zone to Boston Legal – do you ever stop?
WS: No, If I stopped I might not start again.
WG: I understand that.
JF: And it is working for you.
LN: He has done a great job of changing careers. Seriously. From a leading man to a great character actor.
WS: It just evolved.
LN: You have done it very, very well, you have done a great job.

Whoopy Goldberg: Now, you have all directed.
Patrick Steward: These guys (pointing to Jonathan Frakes and Leonard Nimoy and William Shatner) have directed movies.
WG: That's more than I have done. You directed me.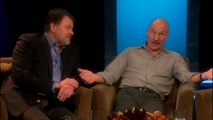 PS: I have directed you.
(Jonathan Frakes shares a story where Patrick Steward asked him to kneel down at the bridge)
PS: Because I couldn't get the shot right. (Everybody is laughing) ….
…..
WG: This is special to me because I never sat with all of you. So, the things that you have been able to do – whether it is directing or acting.
Leonard Nimoy: Ask Bill what he said when he learned that I was going to direct Star Trek III.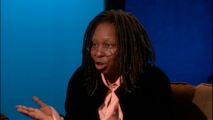 WG: What was your reaction the first time you heard that Leonard was going to direct the first Star Trek?

Jf and PS: I am looking forward to that, too.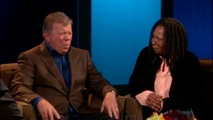 William Shatner: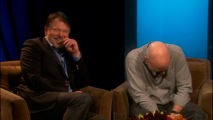 WS: What?
(Everybody laughing)
WS: That's about it.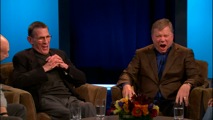 LN: It lasted several days.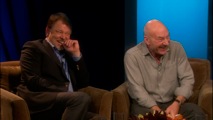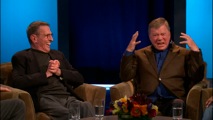 WG: Did you want to direct?
WS: We all love directing. Leonard taught me a great deal. Leonard taught me courage. Actors are fearful to a great deal. "Will I get the next job? What will they give me?" He didn't care at one point. Mostly because he didn't care. So he had the audacity to say: I want to direct which is something we all wanted. ….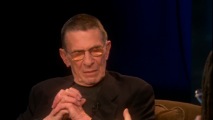 …..
LN: Bill and I asked for permission to direct during the making of the series, we were flat up refused. …
It was just out of the question. The opportunity came when Spock "died" in the end of II and it became clear they wanted to do III I thought I had to opportunity to open the door.
WS: We will now reveal what was whispered into your ear by the producer.
LN: Tell me what you are talking about.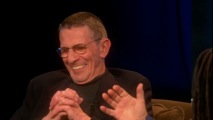 WS: He dies, you know? And then Leonard comes back for a third thing. And it was staged that, when he died, Bones leans in and it was said something. And he has never told anybody what he said, but they used that to bring him back. It was pre-planned.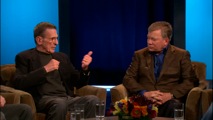 LN: You are right. It was an amazing day. We really had planned to be finished with the Spock-character. And I was depressed because the film was going so well. I thought we are making a big mistake here. ST II was being made and been made very, very well. It was a good script, well directed, well acted, and here we came down to my last day. Anyway, fortunately, just before the death-scene, before I am going down to this chamber to save the ship and die, out comes the producer and says: is there anything you can do or say to leave a threat for the future?
I thought: Oooo, this is ..
So I said: I can do a mind-meld to DeForest Kelly before he is going to be unconscious and just say a word to him. I just say: "Remember". That should be enough as a threat to be picked up to anything. And that's exactly what happened. I said: "Remember" and we built the next film on that word.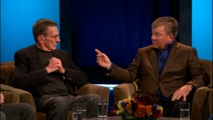 WS: But to all intents and purposes, you were through, done, you held that position even with me though knowing I would never going to reveal that position. Was it a negotiable position so that you would be able to direct III or didn't you think of that?
LN: At that time? No!
WS: I am dying! Why should I say remember? Remember what?
LN: I am serious, I had no plan in mind. When the film opened ..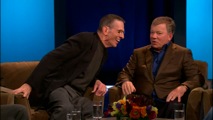 WS: I don't believe that. …
LN: Listen to me carefully.
WS: Yes, yes, yes.
LN: The film opened, very well received. After the film opened five, six days, I got a call from Paramount to talk about the next movie. And I said to my agent: What shall we ask for? They obviously want me in, they need me, we could get money, but let's try to broaden the career.
He said: what do you have in mind?
I said: What do you say if I said, I want to direct the film?
He said: I think that's a great idea.
And that's what happened. … and I walked into the producer's office and I said: I want to be involved in the making of the next movie, I like to direct it. And he said: That's an interesting idea; let's walk down the hall to Mr. Eisener. And that's the whole way it started.
WS explains why he cannot understand that Leonard said the word without asking what was planned.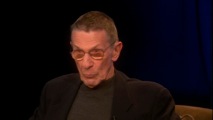 LN: No, you are absolutely right, I knew absolutely what I as doing and I had a plan: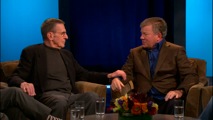 We'll make four more films and I will direct two of them and you will direct one, and I will produce one and you would die, I had it all laid up. How did you know that?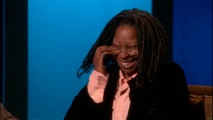 …..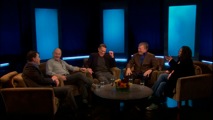 Patrick Steward shares about his work as a director. He felt he was too serious because he feared the responsibility. He says about himself he felt he has been a pain in the ass. He says; "America made me funny".
WS: Leonard came from a school of acting. In the first years he was Spock.
LN: I was submerged.
WS: He was somewhat dear, he has a great sense of humor, but it came out later.
JF: Were you wild from the beginning?
WS: I am afraid so.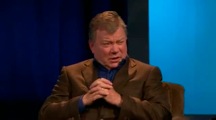 WG: I have one question which I would like each of you to answer: At this point of your life when you look at it, what did Star Trek mean for you?
WS: Are you looking at me?
WG: Yes, I am looking at you.
WS: Ultimately Star Trek meant everything. Star Trek was a spring-ball into the many things that I have done subsequent to that. It lead me into this celebrity thing which is box office which means people want you to do work because you are popular in the public and you get publicity for the thing you are doing. So, talent aside, the celebrity brings with you it the ability to do things you want to do.
And that has happened to me whatever negative things Star Trek might have brought are far inferior to the extraordinary luck that I have had because of Star Trek.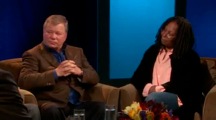 WG: Leonard
LN: I arrived in Los Angeles when I was 19 years old and until I was 35, I had better and better roles by the time, but never had a job that lasted longer than 2 weeks.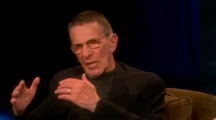 So I was in a cycle that so many actors are in; which is: What's the next job and: will there be another job? I did a job and after the job was finished after 4, 5, days or 10, wherever I was, it was an empty feeling walking off a lot and not knowing when or where you're going to work again.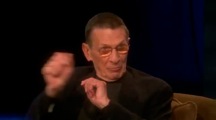 So, for me for the first time actually to see my name actually painted on a door, on a dressing room door, rather than put on with chalk and then wiped out again, evaporated after 5 or 6 days, was a mayor event. A blessing, a great blessing. After Star Trek I never, never had to worry again about finding work. I never needed worrying about work since Star Trek went on the air in September 1966. A gigantic chance in my life.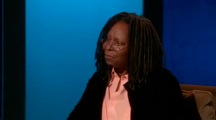 WG: Nice. Patrick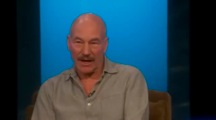 PS: Everything what Bill said, everything what Leonard said applies to me, too. But there are two other things for me: Huge pride in what we did. In what we did on the television screen and subsequently on the movie screen. And in addition to that: To know that wherever I am in the world or what I am doing that there are eight people where I can pick up the phone and whether it is good or bad for me, they will be there. Rock solid.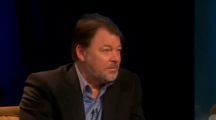 Jonathan Frakes: I was going to take up that one. It created in addition that I could buy a car finally and buy a house and all the things that came from it, to be part of this legacy. It has given my some of my closest life-long friends. And every morning – no matter what mood I was in – I looked forward to go to work not matter what the hour, together with these clever, silly, talented, wonderful people. It was and still is what we did there together the best job in the world.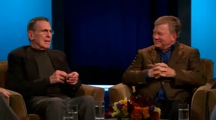 (Leonard applauds and Bill Shatner is nodding) Jonathan Frakes begins to hum the Star Trek Tune and all fall in and hum along.
PS: How is the other one? (Starting to hum the TOS melody) and Leonard immediately joins in.

http://www.youtube.com/watch?v=z9G5ciMqFNM
http://www.youtube.com/watch?v=sSw9-T24L9s&feature=related
http://www.youtube.com/watch?v=S0RO0mul3CM&feature=related
http://www.youtube.com/watch?v=ExsfMPNzA5M&feature=related
http://www.youtube.com/watch?v=5Z2h0NZIj_Y&feature=related
http://www.youtube.com/watch?v=fcGkjDZ-zog&feature=related
http://www.youtube.com/watch?v=MrQlMJaeVUc&feature=related