2011 April 30, 8:00 pm
Scroll down for the video
at the Carpenter Performing Arts Center, CSULB, 6200 Atherton Street
Scroll down for a report by Claudia 
(Thanks, Claudia, for sharing your experiences and the photos!)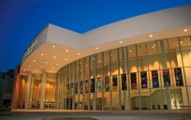 Leonard Nimoy:
It is honorable to do your job well. I took this very seriously. … When I was about 17 I played in "Awake and Sing!" … this was around 1947, 48. … I was cast as a juvenile in a family which was very much like my own family. Three generations live in an apartment, and that was like we lived at home: My grandparents, my parents and my brother and I, and I was playing a seventeen year old kid, and I was seventeen at the time, so it was very close to my own experience. This is about how you get around in the world, how you find a job for yourself, how do you find the right girl for yourself? Who you are supposed to be in this world. And I was having the same personal struggles and I identified so much with this character that I thought I'd like to do this kind of work, to illuminate characters like this for the rest of my life.
I consider myself a very lucky and blessed person. So, I decided to become an actor. I ran home and told this to my folks.
Now, you get to understand my folks were simple immigrants from what was called "the old country" from Russia. My father was a barber, he started cutting hair when he was sixteen. His entire life he cut people's hair and shaved people's faces. He was not a hairdresser or stylist, he was a [with deeper voice] barber. And what he knew about .... was very unsophisticated. When I told him I wanted to be an actor he said: Well, you'll be hanging around with gypsies and vagabonds.
I thought that was kind of interesting. And then he gave me the only advice my dad ever gave me. He said: You need something to be able to make a living you should learn to play the accordion.
I didn't take his advice very seriously but there were times in the next ten, twelve years when playing the accordion would have been a step up from whatever I was doing.
Just before I left Boston the last movie that I saw was a play of Shakespear's Henry V starring Lawrence Olivier. And there came a scene just before the battle of Agincourt where the English were gonna meet the French. And the English, Henry V men were vastly outnumbered and during this night the king goes down in the camp, hooded and disguised because he wanted to know what his troops were thinking about. They are going to fight the French in the morning and there is a very good chance that al of them might not be thrilled. So he listens to what they are saying and somebody said: I wish we had more men!  .... And he says in the morning: Wish not for a single man more. If we are about to die, we do our country loss. If we live, the fewer men, the greater share of honor. And there was that word that choked me, struck me again: The idea of honor.
And he goes on to say:
"By Jove, I am not covetous for gold,
Nor care I who doth feed upon my cost;
It yearns me not if men my garments wear;
Such outward things no matter my desires:
But if it be a sin to covet honor,
I am the most offending soul alive."
And that's what I was carrying with me on the train to Boston. I crossed the country by train seeking something honorable to do with my life.
So I took off and went to that great citadel of honor with the name "Hollywood". (laughter in the audience) and then, after three days and three nights on a coach seat - that helps to build character.
I got off the train and moved in a rooming house, I got myself some 8x10 glossies and I went to work in an ice-cream shop. That was my first shop on Sunset Boulevard. And I was knocking on agent's doors looking for someone to represent me and to find a way to start a career. ....
http://www.youtube.com/watch?v=INM6cDrnCbY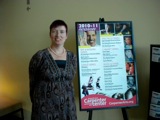 Report by Claudia: 
In the beginning -just darkness, a stage with a microphone,
a lectern and a slide - projection. Leonard Nimoy was to read.
Of course, taking photos & recording was prohibited.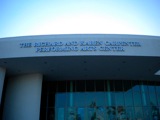 The audience stood up while Mr. Leonard Nimoy was entering the stage& a warm heartfelt welcome arose showing the audience's respect and anticipation for this gentleman, they had been waiting for half a year, due to medical surgery in 2010 this evening was re - scheduled from 24 th of October 2010 to 30th of April 2011. Mr. Nimoy made it quite clear that he would have had prefered to be on stage rather than undergoing an operation.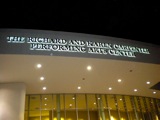 During Mr. Nimoy's speech there was a slide show aside him, showing photos from his long lasting career as an actor, director, photographer & writer, he explained some of the photos shown, putting them in context & he pointed out important steps in his career. Rare b/w photos of his parents ( Max & Dora Nimoy) his father walking in distance & his mother standing aside , curiously peaking at something
(they are either on a street or a bridge the reporter is not sure about that fact)
Mr. Nimoy explained in how far this photo shows characteristics of the personalities his parents were. Another photo showed his grandmother in Boston with an irish woman. They don't speak eachother's language, but they seem to be having quite a good conversation.

Making a career in Hollywood providing for a family seemed to have been a stony path for Mr. Nimoy and at some point he thought: "It was going down the drain".
" Zombies of the stratoshere" ( USA,1952) helped to pay bills, but definitely didn't help when enlisted in  the army & he had to explain what he has done so far in his acting career: "Infantry " was the answer.....The advice of his father, he would be better off by playing the accordeon, Mr. Nimoy did not take.
A phrase on an embroidered curtain in a theatre (Alexander Pope) "Act where You part there are honoured lives" (Maggy, if You have the time, please check on that saying because I am repeating it just by hearing it, I am not sure about correct spelling) the important word was " Honour " to Mr. Nimoy, meaning the way of living a life & doing the job right.
Of course 'Star Trek' had a huge impact & influence on his career & life. Mr. Nimoy talked about problems with fan-mail, fans, the funny and -not-so-funny reactions of fans; the side-effects of becoming a celebrity, their reaction to "Mr. Spock" especially after 2nd season's "Amok Time" (a wonderful script by Theodore Sturgeon), showing Spock's world & traditions was overwhelming in form of sacks of fanmail.
Mr. Nimoy explained the origin of the famous vulcan salute which was shown for the first time in " Amok Time" from his childhood memories:
'The " Kohanim" ( Jewish leaders in the ceremony of service to God ) used the (now) famous handsign with two hands for the blessing of the congregation. As a little boy Mr. Nimoy peaked though it was forbidden to look at the  "Kohanim" and memorized that blessing salute, he could not expect that it would come that "handy" at a time .
A career not only as an actor but as a director ('Three men & a baby', Star Trek II and III), writing poetry, singer ( Mr. Nimoy: "I propably should't have done that ") and as a photographer endured on up to today. ( "Fringe" )
Close to the end of this very interesting or should the writer say fascinating evening, Mr. Nimoy recited from a caligraphy on his desk at home: Edward Booth ,the actor, heard solemn whisper of the gods of all arts:
"I shall give You hunger, the pain & sleepless nights, also beauty and a glimpse of heavenly life, none of these shall have You continously, they are coming and going, You shall not be foretold ".
Going back in time is not only a great ( not really new ) science fiction in general or Star Trek idea, in case of Mr. Nimoy's evening at the Richard & Karen Carpenter Center of Performing Arts it is as charming , witty & entertaining as the performer  actor Leonard Nimoy himself and he seems to be naturally like that.
The remarkable  (and for me the writer unforgettable) evening ended 9:30 pm, the fans ( like me ) had the opportunity to stand in line for getting an autograph for one item. Like all I stood in line when suddenly security said, that they have to wrap it up, it is over now, before it was my turn, being a bit disappointed I made the comment (that almost everybody could hear, maybe Mr. Nimoy as well) " I came all the way from Germany, would have been nice to get an autograph". People all around me were really nice, pushing & pulling me forward to the desk, security lady approved it, saying " Let her go, she waited so long and was the first of being at the center by 6:00pm I recognize her & the ID". Carrying an article from a german newspaper about Mr. Leonard Nimoy with a very nice photo of him & his wife, it was signed by him. Mr. Nimoy asked his wife to look at the article as well. So I was the last to get an autograph that evening ( lucky me !) and then that was it . They stood up & left.
Isn't that awesome ?
Mr. Nimoy lived long & he definitely prospered.
"Moege er weiterhin lange und in Frieden leben " .
German for
"May he live for many more years to come and may the Lord grant him peace".