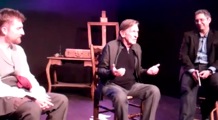 2012 November 26
Scroll down for the video
Excerpts from the Q&A with Playwright Leonard Nimoy post-show opening night of "Vincent." 
Starring Jean-Michel Richaud. 
Directed by Paul Stein. 
 Produced by The Next Arena and Mistral Productions, starting October 7th at the Black Dahlia Theatre in Los Angeles.  Running at the VS. Theatre in Los Angeles through January 20th 2013.
The play written and performed by Leonard Nimoy: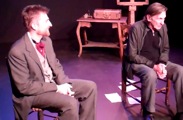 http://www.leonardnimoy.de/index.php?option=com_content&view=article&id=244:vincent-&catid=20:stage&Itemid=10
Leonard Nimoy speaking to Jean-Michel Richaud:
Wait, wait, I can't go without telling what a superb job you have done.
(Jean-Michel Richaud is glad)

LN: Is this your very first performance?
J-M R: Yes.
Leonard indicated that he is impressed.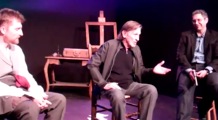 LN: Amazing, amazing. 
There is humanity on the stage, there was humanity tonight. And that's a hug for the audience, that's what we should do: We should be elevating the audience.
Reality TV shows don't do this. They don't do it. This is elevating an audience. 
Aside from giving information, we give something more larger from ourselves as a human being. And that is what I find is devote about what's happening here.