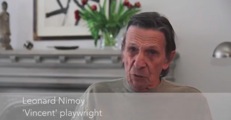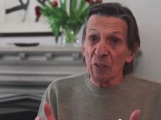 2013 June 04
Scroll down for the video
Symphnony Space presents
Leonard Nimoy on 'Vincent': 'Vincent' is a play I wrote many years ago and I performed it many, many times all across the United States. 
[ 'Vincent' is starring Jean-Michel Richaud, written by Leonard Nimoy and dircted by Paul Stein]
(Thank you very much, Grace, for finding and sharing this first) 

[NB by Margitta: The play was performed 150 times]
Link to the play written, produced, directed and performed by Leonard Nimoy

Never in New York, This is the first time 'vincent' will be seen in a New York production. I was drawn to it because --for one thing-- it was a one-person-show which I was looking for. It wanted the challenge of being on the stage alone to do this piece, but more important because of the subject matter. It is about Vincent van Gogh, the great painter. And the character on stage that I portrayed is named Theo, its his brother, Vincent's brother who supported Vincent for 10 years when Vincent was painting until Vincent died.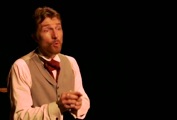 In this particular case its been done by a very good actor named Jean-Michel Richaud. He's a wonderful actor, very serious about what he does, and it is a beautiful drama which makes me very proud sitting in the audience and watching him do it.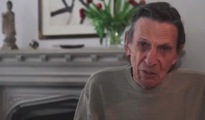 (A scene is shown)  Vincent struggled to find himslef for the first 20 some odd years of his life. He was a preacher, he was a vic, he was all kind of things until he really realized that he wanted to be an artist. And he went at it very agressively.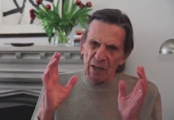 There was no acceptance of his work. His work was ground-braking and not terribly familiar for people to accept at the time. So he had trouble.
His brother Theo was a gallerist and supported Vincent all through those years. He became sort of the iconic representation of the 'mad artist', the artist who's work comes out of his crazyness. Which was very unfair. He was a very, very hard working, very learned painter by the time he's finished with his work.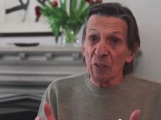 So this play that I wrote which is being performed at the Thalia takes place a week after Vincent's death. And it is Theo who has called together these people, this audience, to ask them to give him a second chance to talk about his brother whom he loved so much. And that's what makes the piece I think very touching and very powerful.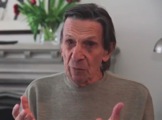 He comes out on stage and literally says: "Thank you for coming, Thank you for giving me a second chance to talk about my brother Vincent." and that's what the play is about. 
I think its a very inspiring, well certainly educational piece, very touching and very emotional. 

 
http://www.youtube.com/watch?v=D8pTI4uW2NE&feature=youtu.be&utm_source=weekly_newsletter&utm_medium=email&utm_campaign=060613