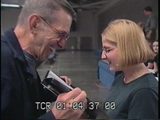 1999
An Alien Voices Instructional Video    
A tutorial video and study guide covering the creative process of staging an Alien Voices® drama from concept to production.
http://www.dramaticpublishing.com/p43/Alien-Voices-Collection/product_info.html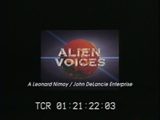 Executive producers: Leonard Nimoy and John DeLancie
Director: Leonard Nimoy
Written by: Nat Segaloff and John DeLancie
Foley artist: Robin Harlan
Drama teacher: Maureen Jordan
Artists: Matt Steiner, Chel Kigte, Jeremy Wayland,
Chelsee Fitzgerald, Erin Herscowitz, Kathryn Harrel,
Katie Rogers, Jennifer Lynn Parks, Chris Kelly,
Renee deGarmo, Kevin Oeser, Eric Timmons

Video description:
This new play was performed for the first time at the California Superintendents Convention in August 1999. Nimoy and de Lancie worked with a group of students whom they had never met before and who had never seen an Alien Voices production. After only 12 hours of rehearsal, the students performed this 15 minute play, earning a standing ovation and critical acclaim.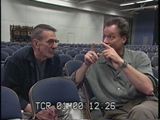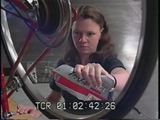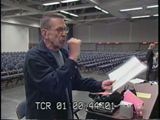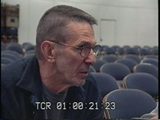 Video description:
This video was created by Leonard Nimoy and John de Lancie during a staging of a new Alien Voices® play created expressly for students, The Wright Brothers' First Flight.
This tutorial captures the important lessons and techniques directors will want to teach their students about the Alien Voices ® style of drama and provides you with the creative staging techniques that will guarantee you a successful production.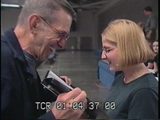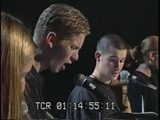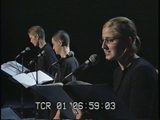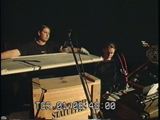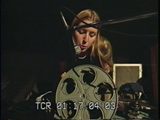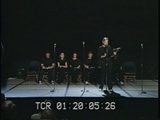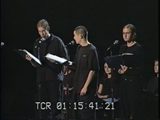 Get this video and others at dramaticpublishing.com http://www.dramaticpublishing.com/p43/Alien-Voices-Collection/product_info.html
And have a look at AlienVoices.com   http://maryjensen.tripod.com/alienvoices/

The story begins:
A newspaper announcer proclaims the planned attempt of two brothers trying to fly a manned flight for the first time and navigating it. In comparison to Lilienthal who had used gliders, they come up with a brilliant new idea to provide permanent wind …

°°°°°°°°°°°°°°°°°°°°°°°°°°°°°°°°°°°°°°°°°°°°°°°°°°°°°°°°°°°°°°°°°°°°°°°°°°°°°°°°°
 "SINGLE HANDEDLY REVIVING RADIO-STYLE DRAMATIZATIONS!" —Billboard Magazine

"Imagine students on stage, in front of microphones, scripts in hand. Behind them, and all around them, Foley artists are creating wonderful sound effects with glass bottles, celery stalks, flapping umbrellas, you name it! And of course, music—performed live—to accompany the action...Rehearsals can be as short as one week because there are no sets to build, no costumes to sew, and no lights to focus. And best of all, everyone can be included because there are so many talents involved: writing, acting, music, sound effects, audiovisual—it's not just for the group who want to be actors!" —John de Lancie

"They're a treat for the eye and the ear." —Leonard Martin