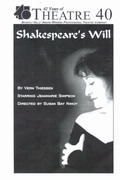 2007 June 29

Opened on June, 29th 2007
In Theatre 40 Beverly Hills

Author: Verin Thiessen
Director: Susan Bay Nimoy

Starring: Jeanmarie Simpson as Anne Hathway
Prod.: Leonard Nimoy
Stage Manger: Chrystal M. Munson
Prod. Assistant: Katrien Damman
Costume Design: Shon LeBlanc and Perry Ash

On the eve of William Shakespeare's funeral, Anne Hathaway, wife to William Shakespeare the world's greatest playwright shares her thoughts after having read the will of her late husband.

Susan Bay Nimoy:
"I love plays that are rich in language, open to theatrical invention, and at the heart mine the depth of human experience as archeologists of the soul. Shakespeare's Will is such a play. Shakespeare's Will is a startling spare play which brings us to an awareness of Anne Hathaway, the wife of William Shakespeare, and mother of their three children. Looking through the eyes of Anne, a woman who is unbowed by tragedy intrigued me immensely. The playwright, Vern Thiessen, presents us with a play that asks us to examine questions few have dared to ask, and then leaves us pondering more. I applaud Mr. Thiessens audacity having written such a brave and subversive play, and I am humbled by the opportunity to direct this production."