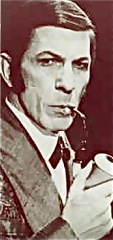 1976
The Royal Shakespeare Company's Production
"Sherlock Holmes"

by Arthur Conan Doyle and William Gilette

Dir.: Warren Enters

Sherlock Holmes: Leonard Nimoy

Scroll down for a photo of Alan Sues as Professor Moriarty shot by Leonard Nimoy

Doctor Watson: Ronald Bishop
Madge Larrabee: Valerie French
James Larrabee: Dalton Dearborn
John Forman: Neil Hunt
Sir Edward Leighton: John C. Vennema
Sidney Prince: Geoff Garland
Terese: Alexandra Stoddart
Alice Faulkner: Diana Kirkwood
"Lightfoot" McTague: John Seitz


Professor Moriarty: Alan Sues
John / Parsons: Richard Lederer
Alfred Bassick: Charles Berendt
Billy: Jeffrey Hillock
Jim Craigin: Alvah Stanley
Thomas Leary: Henry Leon Baker
Count von Stalburg: George Ebeling
Nwesboy: Brian Brownlee

London. Last century.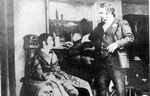 Watson is rebuffed by Sherlock Holmes, when he shares his concern about his friend's health, because more and more Holmes resorts to drugs, cocaine.

In these times Homes and Watson get an assignment by the Royal Family: The family's reputation is in jeopardy - just before the wedding of the royal prince. Papers exist indicating that a member of the royal family was involved with another woman and are about to be made public. Out of that relationship a girl had been born, but she died. Holmes' task is to retrieve the papers secretly.



The whereabouts of the papers are known by a young Lady, Alice Faulkner. She is held captive by James and Madge Larrabee, a criminal couple, who try to get hold of the papers. So far they have not been able to force Alice to give away the knowledge she has.



Holme's efforts have to be absolutely discreet. 
The fact that his most severe enemy, Professor Moriarty, is asked by the Larrabees to help them does not make things easier. Moriarty won't leave out any chance to destroy Holmes.

Several times Moriarty tries to kill him, but Holmes always survives, often thanks to his unique talents and sometimes by pure luck.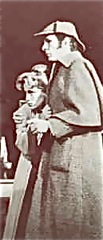 Holmes succeeds in retrieving the papers and rescues Alice. Both fall in love with each other - this changes Holmes drastically so that Watson's worries have an end.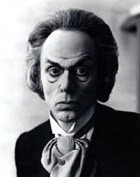 A portrait of Alan Seus who played Professor Moriarty when Leonard Nimoy toured as Sherlock Holmes in the play adaptation. "This portrait was shot in Chicago in 1976. The dramatic makeup and direct gaze intensified as Alan channeled Moriarty's villainous character."
(R. Michelson Galleries - Leonard Nimoy: Early works)