1978 - 1981
Producer, Writer, Director: Leonard Nimoy
Based on the play "Van Gogh" by Phillip Stephens


Theo van Gogh (Theo also playing Vincent): Leonard Nimoy

The play takes place in summer 1880, after the death of Vincent
First performance May, 18th 1978 Sacramento, California;
more than 150 performances until 1981
Scroll down to the bottom of the page for Leonard telling us how it all began!
Click here for personal statements about the show
    
Preparing for the show



Scene: On the left side a writing desk, letters, a rug and a chair for Theo. On the right side a table, an easel, paint, brushes, a wine bottle, a hat, a candle and a straw mat for Vincent.

Theo van Gogh enters the stage from the left. He is deep in mourning over his older brother's --Vincent's-- death, and shares why he has invited all of Vincent's friends (= the audience) now: He has not been able to speak neither at the funeral service nor at the burial

but he has the great desire to share with Vincent's friends who the man was he loved so dearly.
Suffering under all the misjudgments and misunderstandings Vincent daily had to live with Theo's mind is full of what he wants to share: His anger about a newspaper report denunciating Vincent's work. Who are they to judge about Vincent's art?


His anger about Gauguin, who misused Vincent and spread the rumor that Vincent was mad. His anguish to watch helplessly how his brother's work of love and deep care was regarded as worthless. His desperation while watching his beloved brother buying paint and brushes and surviving with hardly any food. Theo assures Vincent's friends that it wasn't madness, but an eagerness to share, preach, make aware and love to give for mankind regardless of own needs. And he was epileptic. This too added to the impression of abnormality at that time.


Again and again Theo rereads some of the more than 500 letters Vincent wrote to him. He shares parts of them with the audience, the friends of Vincent, he had invited.


Vincent's passion to share his deep experience of human fate, beauty of nature, gratitude for creation and love to mankind and nature is revealed in the sentences Theo reads as if Vincent was talking to him now. He sometimes becomes Vincent sitting and drawing at the easel or shouting angrily. Or complaining about circumstances and people's ignorance.

Vincent's desperate cry for understanding, his cry for help to make people understand love and compassion is loudly shouted out as anger and complain about the ignorance of others – exactly the way Vincent has done it again and again. Theo is grateful for Vincent letting him take part in his passion. Vincent keeps on sending letters thanking him for his financial and moral support and understanding. Theo makes clear that it does not come easy for Vincent to ask for more money.

In his early childhood on his way to church Vincent passed a tombstone with his own name on every Sunday The date of birth and date of death engraved on it. His older brother was born on the same day a year before him, also named Vincent, and died shortly after his birth.
Theo remembers how Vincent always lived with his passion to love and give – misunderstood even by his own parents. Their father, a Dutch Reformed Minister, could not understand certain ways Vincent decided to go. Officially Vincent did not sign with "van Gogh" because he felt that the name would be pronounced wrongly in foreign languages. The main reason was that he wanted to go his own way without the name of his father involved. The church, too, was not able at the time to understand Vincent's way of ministry.


Loved by the people who's life Vincent shared while working with them in the mines, giving away the last he had to experience and share their poverty and desperate, dull, gray – black everyday repeating existence, he drew in black and white. His deep feelings are revealed in his letters telling Theo which kinds of chalk or charcoal are too soft or too hard to be used for a situation to capture. But he was not accepted as minister though he passionately preached amongst the people he lived with - sharing all their conditions. After an explosion he helped the wounded and took part in the ramifications the tragedy had on the people's lives – later the official blamed him for "loosing his respect" by being one of them.

When Vincent falls in  love with Cousin Kee, Theo suspects that Vincent is drawn to her because of her loneliness after Kee's husband had died. At first Vincent is shattered because Kee does not return his love, but then he decides not to give up and tries to see her.



Not only has she left the house when he came, but the family refused him to see her at all. Holding his hand over a light candle Vincent begs to be allowed to see her as long as he can hold the hand into the fire. And he tries to hold it into the flame...  for a long time ... a very, very long time ... and still keeps on holding the hand right above the flame.......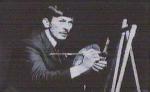 Finally accepting reality Vincent now concentrates hard on painting, now turning into color painting using carmine, cobalt and emerald green.
Most times throughout the show Vincent's paintings are projected onto the wall behind the stage. These are oil paintings now he painted in this specific time. Vincent's affection for yellow might have been the result of his medical treatment for epilepsy. These medications made him see the color yellow brighter than it usually was.


In Paris Vincent tries to teach Theo how to paint. Theo tries, paints a picture and wants to know what Vincent thinks of his drawing.
Theo recalls Vincent's reaction to his first painting: "Did you remember to clean your brush?"

Vincent repeatedly invites Gauguin to visit him adoring him with all his heart. Gauguin first is not coming, but he too has hardly any money to live on and later accepts the invitation. Gauguin, the painter who always wants attention and admiration without giving back to Vincent what Vincent so much longs for: Gauguin's acceptation of his work. After a verbal fight Vincent cuts off a part of his left ear and sends it to a courtesan. "Five franc for an ear", she had said before. Vincent was not able of hurting Gaugin, he rather hurt himself. 
Gauguin leaves Vincent after that.
In the end of the first part Theo says: "Vincent, love your whore, love nature, love life, love that bastard Gauguin, but for God's sake, Vincent, learn to love yourself!"


°°°°°°°°°°°°°°°°°°°°°°°°     Between the first and second act "Vincent" (Starry, starry night) by Don McLean was played and later substituted by "L'Arlesienne Suite".       °°°°°°°°°°°°°°°°°°°°°°

Act two begins with the ringing of bells and a number of pictures shown on the huge screen. Theo is sitting in the dark, coughing and obviously ill.

He, too, is suffering under the circumstance that Vincent is committed into the hospital and later -– on his own will -– institutionalized to an asylum, St. Paul at St. Remy. A letter from Vincent tells him about the c

ompetition signed by various people to have him hospitalized – adding to Theo's depression. Theo, deeply moved, cries, subtle, when he looks at the paintings shown on the screen.
"Not the work of a madman," he manages to say.
In the asylum Vincent paints and is accepted by the others with understanding and admiration. In his letters he appreciates that the others also have enough common sense "to leave him alone".



In 1890 Vincent leaves the asylum to live in Auvere at Dr. Gachet's place, an art lover and supportive to Vincent.

Theo and his family, his wife Johanna and their son Vincent Wilhem, visit Vincent there. Theo again is struck by the poverty Vincent lives in and is shaken.
Shortly after they have left Vincent he shoots himself while he sits besides his easel in the fields. Somehow Vincent manages to get back to his place and lives long enough for his brother to get to him. Vincent dies in Theo's arms.

Theo dies six months later.



Theo always had believed that Vincent will become for art as what Beethoven had become for music. The closeness of the brothers is being felt throughout the entire play.



The audience is taken along a lifetime of an artist and his brother, touched so deeply by their passion, desperation and love, not only because the feelings come across, but because the audience is taken along - deeply into the feelings and experiences of Theo and Vincent.
 




Vincent

      1853     Zundert - March, 30 Vincent Willem II is born
      1857     May, 1 Theo is born
      1862     Village school in Zundert
      1864-66 Zevenbergen boarding school
      1866-68 Tilburg studies
      1868     return to Zundert
      1869     The Hague
      1873     Vincent works for Goupil & Cie in Brussels
      1873     sent to London branch of Goupil & Cie.
                  He falls in love with Ursula, the landlady's daughter.
      1874     Ursula tells Vincent that she is secretly engaged.
                  Vincent is sent to the London branch.
      1875     sent back to the head office of Goupil & Cie. Vincent withdraws himself after
                  Ursula's refusal and begins with bible studies
      1876     Ramsgate, as assistant school director
      1876     Vincent walks to London and visits his sister Anna at Welwyn working
                  with Rev. Jones in the Methodist church at Isleworth
                  He visits his parents in Etten
      1877     Vincent works in a bookshop at Dordrecht Amsterdam - Vincent prepares
                  for the entrance examinations to study Theology
      1878     He quits studying Greek and Latin
      1878     Etten, he spends a month with his parents
                  while preparing for a mission school in
                  Brussels / Laeken and begins to study there, but does not qualify.
                  Return to Etten
      1879    Borinage - a coal mining district as appointed mission preacher.
                  Dismissal because of too much involvement and "lack of respectability"
                  He moves to Cuesmes and begins to draw.
      1880     Brussels visiting the Dutch painter van Rappart
      1881     Etten, staying there because Theo is coming home too.
                  He falls in love with his cousin,
                  Kee Vos, who is a widow, but she rejects him.
                  The discussion with his father about going to church on Christmas
                  leads to a break.
                  Vincent stays at The Hague taking painting lessons with Mauve.
      1882     Vincent breaks with Mauve. Admission to hospital.
                  When he leaves the hospital he has drawn a lot and begins now to paint.
                  Living with Clasina Maria Hoornik (Sien)
      1883     He breaks with Sien going to Drenthe, then to Nieuw Amsterdam.
                  Two years Nuenen
      1884     Margot Begeman falls in love with Vincent.
                  She poisons herself because her family opposes.
                  He suffers deeply under her death.
                  Vincent teaches painting at Eindhoven
      1885     His fathers dies. He studies the theory of colors,
                  visits the museum at Amsterdam
                  and paints "The Potatoe Eaters" amongst others.
      1885     Antwerpen Cethedra, Grand Place, woman with red ribbon
                  Enters the academy
      1886     Paris, Montmartre, Influence of impressionists.
                  Theo and Vincent live together in Montmartre
      1888     Vincent moves to Arles because of the colors there.
                   Orchards, Le pont de l'anglois, Peach tree in blossom a.o.
                   Moving into the "yellow house"
                   Gauguin visits him and tensions develop.
                   Gauguin leaves after Vincent has cut off his left ear
      1889     Vincent goes on painting after he is released from hospital.
                  Because of his epilepsy he is readmitted into hospital.
                  He stays in confinement.
                  In May Vincent goes of his own will to the Saint Paul - de - Mausole Asylum
                  at Saint-Remy-de-Provence. There he paints several parts of the garden.
                   "Red Vines" are sold for 400 Franc.
      1890     Vincent goes to Paris. Theo and his family visit Dr. Gachet's home
                  where Vincent is painting Dr. Gachet's prortrait, his daughter
                   and "Mademoiselle Gachet at the piano". 
                   Vincent returns to Auvers.
                   He goes on painting and writing to Theo sending along sketches.
On July, 27 Vincent shoots himself.
Heavily wounded he reaches Rovoux' and dies on July 29th. Theo dies six months later. Johanna, Theo's wife archived Vincent's works and collected any painting she could find in memory of them.

How it began (Leonard Nimoy):
Some years ago I was a very active lecturer on the college circuit. The work was hard, travelling every day for two or three weeks, usually taking at least two planes and sometimes even three to make connections to the smaller towns like Billings, Montana. But the pay was an important part of my income and, at least for a while, the events were exhilarating.

Star Trek was enormously popular on the college campuses and students were eager to hear stories about the making of the original series. But inevitably, I felt repetitive and, as is my nature, I began searching for a new challenge. My hope was that I could develop a one-person show that would employ my acting skills while providing spiritual nourishment.

In the midst of one of my lecture tours I found the seed of the idea for Vincent. At a small college in upstate New York, I had just completed one of my appearances and was invited by a couple who were faculty members to come to their home for conversation and drinks. My usual pattern was to avoid those gatherings. They often amounted to a draining of energy at the end of a long day of travel and work. Then there would be a night of restless sleep in a new motel room and an early flight in the morning. But somehow these people seemed sympathetic and interesting and I accepted their invitation.
It was a good evening of conversation. We talked about politics, academia and the arts. I asked them to tell me what other speakers had been on the circuit. Usually, I recognized the names of my fellow travelers, book authors and politicians who were most frequently mentioned, but in this case there was a new and intriguing presentation. An actor had done an evening portraying Theo, Vincent's brother, in a play called Van Gogh written by Phillip Stephens.

There was a treasure to draw from. Vincent Van Gogh had written over 500 letters to his brother Theo over the 10 year period of Vincent's struggle to master his art. Theo was Vincent's total support, financially and emotionally and Vincent's letters, now widely published, were as passionate as his paintings. Both in spiritual and artistic statement, they described Vincent's progress in his life and his art.
In a short time I was able to contact Phillip Stephens and bought the rights to his play. I felt indebted to him for the idea, which made the evening viable for me, namely that I would portray Theo and give the audience this special vision of the great painter as seen through his brother's eyes. We worked out a contract whereby some scenes were kept intact, but essentially I set out to develop a new play titled Vincent. In my research, I found a letter that Theo had written to his mother after Vincent's death. The mother was ill and unable to travel so Theo described the funeral and told his mother that while others spoke at the service, he himself was too overcome with grief and was unable to express himself. From this I built the idea that Theo was now wanting to say some things about his brother and had invited this audience to come and hear his story.

After three tryout performances, I was invited to present the play at the Guthrie Theater in Minneapolis, one of the most esteemed regional theaters in the country. I was extremely well received by audience and critics and subsequently toured 35 cities giving 150 performances as a Guthrie Theater presentation. Eventually the show was taped at the Guthrie for the A & E television network and is still available through Paramount Home Video.

It is a great source of pleasure to know that Vincent lives through the performances of talented actors, and most recently the video version has been accepted into the archives of the educational division of the Van Gogh Museum in Amsterdam.

http://www.dramaticpublishing.com/AuthorsCornerDet.php?titlelink=9698&sortorder=1