1999
Writer: Cecelia Fannon

Spock: Leonard Nimoy
Q: John deLancie
http://www.youtube.com/watch?v=GnBojTnLf2I

Spock greets the audience after an emotional reception and a very, very long applause as former science officer of the starship Enterprise, special ambassador of the Federation and retired citizen of Vulcan.

After commentating the latest newspaper and what seems to be important to the people on earth nowadays, he wonders what they would do if anything real catastrophic would be about to happen soon ...

Spock is interrupted by Q, and immediately Q's sudden appearance, his behavior and tone are in strong contrast to Spock's. Q wants an autograph – officially.

Q:     I was just thinking: What would he be like in person? Would he be gruff and pedantic or bane and grim?
S:     Sir, allow me to inform you that I am occupied in a matter of some urgency here and you are interrupting.
Q:     Gruff and pedantic, my first choice ... I know, I am interrupting and you'll thank me for it later


...

I am from the Continuum. And I'm just dying, dying to meet the legendary Spock. Can I have an autograph?
S:     Autographs have proven to be of great value. Not just informational but associatively throwing a light on the original intentions and methods of the author.
Q:     Your point?
S:     Recognition of the importance of autographs date back to the earliest known example: A scroll signed by El Cid dated 1096. Now of course the practice of collecting such signatures is widespread.
Q:     Look, I just want your autograph, Spock. I mean what are you desperately trying to say?
S:     There is a sizable demand, you'll have to join the end of the line.

Even when he has gotten it, Q does not want to leave. He knows exactly why Spock is here and why he makes a public speech. Trying to find out the truth from Spock he intends to trigger him into revealing the fact of an approaching catastrophe ... and (being caught in the discussion) delivers the news himself:
S:     Anything is possible if the desire to obtain it is present.
Q:     Yeah, well, that a lot of good desire is going to do them when they are all burned toast.
S:     Which is not to say they cannot still do something.
Q:     What? Before they are toast?
S:     While there is still time.
Q:     Actually toast is to all. They are gonna be atomized.
S:     How insensitive.
Q:     Blown out of the sky!
S:     How crass.
Q:     Smithering city, stardust, the last run of the Granian.
S:     How boorish.
Q:     Because an asteroid the size of Montana is heading this way. So there!
S:     Yes, well, thank you for that.
Q:     You are welcome ... Wait a minute.. what are you thanking me for?
S:     By breaking the news to them you provided an invaluable service.
Q:     What?
S:     You have made it possible for me to avoid violating the Prime Directive.
Q:     You ... you manipulated me.
S:     Nicely put and I suggest your bed side manner lacks compassion.

Both are indulging in their conversation while Spock officially tries to make Q leave and Q officially tries to begin a friendship with Spock.
S:     But there is something poignant in early leave taking. As the writeout Morly John put it: The great business of life is to be, to do, to do without and to depart.
Q:     Yes, but ...
S:     Or Shakespeare: Parting is such sweet sorrow.
Q:     Ja, but I ...
S:     Or Pope: True friendships laws are by this rule expressed: Welcome the coming, speed the parting. Yes!
Q:     That does it, I am definitely staying
...
S:     May I suggest that you pester some other civilization?
Q:     Well... pester ... I came here to meet you, get your autograph, have some fun. And what happens? I get insulted. You stand before me, you intergalactic good-doer, swathed in a cloak of science. Haughty and cold, on the brink of violating the Prime Directive. Your solemn oath. To tell you the truth: I came to interfere with you interfering with them. And I'm treated like what? Used chewing tobacco. Like a dead sea slug, like yesterdays scrambled eggs. I mean: I've got to tell you something: You have wounded me deeply.
S:     I see no evidence of a wound.
Q:     Emotionally, Spock! The heart, the quick, the marrow. Do you understand that?
S:     This conversation is reminiscent to those I had with Dr. McCoy. As a phenomena emotionalism is highly overrated. Dr. McCoy indulged in it frequently and zealously. In fact: He once told me he got down on the ground and rolled around in it.
That's then of course because he is human.
Q:     Is that supposed to make me feel better?
S:     I withdraw the request.


...

Since Spock is not in the position to do anything about the asteroid, he wonders whether Q might intervene. Q does not seem interested. Flattering Q by repeating statements humans made about him, making him aware that earth is a lovable place and trying to make him use his powers - all does not help to convince Q to avoid a collision. But Q challenges Spock for a verbal joust.
Q:     I mean, come on, you like them so much?
S:     It is not a question of affection. My mother was human. I have lived and worked with humans. I have observed them closely. I believe the human race has many notable characteristics.
Q:     So did the dinosaurs. They there around for a hundred and forty million years. I didn't stop the asteroid with their name on.
S:     True, but you enjoy the verbal joust. The dinosaurs were not natural conversationalists.
Q:     I count that as one of ten good reasons I should – as you say – assist. Can you come up with nine more?
S:     Have we begun the play?
Q:     Yes. Yes, yes, yes, yes.
S:     Hmm, Nine reasons to save humans. You give me short notice, but: Humans drafted the Magna Charta, invented the abacus, composed Injubulus Symphony, painted "Starry Night", danced the Dying Swan, build Stonehenge, the Empirial City, the pyramids of Ghysa, discovered radium, spun sugar into cotton candy, fashioned gutta-percha put into a boll, and caste it in dimpled white, hit it with a long stick five hundred yards into a tin cup and made the practitioners of this feat rich men.
Q:     Huh, The way you are having these facts in your fingertips, the way you say them, Spock, make one might be tempted to think that you care for these humans.
S:     There is unfortunately an even longer list on their failings.
Q:     Ah, ah, no, too easy, I tell you what: Give me ten more good reasons, and I'll play your game.
S:     I was under the impression that we were already on the way.
Q:     So, ten positive reasons. I'll time you.
S:     Very well. Ten inventions:
Adobe, the button, candle, chopsticks, floating soap, the flush toilet, ketchup, the kite, the slinky, Thanksgiving day, oh, and yes, not in alphabetical order: Hey Jude.
Q:     That was eleven.
S:     Nether the less.
Q:     You have an inexhaustible supply. Admit it: You like these guys.
S:     I just stated the briefest list of earth's cultural, historical and scientific novelties. Why must you apply an emotion to it? Or do you require another ten accomplishments?
Q:     No, no, no, no, no. I don't want anyone accusing me of unfair advantage when I win. Hey, what's my prize? Winner take all? Never mind, I'll think of something. Let's toss. Who goes first?
S:     Fair play would suggest that is my term now to challenge you.
Q:     I know the rules of fair play.
S:     Then perhaps you'd consider putting them into practice?
Q:     ... Heads... My turn.

...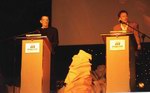 All of Q's tricks do not have the desired effect – he does not solve any of Spock's riddles and Spock solves all of his. Both enjoy themselves and both do not want to give this impression to the other.
But it becomes clear that Q loves the humans, too.
S:     You place grave store by communication.
Q:     Well, our heart to heart now can be in a way restorative. Did I tell you about the time I swam with the pair of humpbacks and we swapped some mean sonar?
S:     The fact is. You prefer human speech to whale.
Q:     Did I say that?
S:     How many times have you been a whale and how many times have you been a human?
Q:     Hooh, how would you know about whales?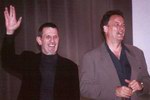 Slowly and deftly, Spock maneuvres Q into saving Earth from destruction. Q is shocked, but also pleased. In the end, Spock sums things up. They say "Good night!" to the audience after they agreed to dine together that night.

[Only a tiny part of the play is quoted here]

  Here you get the audio book