1950 (?)
By: Christopher Marlowe
The devil: Leonard Nimoy
A man sells his soul to gain power and knowledge in exchange.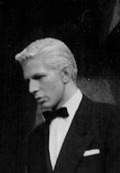 The Tragicall History of the Life and Death of Doctor Faustus, known as  Doctor Faustus, was first published in 1604, eleven years after Marlowe's death. The stage play was performed in The Orchard Gables Repertory Theatre, the city's first professional theatre. The theater had 28 seats and was situated in a home that a group of actors rented.

From: Wikipedia: Two versions of the play exist:

   1. The 1604 quarto, printed by Valentine Simmes for Thomas Law; sometimes termed the A text. The title page attributes the play to "Ch. Marl.". A second edition (A2) in 1609, printed by George Eld for John Wright, is merely a reprint of the 1604 text. The text is short for an English Renaissance play, only 1485 lines long.
   2. The 1616 quarto, published by John Wright, the enlarged and altered text; sometimes called the B text. This second text was reprinted in 1619, 1620, 1624, 1631, and as late as 1663.

The 1616 version omits 36 lines but adds 676 new lines, making it roughly one third longer than the 1604 version. Among the lines shared by both versions, there are some small but significant changes in wording; for example, "Never too late, if Faustus can repent" in the 1604 text becomes "Never too late, if Faustus will repent" in the 1616 text, a change that offers a very different possibility for Faustus's hope and repentance.

A major change between texts A and B is the name of the devil summoned by Faustus. Text A states the name is "Mephistophilis", while the version of text B states "Masturtophilis". The name of the devil is in each case a reference to Mephistopheles, though these names are both of Marlowe's invention.

The relationship between the texts is uncertain and many modern editions print both. As an Elizabethan playwright, Marlowe had nothing to do with the publication and had no control over the play in performance, so it was possible for scenes to be dropped or shortened, or for new scenes to be added, so that the resulting publications may be modified versions of the original script.

The 1604 version is believed by most scholars to be closer to the play as originally performed in Marlowe's lifetime, and the 1616 version to be a posthumous adaptation by other hands. However, some disagree, seeing the 1604 version as an abbreviation and the 1616 version as Marlowe's original fuller version.