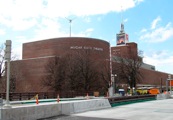 1987 - 19??
In the early days since 1987 of the Mugar Omni Theater,
-- whose screen is larger than life --
this short film about New England was shown before every feature-length presentation. The soundtrack "A Hymn To New England" was composed by John Williams.
Narator: Leonard Nimoy

1 Museum Of Science Driveway
Boston, MA

The essence of New England is in the way we look at things. And vision of New England must honor the past but gaze steadily into the future. 
Our view of the wolrd has always been a little .. different. 
While celebrating our contrasts and applauding our progress we still take pride in the things that never change. 
New England vision is grounded in history. In remembering the simple pleasures of the way we once lived. We chrish tradition but we welcome change. And we know how to honor our heroes. New England always had a healthy respect for the learning process and the people and places that help us to understand ourselves and our world.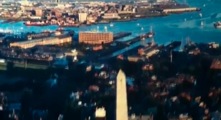 And we share this legacy with those we meet.  We treasure the private places, the quiet places and refresh our minds, renew our spirit. 
The essence of New England is in the way we look at things and in sharing that vision we celebrate where we come from and where we are going, we celebrate a New England vision.