2014 March
(Thanks to Grace for sharing this Link)
The Miracle of Israel
How the miraculous story of Israel's restoration may
hold the key to our future…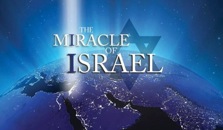 https://www.themiracleofisrael.org/

What if a miracle could change the course of history?
What if rescue, renewal and restoration is played out on the world stage before billions of awestruck observers?
You've seen the film, get the free book!
More than 300 years ago
Louis XIV, the Sun King, asked
Blaise Pascal, the noted French philosopher,
to give him proof of the supernatural.
Pascal replied:
                                        "Why, the Jews, your Majesty—the Jews."
Biblical Productions films with Megalomedia on a documentary on Israel  Link
Megalomedia is producing a documentary about the survival of Israel and what challenges it has overcome since the Independence Declaration. The film will air on all four major broadcast networks in the States (CBS, ABC, Fox and NBC) . The show is called "The Miracle of Israel" and will be narrated by Leonard Nimoy. The production was managed by international producer Sharon Schaveet who was also the main field producer. Biblical Productions prepared the entire shoot including challenging location permissions, and took care of logistics. We managed to get participation from Mark Regev, employee of Netanyahu's office and Jonathan Bernis. We are happy to have been part in meeting interesting experts and we are wishing the crew much success in finishing the documentary.