2014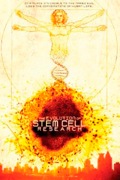 Link in the IMDb      90 min. documentary by Red Sea Media
and Thunder Bay pictures
In a place barely visible to the naked eye the finest minds in science gather to reveal the cornerstone of human life....
Narrator: Leonard Nimoy
Director: Mark Davis
Producer: Smokey Robinson
Writer: Mark Davis (story)
Narrator: Leonard Nimoy
Stars: Leonard Nimoy, Ron Reagan, Ian Wilmut 
(Thanks to Grace for finding and sharing this post on IMDb)
Check also The Film Catalogue: An incredible journey of medical discovery begins with the pioneers of stem cell research and follows the patients who may benefit from these discovered treatments. These trailblazers are opening new frontiers in the field of medicine that have contributed to unlocking the cornerstone of human life.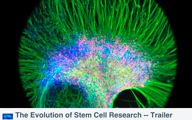 And the trailer on vimeo: The definitive, awe-inspiring film on stem cell science, from its European origins through the explosion of applications transforming medicine today. Includes commentary from most of the leading biologists in the field.
Cutting-edge visuals reveal how stem cells work, and how their secrets are revolutionizing human health. The foremost scientists from around the globe share their discoveries in down-to-earth language. Stunning images from trailblazing labs guide viewers through the new golden age of biology in this $1 million production. The personal stories of ordinary patients whose lives have been forever changed, and the visionaries who are aiding them, are truly miraculous. Narrated by Leonard Nimoy.
85 minute feature or international television hour versions are available.
°°°°°°°°°°°°°°°°°°°°°°°
Twitter: 
Colin Anderson @Colin__007
@TheRealNimoy: What about 'The evolution of stem cell research'?
Leonard Nimoy: Special offer of probiotics film I narrated now at Whole Foods markets. LLAP