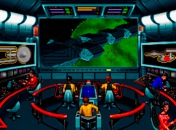 1992 June 08
http://www.giantbomb.com/star-trek-25th-anniversary/61-21421/
Developers: Interplay
1992
Based on Star Trek
Voice of Mr. Spock: Leonard Nimoy


To celebrate the 25th Anniversary of Star Trek, Star Trek: 25th Anniversary was an MS-DOS based game with 256 color VGA graphics and digitized sound for the first time in a Star Trek game.  Utilizing Interplay's own version of the tried and tested point and click adventure system, Star Trek: 25th Anniversary was a combination of a point-and-click adventure game and a starship simulator.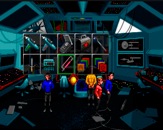 At release the game proved to be a moderate success both financially and critically. A sequel, Star Trek: Judgment Rites, was released a few years later. The game was developed and published by Interplay.

By utilizing several characters throughout each mission/story of the seven missions/stories you were awarded a score based on your performance on that mission. Plays on: PC, MAC and AMI

The stages:
    - Demon World.
    - Hijacked.
    - Love's Labor Jeopardized.
    - Another Fine Mess....
    - Feathered Serpent.
    - That Old Devil Moon.
    - Vengeance.