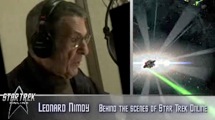 2010 February 02 
Scroll down for video links and lots of photos
and hear Leonard Nimoy reading
Star Trek Online Texts
http://www.startrekonline.com/
Scroll down for a video showing Leonard Nimoy doing the audio work.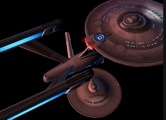 http://www.giantbomb.com/star-trek-online/61-21810/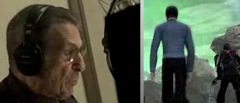 Producer: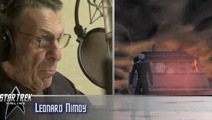 Craig Zinkievich
Voice of Mr. Spock: Leonard Nimoy

See and hear Leonard Nimoy work on the audio part of the production at answers.com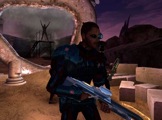 Publisher: Atari SA
Developers: Cryptic Studios and Perpetual Entertainment
Playable at: PC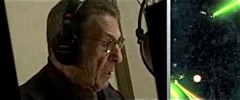 Rise through the ranks of Starfleet and boldly go where no one has gone before, or prove your honor as a mighty warrior of the Klingon Empire in this MMO from Cryptic Studios.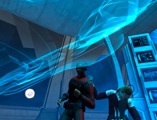 Players can play as a member of the United Federation of Planets or the Klingon Empire. The two factions are close to open war after the collapse of the Khitomer Accords.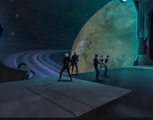 The player can build his or her character from a range of familiar races such as Humans, Vulcans, Andorians, Ferengi, Bajorians, Klingons, Orions, Gorns or Naussicans. Alternatively, the player can create their character from the ground up using the game's extensive species creator, customizing everything from eyebrow shape to finger length.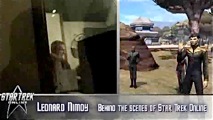 The player travels through space with their own customizable starship, which can be replaced as the player advances in rank with an array of more powerful ships, which branch off into different specialties depending on the player's chosen field of specialization: Engineering, Tactics, or Science. The ships can be upgraded and customized in several ways; both esthetic and functional.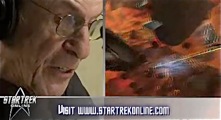 Playable Races:

The United Federation of Planets

    * Human
    * Vulcan
    * Bajoran
    * Bolian
    * Benzite
    * Betazoid
    * Andorian
    * Saurian
    * Trill (unjoined)
The Klingon Empire

          o Klingon

    * Orion
    * Gorn
    * Nausicaan
    * Lethean
Watch Leonard Nimoy behind the scenes:
https://www.youtube.com/watch?v=MPDqe0xeEH4

http://www.ign.com/videos/2009/12/21/star-trek-online-pc-games-video-nimoy-voiceover-session

http://www.huffingtonpost.com/2011/10/03/leonard-spock-nimoy-last-convention_n_992761.html
The whole intro:
http://www.giantbomb.com/star-trek-online-special-task-force-the-cure/17-2256