2005 October


Civilization IV        A PC game by Sid Meier
Link for a lot of background information
Here's the whole intro Link
Publishers:  2K Games and Aspyr Media, Inc.
Developers: Firaxis Games
Narration By: Leonard Nimoy

Rule throughout time and create your own legacy as you guide your civilization from the dawn of man through the space age and beyond. Implement new technologies, conduct diplomacy or wage war to grow your society and become the most powerful leader the world has ever known.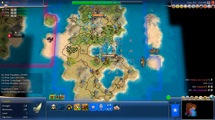 New Features  Introducing religion, Great People, Holy Cities, missionaries, variable scale games, new land, sea and air units and loads of new civic options: Imagine a communist regime with freedom of the press - or a republic without it.
 
A turn-based strategy game that differs itself from others by offering victory through technological, cultural, and religious means instead of strictly eliminating your opponent.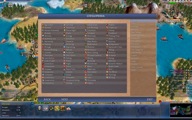 Overview
Civilization IV is a turn-based strategy game in which players help a civilization grow from Ancient times to the Space age. As the fourth installment in the series, Civilization IV has received many improvements that make the game more user friendly than previous Civilization games. The gameplay in Civilization IV is extremely deep as players must maintain several aspects of their chosen Civilization. Some of these aspects include: Population, Health, Civics, Research, and Military. While there are many city attributes that need watching, Civilization games have always been wildly addictive, thus earning the motto "Just one more turn."

http://www.youtube.com/watch?v=XZlWmYe8HM4

Civilizations
There are 18 Civilizations:

America
Leaders:

    * George Washington -Financial, Organized
    * Franklin D. Roosevelt - Industrious, Organized

Other Traits:

    * Starting Tech - Fishing, Agriculture
    * Unique Unit - Navy SEAL (replaces Marine)
    * Capital City  - Washington D.C.


Arabs
Leaders:

    * Saladin - Philosophical, Spiritual

Other Traits:

    * Starting Tech - Mysticism, The Wheel
    * Unique Unit - Camel Archer (replaces Knight)
    * Capital City - Mecca


Aztecs
Leaders:

    * Montezuma - Aggressive, Spiritual

Other Traits:

    * Starting Tech - Mysticism, Hunting
    * Unique Unit - Jaguar (replaces Swordsman)
    * Capital City - Tenochtitlan


China
Leaders:

    * Mao Zedong - Philosophical, Organized
    * Qin Shi Huang - Industrious, Financial

Other Traits:

    * Starting Tech - Agriculture, Mining
    * Unique Unit - Cho-Ku-Nu (replaces Crossbowmen)
    * Capital City - Beijing


Egypt
Leaders:

    * Hatshepsut - Spiritual, Creative

Other Traits:

    * Starting Tech - Agriculture, The Wheel
    * Unique Unit - War Chariot (replaces Chariot)
    * Capital City - Thebes


England
Leaders:

    * Queen Victoria - Expansive, Financial

    * Queen Elizabeth I - Philosophical, Financial

Other Traits:

    * Starting Tech - Fishing, Mining
    * Unique Unit - Redcoat (replaces Rifleman)
    * Capital City - London


France
Leaders:

    * Louis XIV - Creative, Industrious
    * Napoleon Bonaparte - Aggressive, Industrious

Other Traits:

    * Starting Tech - Agriculture, The Wheel
    * Unique Unit - Musketeer (replaces Musketman)
    * Capital City - Paris


Germany
Leaders:

    * Frederick II - Creative, Philosophical
    * Otto von Bismarck - Expansive, Industrious

Other Traits:

    * Starting Tech - Hunting, Mining
    * Unique Unit - Panzer (replaces Tank)
    * Capital City - Berlin


Greece
Leaders:

    * Alexander the Great - Aggressive, Philosophical

Other Traits:

    * Starting Tech - Fishing, Hunting
    * Unique Unit - Phalanx (replaces Spearman)
    * Capital City - Athens


Inca
Leaders:

    * Huayna Capac - Aggressive, Financial

Other Traits:

    * Starting Tech - Agriculture, Mysticism
    * Unique Unit - Quechua (replaces Warrior)
    * Capital City - Cuzco


India
Leaders:

    * Mahatma Gandhi - Industrious, Spiritual
    * Asoka - Organized, Spiritual

Other Traits:

    * Starting Tech - Agriculture, Mysticism
    * Unique Unit - Fast Worker (replaces Worker)
    * Capital City - Delhi


Japan
Leaders:

    * Tokugawa Ieyasu - Aggressive, Organized

Other Traits:

    * Starting Tech - Fishing. The Wheel
    * Unique Unit - Samurai (replaces Maceman)
    * Capital City - Tokyo


Mali
Leaders:

    * Mansa Musa - Financial, Spiritual

Other Traits:

    * Starting Tech - Mining, The Wheel
    * Unique Unit - Skirmisher (replaces Archer)
    * Capital City - Timbuktu


Mongolia
Leaders:

    * Genghis Khan - Aggressive, Expansive
    * Kublai Khan - Aggressive, Creative

Other Traits:

    * Starting Tech - Hunting, The Wheel
    * Unique Unit - Keshik (replaces Horse Archer)
    * Capital City - Karakorum


Persia
Leaders:

    * Cyrus the Great - Expansive, Creative

Other Traits:

    * Starting Tech - Agriculture, Hunting
    * Unique Unit - Immortal (replaces Chariot)
    * Capital City - Persepolis


Rome
Leaders:

    * Julius Caesar - Organized, Expansive

Other Traits:

    * Starting Tech - Fishing, Mining
    * Unique Unit - Praetorian (replaces Swordsman)
    * Capital City - Rome


Russia
Leaders:

    * Catherine II - Creative, Financial
    * Peter I - Expansive, Philosophical

Other Traits:

    * Starting Tech - Hunting, Mining
    * Unique Unit - Cossack (replaces Knight)
    * Capital City - Moscow


Spain
Leaders:

    * Queen Isabella - Expansive, Spiritual

Other Traits:

    * Starting Tech - Fishing, Mysticism
    * Unique Unit - Conquistador (replaces Knight)
    * Capital City - Madrid