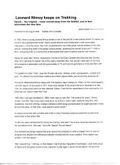 2009 August 23
Spock – the original – never turned away from his faithful, and in fact welcomes the new fans
By Darren Zenko - Special to the Star
TheStar.com (Canada)
In 1965, when a young Leonard Nimoy landed a role in the pilot for a new science-fiction TV series, he couldn't have guessed that his Mr. Spock would become one of television's most memorable characters, or that the show, Star Trek, would become one of the great cultural artifacts of the 20th century, entrenching itself in the global consciousness, spawning five spinoff series and 11 feature films, and giving birth to a community of aficionados that came to define what we call "fandom."
Nearly 45 years later, Nimoy, stopping by Toronto's Fan Expo Canada next Saturday and Sunday, fresh from reprising his Spock role in this year's cinematic Star Trek revival, looks back on his long and prosperous association with the granddaddy of TV sci-fi and its generations of devoted fans with affection.
"I'm grateful for (Star Trek)," says the 78-year-old actor, director, writer, photographer, vocalist and poet. "It's offered me tremendous creative and artistic opportunities, and an exciting personal life."
The warm relationship Nimoy enjoys with Trek fandom wasn't always so. When his first autobiography, I Am Not Spock, hit the racks in 1977, many fans reacted to the book's title as a repudiation of Star Trek, an unequivocal diss from their beloved Vulcan. From the fan newsletters to the schoolyards, the word was out: Spock hated Star Trek.
"After Star Trek was cancelled (in 1969), there was no new Star Trek product for years," Nimoy recalls, "but Star Trek reruns were ubiquitous, on at 6 p.m. every night, weekend-long Star Trek marathons, that kind of thing. College professors were doing courses based on single episodes. It was all over the place. At that time, I was asked to write a book."
A chance encounter with a mother and child in a San Francisco airport provided the incident that would lead to that book's title.
"A little boy was marched over to me by his mommy. She said `This is your favourite character on TV!' He just stared at me. She said `This is Mr. Spock!' He just stared."
The awkward exchange inspired the actor behind the character to write a chapter into his work-in-progress that detailed the differences between himself and his iconic creation. That chapter was entitled "I Am Not Spock."
"But," says Nimoy, "I did say, in that chapter, that of all the characters I'd portrayed, I was most proud of Spock and that given choice of any character to play again I would choose Spock. He stood for loyalty, intelligence, education. I wanted to use that title as the title of the book; I thought it would spur discussion, but my publisher advised against it. I fought for it and won ... but I won trouble.
"During this period when there was this great hunger for Star Trek production, I released a book called I Am Not Spock. The thought was, here was Nimoy, rejecting Star Trek. People were reading the title without reading the book! I had a tough time."
That same year, while appearing in a Broadway production of Equus, Nimoy headed down to a cinema in Times Square to catch a new movie.
"I'd heard about Star Wars," Nimoy recalls, "and here was this theatre packed with fans, screaming and cheering. I thought, `This could be the window for Paramount to do something with Star Trek. Next thing I know, I'm getting a call from my agent regarding a Star Trek movie."
With Nimoy's reprising of his signature role in 1979's Star Trek: The Motion Picture, sating his Spock-hungry fans, there followed 30 years of mutual affection. In recent years, though, the veteran of countless conventions had been feeling in the Trek fan community a certain lack of energy and excitement, what he calls a "habitual style" of fandom. That's changed, he says, since the release of J. J. Abrams' new Star Trek feature, in which Nimoy's aged Spock encounters his younger counterpart, played by Zachary Quinto.
"We have, this year, a big shift in the nature of the fans," Nimoy says. "Two things: larger numbers of people are attending (conventions), and second, there are a lot of people attending who have never been involved in Star Trek ? new fans.
This new energy in fandom delights the artist who adapted a Jewish priestly blessing into the famous "Vulcan salute" and devised the "Vulcan nerve pinch" as a less barbaric alternative to Captain Kirk's bare knuckles. With the new movie, and the original Star Trek series now available on remastered with upgraded special effects (and thousands of hours of Trek still ubiquitous in reruns), Nimoy sees "the entire Star Trek oeuvre getting new attention" from a new generation of fans.
"In Las Vegas a couple of weeks ago I asked how many people there were at a convention for the first time. Half the room raised their hand. We had a lot of repeats in the past; I was surprised to see so many coming for the first time."