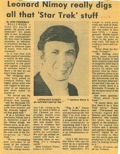 1978 (?)
By Don Freeman
HOLLYWOOD — Take the world of plants. Do plants communicate? Are plants able to feel, as humans do, and communicate? Do they react to human emotions, to affection, to attention? Do they respond to different types of music, from rock to classical?
Is it true that with some plants if you strike a match 20 feet away, sensitive instruments attached to the plant will register a reaction of extreme terror? Is there a lot that we can learn from plants?
The foregoing questions were posed by Leonard Nimoy, that highly gifted actor who was tapped as host-narrator of an innovative new series called "In Search of…"
"We delved into the mystery of plants," Nimoy was saying, "and the Bermuda Triangle and UFOs and the Loch Ness monster and the Dracula legend — all that good stuff."
It is a territory that fascinates Nimoy and it is, moreover, a part of the Nimoy image, the Nimoy aura, as an obvious consequences of his portrayal of Mr. Spock, the cool man of the Enterprise, in "Star Trek."
"We're developing new attitudes in so many of the curiosity areas," Nimoy says. "On the college lecture tour I do, I bring up the way we used to think of the Chinese as very strange, maybe even barbaric, for their custom of sticking needles into sick people. Now there is evidence that acupuncture may be helpful. New developments are everywhere. We can't go around anymore with fixed, immovable ideas on anything. It's a changing world."
Does Leonard Nimoy believe in UFOs?
"Yes, I do," Nimoy said. "I believe there is extraterrestrial life. Not that I've ever seen a UFO and I'm enough of a pragmatist not to believe completely in something until I see It with my own eyes. But I definitely believe there is an interplanetary capability.
"And I did interview this fellow who says he went up on a spaceship with people from out there somewhere. It's - tough to walk away from any kind of disbelief. I interviewed people who claim to have seen UFOs — I mean, genuine Middle-America types who have no stake in the game except truth. The body of evidence exists and I accept it."
"What about the Bermuda Triangle?"
"My feeling after doing some research into the matter is that there must be some kind of magnetic field that is affecting the instruments of ships and planes who go there. The pattern seems to be always in difficulty with the instruments and the pilot becomes disoriented and that's the end. In other words, there is a Bermuda Triangle in the ominous sense of the phrase."
One more question: "What about 'Star Trek?'"
"It seems likely now that there'll be a 'Star Trek' movie," Nimoy said. "Paramount has already signed Bill Shatner and Gene Roddenberry, who created the show, has been signed as the producer. They've signed two writers and a director and a project designer. I haven't signed on yet but I'm ready to. They say the movie goes into production in the spring and I'm looking forward to it."
And so, of course, are all the Trekkies.