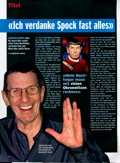 2009 
Leonard Nimoy aka Mr. Spock on his Star Trek successor, crazy fans and jokes about pointed ears.

By Christian Thiele
TV-STAR:  AS the only of the old crew you have got a smal role in the new Star Trek movie. Have the others be jealous?
LEONARD NIMOY: A little. Bill [William Shatner aka Captain Kirk] was rather disappointed.  He'd love to strangle me when I told him about it. (laughs) 
TV-STAR: One says you're best friends ...
LEONARD NIMOY:  We are. We always go together to Star Trek conventions. The next is in August in Las Vegas. 
TV-STAR: Mr. Spock is now being portrayed by a younger person. Was it difficult for you to hand over the character which shaped your kife so much? 
LEONARD NIMOY: I'm 78 now and I've realized that the time has come to bid farewell to Mr. Spock. But sure, it is a strange feeling. 
TV-STAR: Did you give any advice to your Spock-successor? 
LEONARD NIMOY:  No, I have warned him above all that he should be prepared for jokes about his ears. 
TV-STAR: You are especially loved by your fans because you always fulfill wishes for autographs. Are you addressed by fans in the streets?
LEONARD NIMOY: Yes, but have have got much more privacy than before. There wree times I could not go into a restaurant without being addressed. That has become less. 
TV-STAR: Why is Star Trek so popular even after 40 years? 
LEONARD NIMOY: Because it intrigues the imagination of fans. Star Trek stands for a hopeful future. The crew of the Enterprise can solve even complex problems without interferring with the ethical and moral values. 
TV-STAR: Have you got a favorite episode? 
LEONARD NIMOY: Sure. Star Trek IV - The Voyage Home. It has been real fun to shoot in San Francisco. Besides - It was the first time for Mr. Spock that he could prove to have a sense of humor. 
TV-STAR: Does all the Spock opoularity sometimes go on your nerves? 
LEONARD NIMOY: No. I owe Spock nearly everything, for example that I have earned money regularily since 1966. Popularity means for me in the first place that even tomorrow I can do something.