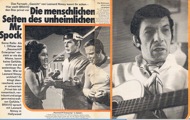 1972 September 13
You already know the face Leonard Nimoy shows on TV... here BRAVO presents the star in private (1) 
Interview by Edith Dahlfeld
His role: as the first officer of the "Starship Enterprise" he always keeps a straight face, knows no emotion, appears like a soulless robot. What is Leonard Nimoy really like? It sounds surprising when he answers: "In private I'm romantic, dreamy, and like to show my true feelings." BRAVO talked to Leonard Nimoy in Hollywood. (2)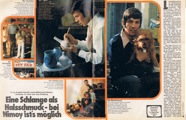 Leonard Nimoy (41) without space-ears, upsweapt eyebrows and trademark haircut - this Nimoy is an athlete of 1.83 m [6 ft] with thick, dark brown hair and brown eyes that look surprisingly dreamily into the world.
We meet in his office at Universal Studios. Nimoy greets me with easy cordiality. Immedialtely I want to know of him, "What is your most enduring memory of 'Enterprise'?"
He laughs. "That I had to get out of bed at 6 a.m. for three years. It took the make-up artist an hour and a half to transform me into Mr Spock. We had to start shooting at 8 o'clock sharp and my pointed ears had to fit perfectly by then."
"You have given some thought to issues like spaceflight and faraway stars. Would it appeal to you to go to the moon?"
The answer is spontaneus, "Sure! I would even like to live on the moon for a while if it were possible."
Back to Earth: Leonard Nimoy lives with wife Sandy and children Julie (17) and Adam (16) in a two-story house in Century City near Beverly Hills. Nimoy about Nimoy's place, "It has four bedrooms, three bathrooms, a large swimming pool and is enclosed by a huge garden where my children can climb the trees with their friends and built tree houses. Julie is an Aries like me, Adam is a Lion." He pauses and smiles. "Yes, one wouldn't propably expect it of me, but I really believe in what's written in the stars."
What he's been up to since 'Enterprise' ended, I want to know.
"I did a Western, Catlow, in Spain with Yul Brynner and Daliah Lavi - Daliah is a fascinating woman, by the way. Next I guest starred in many TV series until Universal offered me an eighteen month deal. In November I'll start with a new TV series. We do not know the story yet. I love parts that are out of the ordinary - parts like Mr. Spock."
(Interview by Edith Dahlfeld)
 
Caption Page 2:
"Starship Enterprise" in Danger!
In this scene Captain Kirk (William Shatner, right) and the beautiful Kara (Marj Dusay) are frantic. Only Mr. Spock (Leonard Nimoy) keeps it cool. For three years Leonard Nimoy played the role of the first officer of the "Enterprise", a man with the knowledge and the memory of a computer.
 
Caption Page 3:
The Space-ears Are Forgotton
In 1969 "Enterprise" finished shooting. Mr. Spock's proper spacesuit has made room for more casual clothing. Nimoy has the time to spent the twilighthours in his home in Century City.
 
Captions Page 4 (counterclockwise):
The Potter
His wife Sandy set up the pottery shop in the garden of his house. She sculpts and anneals the pots and vases. Leonard glazes and paints them. His second artistic inclination: he plays the guitar and sings! The result: five Nimoy-records.
The Pet Owner
Love of animals is important to the Nimoy's. Leonard Nimoy and his son Adam do not dread this snake that they even put around their necks. Nimoy would have liked Mr. Spock to have a cat or dog on board the "Enterprise".
The Businessman
Nimoy's quirk for animals turns out profitable. He opened a pet shop in Los Angeles. That way he's often close to his darlings - and makes money, too.
In Los Angeles Leonard Nimoy conducts earthly business: he owns a pet shop.
A Snake to adorn Your Neck - Nimoy Makes It Possible
The Father
The Nimoy family all in one picture: Leonard is in the background. The children Adam (right) and Julie (left) flank mother Sandy.
 
Caption Page 5:
The Book Lover
When Leonard Nimoy retreats to the library with his shaggy dachshund, "Dog", the family knows that he doesn't want to be disturbed. Among the books he lets his mind wander and dreams about making a name for himself as a director in the future.
 
(1) BRAVO was the teen magazine in its time in Germany. If you were in your teens, you read it. Period. The issue is from September 13th, 1972. Star Trek premiered on German TV in May 1972. You see, it didn't take Mr. Nimoy long to capture our imagination, too.
(2) Star Trek is known as "Starship Enterprise" (Raumschiff Enterprise) in Germany.