2015 January 14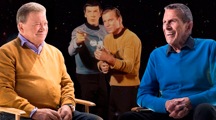 After 25 years together again in front of the camera: 
Link to this article

Link to the commercial 
After 25 years William "Captain Kirk" Shatner and Leonard "Mr. Spock" Nimoy stand together in front of the camera for a commercial. Bild met both "Star Trek" legends on the set in Los Angeles. In the interview they speak about the infinite space of the social media, cars and short-lived friendships in Hollywood. 
(Thanks to Grace for this link!)