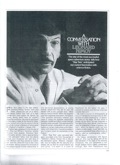 1979
By: Robert Kaiser for Penthouse
The star of the most successful space adventure series tells how "Star Trek" anticipated our current fascination with science fiction 
For four years in the late sixties, Leonard nimoy, Boston born and bred, played the role on a television series called "Star Trek" of a half-human from outer space: Mr. Spock. As Spock Nimoy doesn't have (or could not show) his emotions. His logical approach to the many crises of the starship Enterprise turned out to be perfect foil for the oh-so-human impulses of fellow actor Bill Shatner's character Captain Kirk. 

Shat was supposed to be the star of the show, but Nimoy's character quickly became more popular. Television fans, particularly women, took a special fancy to this alienated fellow from the planet Vulcan and showered him with tons of mail. Women said they wanted to mother him, love him, show him how to feel. Even off-screen, Nimoy enjoyed the tensions of this unique Vulcan-human relationship. In one personal appearance, a young woman asked him how old he was. He replied with a straight face: "What do you have in mind?" When the laughter over that response died down, he added, "The question obvioulsy reflects your need to judge the possible relationship between myself and other human beings, possibly even yourself. This represents an illogical human compulsion on your part, based on certain insecurities and a fascination with linear time. It would be better if you humans could rid yourself of this fiyation."

When "Star Trek" was cancelled (despite wounded cries from thousands of "trekkies"), Nimoy moved into a role on the television series "Mission: Impossible", but he finally left the security of a steady job so that he could branch out and grow. "I'd been in a cave at Paramount for five years," he says. "I wanted to explore and find out what was outside that cave." 
He took a course in photography at U.C.L.A. He started writing poetry. In 1971 he took on some challenging un-Spock-like role on the stage. He was Tevye in Fiddler on the Roof. He was Goldman in The Man in the Glass Booth. And the next year he published a book of poems You and I, which he figured might sell from 2.000 to 3.000 copies. It sold 30.000. He has since published three other books of poetry  -- and an autobiography called I Am Not Spock. 
His happy identification with Spock goes on. And now he, along with all the old members of the crew of the starship Enterprise, has just completed a full-length feature movie called, predictably enough, Star Trek.  Paramount has scheduled this picture (which had a $ 15 million budget) for release some time in 1979.
Nimoy and his wife, Sandi, a former actress, live in an actractive flower-filled home, close to U.C.L.A. West Coast free-lance writer Robert Kaiser interviewed Nimoy there. The subject: science fiction.
Penthouse: Did Star Wars deserve his tremendous box-office success? 
Leonard Nimoy: Sure!
Penthouse: It didn't bother you that it had no social significance? 
Leonard Nimoy: No. You could say the same thing about the circus: no social signoificance. But it's FUN. There's a need in our society today for some cheer fun. People are saying: "Let's have some fun." If Star Wars met that need, then it deserved the great response it got. It was an idea whose time had come. It's also an extremely well made film. You can hiss and cheer and boo and have a good time. It's just an experience of total involvement, created by a great bunch of talented people, working hard and achieving their goals. 
Penthouse: So, now it's time for a "Star Trek" movie. 
Leonard Nimoy: It does seem like we work a bit backwards. Usually a picture is made because somebody has written a good script. But here a studio says to itself: "Science fiction is now highly successful. It is commercial. It is desireable to have a good science fiction feature on the market. "Star Trek" is a terribly recognizable and successful title with a good track record. So -- the studios say -- let's do a Star Trek movie. 
Penthouse: Isn't it time? Wasn't the title "Star Wars" itself a takeoff on "Star Trek"?  
Leonard Nimoy: That's probably true. "Star Trek" laid the groundwork, cultivated the area. So I think it's fitting that "Star Trek" should step back into its own territory. 

Penthouse: Your "Star Trek" movie has the advantage of a ready-made cult, right?
Leonard Nimoy: Oh yes. We still have a cult. A few months ago I was walking down a street in Cleveland and a very pretty girl gave me the Vulcan salute. "Yes", I said, "but can you do it with your left hand?" She tried it -- and failed. The she shrugged and said: "Well, I speak it with an accent."
And just the other day I was stopped for a red light in Westwood and a fellow started shouting at me. I couldn't hear him, so I lowered the window on my car and heard him say: "Make a great movie. We are all waiting for it." Such high expectations. But that's good. There have to be high expectations in order for us to do an acceptable piece of work. There's nothing wrong with that. There are even high expectations abroad. I'm getting more and more fan letter from abroad. 
Penthouse: What about those "Star Trek" conventions?
Leonard Nimoy: They're not just conventions. They're mass celebrations. Somebody says there's going to be a "Star Trek" gathering at a particular hall or hotel in such and such a city. There will be people who are connected with the making of "Star Trek", perhaps some actors. Memorabilia will be exchanged, sold, shown. They will show films of past "Star Trek" episodes on a giant screen. They hold panel discussions on space and "Star Trek". Some of the writers who wrote the show might appear. Harlan Ellison, Issak Asimov, Ray Bradbury might be there. There may be some reps from NASA. Thousands of people will attend. 
And they talk and talk about "Star Trek". They have trivia contests. What did Captain Kirk say to Mr. Spock in Amok Time at the moment when Spock thought he was leaving for home? They quote each other lines, chapter and verses. They have wardrobe contests, look-alike contests -- some people come to these conventions dressed up like some of the characters. 
Penthouse: Are these people kooks?
Leonard Nimoy: No. I think the press has not been totally fair with these people, implying that they are freaky and weird, strange. I have met a lot of people  -- educated, successful, well dressed,  -- who tell me: "I'm a Trekkie" almost in defiance of the denigrating aspect of the application. And it shouldn't be denigrating. 
Penthouse: Are you a star attraction at these rallies? 
Leonard Nimoy: I'm afraid so. The last convention I attended was at a hotel in New York. I gave a little talk and then started wandering around this hotel poking my head into this seminar or that. Pretty soon the word got out that Spock was on the loose, and people started jamming up th ehalls to get close to me and chocking up the elevators. The security people were talking about having to call the fire department. 
Penthouse: Did you think you'd be attacked? 
Leonard Nimoy: Absolutely not. The people who came to see me -- call them Trekkies if you want -- are far more civilized than the security people paid to protect me. The security people tend to aggranditze themselves for days about ther responsibility. They imagine all sorts of terrible things that will happen to me if tehy don't take precautions. So they plan various devious and circuitous routes  to get me in and out of the auditorium -- through a kitchen maybe à la Robert Kennedy. They say: "Take a freight elevator ... climb in an unmarked car at the back door .... don't tell anybody except your girl friend.  -- who tells her girl friend who tells her boyfriend, and soon you've got sixteen followers who are all 'securing' you. Security people create hysteria. It's easy enouhg in a crowd situation to create an atmosphere of mutal respect and communication. But these security people do just the opposite. They project their own vibes: "This is a tense situation!". 
Penthouse: And the crowd just comes to these sprited Trekkie rallies to have fun!
Leonard Nimoy: That's right. And they're just yelled at: "Stay back!" At the slightest sign of anythingnot working right the security people get hysterical, Strange. 
I did a trip to Oakland about a year and a half ago. I walked in and found the kids as usual taking a lot of pictures -- lots of little flashbulbs going off. Well, there was the phalanx of security people arm in arm, cordoning off the stage. I started talking to the audience; they were very responsive and everything was going off beautifully. Suddenly, I became aware of a couple of young security men, the type who peobably work the rock concerts and are looking for the same atmosphere when it isn't the same atmosphere. People who came to see me aren't going to fill the aisles and storm the stage. 
Well, these security guys tried to stop the kids from taking flash pictures. THEY decided that no one could use a flash. It was just an arbitrary decision on their part -- it didn't make any difference to me if the kids used a flash or not. But these security guys were starting to yell at the people. And it was disturbing to me because I was making a speech. And they were shouting: "Stop the flashlights! Get that flash, Charlie! Get it away from that kid right there!" Finally I stopped and said, "Hey that's okay. Let them do their flashes." And this security turned his head right to me and said: "Mistuh Nimoy there's enough light in here. They don't have to use the flashes. " Wait a minute! This is anarchy! I don't believe this. I'm in a confrontation with a security guard!
Penthouse: You travel with an entcouage, bodyguards? 
Leonard Nimoy: I'm not Muhammed Ali. It's me. I try to keep it low key. I just try to talk to people as people, try to reveal some of the behind-the-scenes stuff they seem so interested in. But I have also developed a technique that makes fun. I'll come onstage and get a tremendous ovation and so I have to tell the crowd severely "You're a very emotional group of humans." They love that. 
At De Anza College near San Francisco not long ago a voice from the audience sang out: "Mr. Nimoy, I'm picking up a vibration. There's something on your mind. Something you're not telling us. Something very intense. Something very close to your heart. I'd like you to feel free to tell us about that." I said: "You obviously have ESP." He said: "Maybe I do." I said: "Well, in that case why don't you tell me?" The place went crazy. 
Penthouse: Don't you ever get tired of being Spock? 
Leonard Nimoy: Not a bit. A few years ago I wrote a kind of autobiography called I Am Not Spock -- which made people think I hated and detested the Spock character. Too bad they didn't bother to read it. Even press people assumed from the title that I was trying desperately to rid myself of the Spock image. The same people probably assumed that Gone with the Wind was about a hurricane. There is no reason for me to hate the Spock character. 
Penthouse: You weren't worried about being typecast? 
Leonard Nimoy: I don't agree with the popular idea about typecasting. I believ that every actor who is successful is typecast to some degree. An actor who is not "typeable" is nowhere.

Penthouse: Has the "Star Trek" television series been dubbed into other languages? 
Leonard Nimoy: About forty. 
Penthouse: And the reruns go on and on? 
Leonard Nimoy: Right. 
Penthouse: We assume they're paying you handsomely. 
Leonard Nimoy: No. It is amazing how that concept still prevails. When we signed on with Paramount, we signed the standard Screen Actors Guild contract. We got paid so much for making the episode, then so much  -- a dwindling amount -- for each rerun. But no more after the fifth rereun. We got our last checks about eight years ago. 
Penthouse: So, who makes the money now? 
Leonard Nimoy: Well, theorhetically, Paramount. But I doubt you could get anybody over there now to admit there was any "profit". 
Penthouse: What's made "Star Trek" such a success?
Leonard Nimoy: One percent inspiration and ninety-nine percent perspiration. That was our "genius". 
Penthouse: Well, you could have worked hard and still gone unappreciated. 
Leonard Nimoy: True. And in the case of science fiction; it's never been very appreciated until recently. Oh, the form has existed for a long time. There has always been a place for it. 
Penthouse: Of course, everyone remembers that old science fiction character, Flash Gordon. 
Leonard Nimoy: Sure, and I remember owning a Buck Rogers ray gun when I was a kid. But we never expected too much out of science fiction. And when we grew up we never expected to find a great novel in that particular guise. 
Penthouse: So, why do you think the genre grew? 
Leonard Nimoy: Science fiction started to get much, much better. Writers were presenting more interesting ideas, and their stories were of multi-level kind we used on "Star Trek". 
Penthouse: "Multi-level"?
Leonard Nimoy: I mean, a kid of 10 could watch a "Star Trek" episode and it enjoy it for the gadgetry and the rockery and the aliens -- the obvious plot. Six or eight ears later, maybe as a high-school graduate student, the same kid could watch a rerun of the same episode and catch the social implications of what we were talking about, things he wasn't aware of before. I think that's why the show is being watched and rewatched today. There are new elements to be discovered as the viewer changes. 
Penthouse: And early science fiction wasn't multi-level in that sense? 
Leonard Nimoy: Many of teh stories and movies were simply designed to frighten an audience. But there were exceptions. The Day the Earth Stood Still was a good one. It touched us. It mae us examine ourselves. In that movie aliens were coming from another planet and looking at us. So we had to look at ourselves. 
Penthouse: And "Star Trek" wasn't designed to frighten?
Leonard Nimoy: No. "Star Trek" wasn't doomsday science fiction. It was upbeat. 
Penthouse: What was the message of "Star Trek" ?
Leonard Nimoy: You must be th eonly one who doesn't know. But the plot line is this: we're in the twenty-second century and all the planetary governments have united to form this United Space Fleet, not a united space fleet but a Federation of Planets. A United Nation of outer space working successfully for peace. Of course there are some bad guys out there, but this group of good guys is working to avoid self-annihilation.  
Penthouse: What was the attraction of that idea for your viewers?
Leonard Nimoy: Well, nowadays we live in a science fiction age. We are now living the stories that were dreamed by science fiction dreamers not more than twenty, thirty, forty years ago. Stop to consider: we have had human beings stand on the moon. Twenty years ago that was nothing but science fiction. I mean, in the sumemr of 1969 I went out in my own backyard and then looked up and said: "I have seen them on television, but it wasn't the same thing as actually looking up there and realizing there were men on the moon. Wow! Incredible!"
In fact there were some wonderful stories about some people's need to reject this kind of experience. I heard people say that those guys stepping out onto the moon looked too much like the old Buck Rogers series. It looked too much like a film set to be real. But, of course, despite these people, the future is there, and we are going ahead. I think the acceleration into space will now be exponential. I mean, when was it -- sixty years ago? -- that the Wright brothers were just getting a few feet off the ground with a paper airplane? Abd now we think nothing of air speeds faster than sound, of enormous aircraft carrying several hundred people. 
We're beginning to see why we have spurts in development. In World War I, the military strategists said: "Wouldn't it be great if we could fly over armies and could drop things on their heads?" And they did. Well, that was a trenendous push forward and we found the peopel and money to do it. Then, the Second World War -- more strides. Unfortunately both of these were war situations.  But the the economies of technical research and development started to make sense. even when there wasn't a war to inspire such development of space potential -- for economic reasons. For the firsttime we will have a resuable space ship -- one good, they say, for up to one hundred missions. We started off with ship that could carry one man, then three. Now we're talking about a ship that could carry six or seven people. The multiplies begin to build. And this is a ship that will take off, perform its mission, come back land on a runway, and within a month be ready to take off again.
So the economics begin to turn around: more use out of one piece of equipment. This ship will then begin to work in space for industry. This ship will be able to capture a nonfunctioning satelite, repair it and relaunch it,  -- all in space -- or bring it back to earth, repair it, and send it back to orbit again. Industries will begin to find ways to to make money by renting space on the Enterprise. The flow of dollars is going to change. I've heard that in five years NASA will be earning back the amount that it has spent on its entire space program up to now. Space-ships will become like busses and trucks in space.

Penthouse: Do you think we'll ever have space colonies? 
Leonard Nimoy: Sure. I think that before long we will see families developing in space. We'll begin to see people commiting themselves to leaving this planet and not coming back, going out to explore and colonize in deep space, with the idea that maybe their children or grandchildren might some day get back to earth. I see it as a very feasible option for the future, particularly when it becomes economically sensible. Frankly, I think taxpayers are little weary of the idea of supporting a space program just to bring back some rocks or wahtever. But we are already benefitting from spin-offs of the space program: communicating satelites, weather satelites -- that sort of thing. And also some very practical benefits. For example the pacemaker, now implanted in I don't know how many human beings, keep them alive. All those things came out of the space program. In any case, when the government can finally report that there was a profit from the space program this year, and somebody feels he's paying five dollars less in taxes because of it, then we're on the way. 
Penthouse: So science fiction isn't fiction any more ?
Leonard Nimoy: Well, the science-fiction dreamers are the ones who set the goals for the scientists.