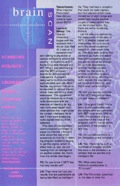 1995 March
Tekno°Comix : What inspired Primortals? How did you come to learn about SETI?
Leonard Nimoy: The idea for Primortals began with the research that I did on Star Trek IV. I was on a research mission talking to phycicits at various institutions around the country – in California at U.C. Santa Cruz and Harvard and MIT. What I was discovering was the SETI program - Search for Extraterrestrial Intelligence. A program designed to build some highly sophisticated, and yet rather flexible, exquipment that could be travelled to various places where there are strong radio telescopes. This equipment could be hooked up to these radio telescopes with the intention of listering for signals from deep space from other planets that might possibly contain intelligent life to see if they were producing radio signals that could be detected.
This idea of interplanetary communication continued to pique my interest. I thought, what about the day when somebody on that SETI listening program suddenly begins to get this signal, which in effect tells us, yes, we are hearing from an intelligence on another planet. So, that's how this whole idea began.
CT: Do you know if SETI has had any results yet?
LN: They have not had any results that are publishable as being identified as intelligent life. They had had a reception that could be radio signals, but from planets which have moved out of sight range and would take maybe another couple of years before they can be studied again. So, there are some tantalizing threads.
Let me add another element to the explanation of the idea of SETI. If another planet with intelligence like ours would point the same equipment toward us, they would hear us. The daily radio activity that we send up, radio and television communications around his planet, would be enough for us to be detected by other intelligence somewhere. So, the point is, if another civilization is doing what we're doing, sending out radio signals the way we are, we would pick them up, and that's what we're looking for.
CT: Are you heavily involved in the SETI program or have you just taken an interest?
LN: I'm a good friend. I have been in communication with the people who are connected with SETI ever since 1986 or 1985. I'm obviously a great supporter of the idea of the program, but I'm not an active participent of the program in any way.
CT: Do you believe there is life elsewhere in the universe?
LN: Yes. There being such a multitude of possible planets like ours in the universe it is unlikely that we are the only intelligent life.
CT: What were Isaac Asimov's contributions to Primortals?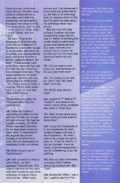 LN: The Primortals, specifically, the idea of what the Primortals are, came from Isaac Asimov. He and I were asked to collaborate on a story idea, and I told him, essentially, we are getting he signals from ships coming from deep space, and he said, "I know who's on those ships."
I said, "Great, who are they?"
He said, "They're the descendants of some creatures that were taken off of this planet many milennia ago by some aliens who were visiting here, and discovered that earth was going to suffer a terrible meteorite shower disaster." These species were taken away because they had the beste chance of evolving into intelligent creatures. They have evolved into an intelligent race, and they are now coming back in these ships.
So, they're coming home, in a sense. "Who's sleeping in my bed" is what they have in their minds.
CT: Are there any plans for Primortals other than the comic book?
LN: There are hopes of expanding into other venues and other media, but no specific plans as yet. We had discussed, certainly, CD ROM. We've discussed television. We've discussed motion-pictures. And I'm interested in staying with the project through all of those evolutions. We are developing the necessary bricks and mortar.
CT: What brought you to Tekno Comix?
LN: I did not intend to write a comic book, nor did I approach Tekno Comix. The original intention for the story was that it would be part of an anthology of science fiction short stories. When Isaac and I first discussed it, that's what was presented to us, the idea of an anthology. And, for reasons which to shis day I'm really not clear about, the anthology never happened.
But, the man who was putting it together, and also representing Isaac Asimov, was Dr. Martin Greenberg (the world's leading anthologist). I guess what happened was that when Tekno Comix brought him on board, he pointed out that this story was there and had to be published.
CT: Did you read comics when you were growing up? Do you read them now?
LN: The answer is yes and no. Did I? Yes. Do I read them now? No.
CT: Which ones did you read?
LN: SupermanTM, BatmanTM, TarzanTM, and some of the 'comic' comic strips, whatever they were in those days.
CT: What do you enjoy most about working in the science-fiction field?
LN: I enjoy the theatricality of it, the opportunity for wide-ranging imagery and use of the imagination. It's what I refer to as a large canvas to paint on. It can be colorful, it can be dramatic, it can be funny, it can be educational, it can be entertaining, it can be uplifting.
CT: Had you been interested in science fiction before becoming involved with Star Trek?
LN: Somewhat. When I was a kid, I used to read the Tom Swift books. Tom Swift and his flying machine and stuff like that.
CT: Those are great books.
LN: Yes. I was always interested in science and to that extent, science fiction. My interest in science ficion, for the most part, has been character-driven stories that have to do with the people and how the science affects them.
What I call the 'nuts and bolts' of science-fiction doesn't interest me as much as the sort accessible to people when we can identify with them.
TC: Many of the characters you've portrayed have been idolized by fans. Who have your idols been?
LN: In my early years, I was fascinated by people like Lon Chaney, the Man of a Thousand Faces, who is well known for playing a variety of interesting characters using various kinds of makeup and wardrobe to change and recreate himself in different characters and roles. That approach to the work was very helpful in creating the Spock character. Again, a certain kind of theatricality that goes beyond the normal, everyday performance of a human character.
TC: How do you envision our future?
LN: I'm an optimist. I believe that we are moving toward one small step at a time on the 'Human Adventure'. Let's be prepared to problem solve. Let's look forward to a positive, expanded, intelligent future.
(Thanks to Irene for the typing!)