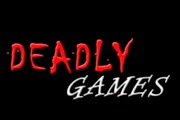 #1, 1995 September 05
Written by: Paul Bernbaum and Anthony Spinner 
Dir.: Leonard Nimoy
Prod.: William S. Kerr
Gus Lloyd: James Calvert
Lauren Ashborne, Gus' ex-wife: Cynthia Gibb
Jordan Kenneth Lloyd / Sebastian Jackal: Christopher Lloyd
Peter Racker: Stephen T. Kay
Gus Lloyd is a scientist. In his spare time he designs video games. People who give him trouble serve as characters for the villains in his games. In each episode Gus rescues "The girl" who is resembling his ex-wife.
When an accident occurs one of his evil characters,  and his minions enter the real world. 
Each week a villain tries to accomplish a dangerous goal while acting according to the video games rules.