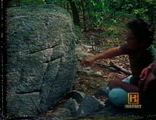 1977 April 24
Scoll down for videos
We hardly know anything about the first men on earth. When the first colonialists arrived there was little understanding between the two cultures. 
A stone structure south of New Hampshire built thousands of years before the colonialists arrived in the 17th century is called Mystery Hill.
Pueblos were built another way than Mystery Hill was.
In the Medicine Bow Mountains of Wyoming a structure is called the 'Medicine Wheel' which was in Indian calendar. Scientists determined charcoal at Mystery Hill to be 3.000 years old. The builders had an astonishing knowledge of astronomy. Similar ruins have been found in the Mediterranean.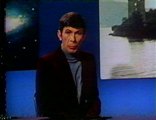 It is speculated that blown off course sailors attempted to build settlements. Phoenician writings were found at Mystery Hill revealing the origin of the visitors. 
http://www.youtube.com/watch?v=f1xpGDbu92c
http://www.youtube.com/watch?v=Unarvnuqfrg&feature=related