1980 January 10
Scroll down for videos
 
As an actor I have portrayed Theo, the little known brother of artist Vincent van Gogh. Somehow I related so strongly to the story of the two brothers that I became obsessed with Theo's struggle to defend Vincent and to prove that he was not insane. 

In a feverish ten year period and plagued by illness he turned out eighteen hundred pieces of work, many of which sell for as much a million dollars each today. I have evidence that he was right. Clearly, van Gogh belongs in the pantheon of the world's greatest artists. How can works of such beauty be a product of a deranged mind?
Vincent van Gogh – Dutchman, painter, impressionist, lover of love, God and art took this route from the South of France after a year of painting and studying in Paris. From collections of his preliminary sketches we know that he studied his art logically, precisely. He was well read. He knew five languages. His work was not accidental.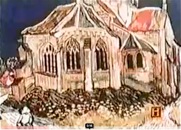 It was an act of choice and a use of skills which he had worked hard and long to acquire. For me something here rang a jarring note: How could this man work so diligently, skillfully? How could he write more than 500 beautiful letters to Theo, so sensitive and full of enlightened insight if he were actually insane? Was it the loneliness or the winds?


I stopped at the Yellow House. Here Gauguin visited him who had deserted his wife and 5 children in favor of painting. Vincent could not have chosen a more unsuitable partner. Not being accepted by Gauguin he desperately cut his ear off because he could not harm the person he adored. Then he delivered it as a bizarre gift to a prostitute named Rachel and said: "Gardez cette objet précautionneux." The reason for this action might derive from an early relationship with a prostitute.


In the hospital I found a reason for his illness: Epilepsy. It was as if he was trying to silence an offending ear. After his release from hospital he agreed to live in the asylum in Saint-Remy. "The idea of work as a duty has come back strong," Vincent wrote. He only sold one painting at 36. No other painting was sold in his lifetime. Now he is praised as the leader of the impressionists. The quality and quantity of his work was enormous.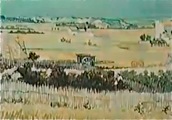 He captured, enhanced and enriched what he saw. He said: "I feel as if nature has spoken to me."
Theo was very close to him. As if Vincent was knowing that he would not be able to live with his illness, Vincent painted nearly 200 picturs during his last 78 days he lived. Immediately Theo came when he heard that Vincent has shot himself. He felt his brother's hand weaken holding it in his own.
(Leonard Nimoy speaking for Theo:) "I sat on the bed, I cradled him in my own arms, Ikissed his face and he looked up at me and said: 'Theo, I wish I could die like this.'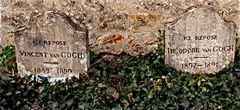 And then he closed his eyes and I felt his heart stop. I held him close, I didn't want to let him go. I felt his soul lingering near me for those next few moments and then something went out of me and he was gone."
Six months later Theo died, too.

http://www.youtube.com/watch?v=6NtzfCOd2uU
http://www.youtube.com/watch?v=Sb_RaiE4EOo&feature=related