1981 December 20
Scroll down for videos
Some people claim they have successfully recorded spirit voices on electronic equipment. At the snap's studios in Hollywood California there has been a history of occurrences that some say is beyond understanding. 
Behind the sound stage number 1 Jerry Fitzpatrick remembers that he heard a door open and close and footsteps coming down the catwalk – and no one was to be seen while he stood right beside the sounds. The door was bolt. More sounds were heard there from others.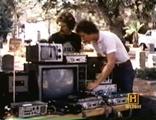 D. Scott Rogo is the author of several books dealing with parapsychology.
In 1977 Mary Meridith received a phone call from a deceased relative.

Thomas Edison went into research trying to tape voices from the dead that only showed in notes after his death. He had not made them public before he could present proof. The head of an ESP department kept on working with those notes.
A group working on psychic contacts chose a graveyard where they received signals and built up electric equipment to record possible sounds. Dozens of unusual sounds were heard on the tapes. When the tapes were slowed down, the sounds occurred word-like.  

 http://www.youtube.com/watch?v=4zuPsiC3RPk&playnext=1&list=PLD06EE4E764A2D980&index=64