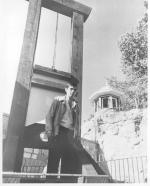 1965 
Scroll down for videos 
92 min

Play "Haute Surveillance" by Jean Genet
Producers: Leonard Nimoy + Vic Morrow
Dir: Vic Morrow
Julian Lefranc, Jules: Leonard Nimoy
Greeneyes: Michael Forest
Maurice: Paul Mazursky
Guard: Robert Ellenstein

Julian Lefranc does not feel accepted by society. He is a young man who feels out. 

To get out of this society he commits a crime. Stealing jewelry and hanging as much jewels over himself again and again, while the sirens are on, until he his caught in the shop, he waits for the police.

Now he becomes a prisoner in a tough, hostile jail.

At arrival his head is covered with a cap, so that he cannot see. The cap is removed and he finds himself in a cell together with another prisoner.

They are forced to walk and sit for hours on command of a guard blowing a whistle. The man is exhausted and cannot go on after endless hours of walking. Knowing that the guard is only waiting for disobedience, Julian  encourages him to go on. When the man is not capable of going on at all and the guard is again merciless misusing

his power over him, the man attacks the guard.



Julian stands besides the guillotine watching how his first contact in jail is beheaded. Amongst the prisoners two stand out because of their power over the others: Snowflake and Greeneyes. Julian is sharing the cell with Greeneyes and trying to get Greeneyes' acceptance and maybe

being accepted amongst the prisoners too by being Greeneyes' friend. Greeneyes calls him Jules which Julian allows not willing to disobey him. Being a thief only he cannot afford to compete with the murderer Greeneyes.  

To show any weakness proves dangerous and Jules has to protect himself from Greeneyes offenses, but he

idolizes the self centered criminal. The circumstance that Greeneyes cannot read or write the letters from his wife gives Jules the opportunity to make Greeneyes at

least a bit dependent on him. For Jules it is an every minute struggle of inner crying for acceptance, plain survival of mind and position and searching for identity. Jules is beaten heavily by a guard after he showed his own courage and persisted in a certain form of resistance against senseless display of power of a guard. This unfairness does not move Greeneyes. He is sneaking the acquaintance of the guard.


When a third man is put into the cell, competition for Greeneyes' acceptance is added to the struggle for mental survival.
The threat of being even more misused and put down by Greeneyes which was present every moment becomes even harder. Maurice, an overt homosexual, is used by Greeneyes beyond his own will. He is introduced as a "punk" – in prison lingo a passive partner in a sexual relationship. When Jules puts a blanket over him to warm him after being misused, Maurice later on uses Jules' caring action against him making it look like a weakness. When Greeneyes finds out that Jules was writing and reading something else, something nicer and more caring than Greeneys' words in the letters to and from his wife, he suspects Jules of planing to take his wife as soon as he dies under the guillotine and Jules is out of jail.

When Greeneyes offers a guard cigarettes, openly showing his acquaintance with the guard, which officially is a disgrace amongst the prisoners, and the two talk about Greeneyes' wife to be given to the guard after Greeneyes' death, Jules' comments that a person cannot be handled as a merchandise ... all these and more incidents show the healthy and caring attitude of Jules and his sensibility in an environment where the others are rude, cheating and anything but considerate.



Painfully being aware that he is different, Jules suffers from the fact that he is cleverer, good hearted and caring without being able to value his virtues. And he suffers f

rom not being accepted, for he is accepting the others so much. His absolute highlight comes when Greeneyes accepts him as an equal. This moment is destroyed after seconds only, because Maurice washes the tattoo - proving Jules' having the same background as Greeneyes' - off. Jules had faked it on his chest after he'd got to Greeneyes' jacket, found out which

organization Greeneyes had belonged to and copied the symbol proving his toughness. The rejection of Greeneyes and the fun Maurice makes of him now becomes to much for Jules. The teasing is endless and hitting the deepest feelings he has. "I need air!" he yells, but there is no escape from a prison cell.   

Out of breath in desperate attempts to breathe, he climbs a table trying to get to the cell's only tiny whole in the ceiling – even that covered by wires – to get towards fresh air. He begs Maurice to stop, it's getting too much for him to bear. But the teasing and the harsh attacks and the constant fun made of him go on mercilessly. This and the desire to prove himself as a serious criminal make him strangle Maurice. His good heart even shows when he's trying to comfort the dead body of Maurice, stroking his head repeatedly. Having taken the life of a prison mate makes him an outsider of the outsiders he searched to be part of .... and the guillotine might be waiting now, ending his time of constant self fulfilling of non self - acceptance.
Part 1
http://www.youtube.com/watch?v=N_SCmV3qnxY
Part 2
http://www.youtube.com/watch?v=ebAMzm8oNeM&feature=related
Part 3
http://www.youtube.com/watch?v=4KDLBm57LWs&feature=related
Part 4
http://www.youtube.com/watch?v=ls18T8Si45o&feature=related
Part 5
http://www.youtube.com/watch?v=4nXKeF_1ndI&feature=related
Part 6
http://www.youtube.com/watch?v=wg2i6BdJg-4&feature=related
Part 7
http://www.youtube.com/watch?v=lcGJXzj8IcE&feature=related
Part 8
http://www.youtube.com/watch?v=8c4kQ0CTxCM&feature=related
Part 9
http://www.youtube.com/watch?v=2eExCWT_JI0&feature=related
Part 10
http://www.youtube.com/watch?v=bk82vIn5PP4&feature=related